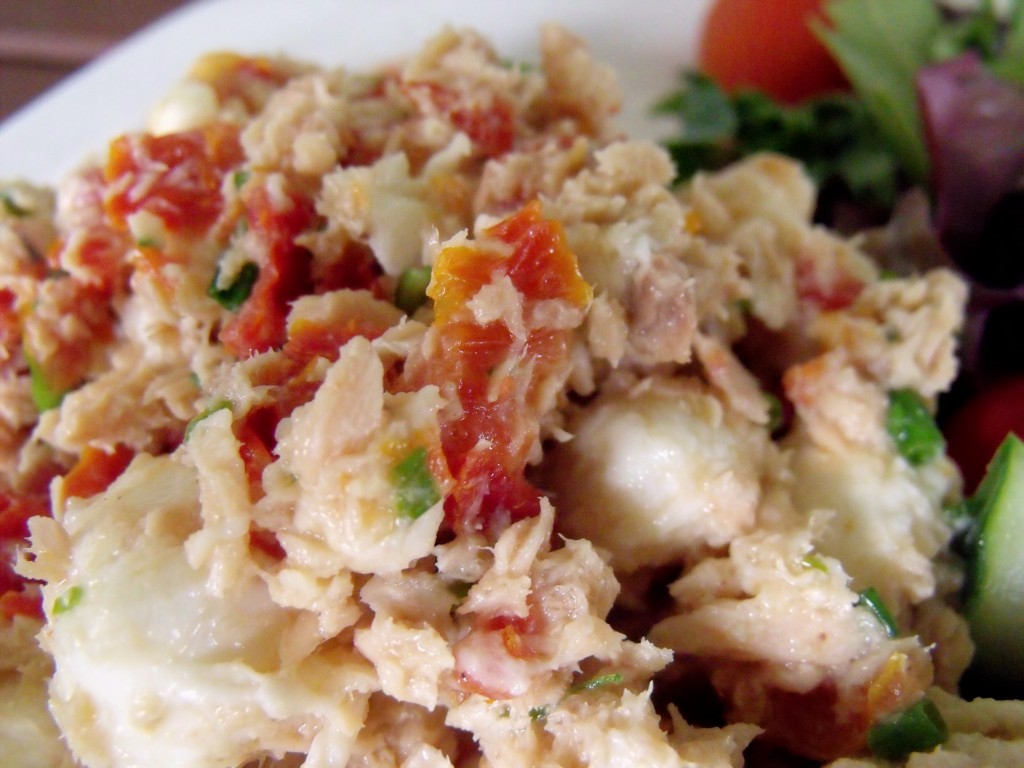 I'm on a shy away from mayo kick lately. Even yogurt dressings don't cut-the-mustard so to speak. Sorry about that, all. 😉
This is hard because my guy likes fish salad with mayo or even ranch-type dressings. Oil and vinegar on fish salad is foreign to him. Think tuna packed in water is supposed to be better for you so why add oil? I get it.
But I like vinaigrettes on fish salads like tuna so why not salmon?

Caprese salad is a summer favorite too. Fresh plucked basil, fresh picked garden tomatoes, fresh mozzarella (from the store) all layered and drizzled with olive oil a balsamic vinegar. Oh yeah! Perfect for a quick Weekday Supper.


Here's the problem. No garden tomatoes yet.
Solution? Sun-dried tomatoes of course!
Salmon Caprese Salad
I used red wine vinegar in place of a more traditional balsamic so not to overpower the salmon flavor.
1 5-ounce bag flaked salmon or cooked salmon
1/4 cup sun-dried tomatoes, sliced
1/4 fresh mozzarella balls (small sized or cut into cubes)
2 Tablespoons diced chives
1 Tablespoon fresh basil, sliced thin
1/4 cup olive oil
3 Tablespoons red wine vinegar
salt and pepper to taste
Mix together salmon, cheese, tomatoes, chives and basil.
In a separate bowl, whisk together oil, vinegar, salt and pepper.
Mix in enough dressing to reach your desired moistness. I personally like it on the heavy side!
Check out the rest of this week's Weekday Supper line up!
07/01/13 – Monday – No One Likes Crumbley Cookies – Gluten Free Pasta Salad
07/02/13 – Tuesday – Eat, Move, Shine – Citrus Soy Glazed Sirloin Stir-fry
07/03/13 – Wednesday – Cindy's Recipes and Writings – Salmon Caprese Salad
07/04/13 – Thursday -Magnolia Days – Calypso Pork Chops
07/05/13 – Friday – Daily Dish Recipes – Gnocci and Mushrooms in a Brown Butter Sauce
Visit our #WeekdaySupper Pinterest board for wonderful weekday menu suggestions all month long!