Every Friday the Foodies Friend Friday group gets together and offers a linky party where anyone can link up, check out great recipes and make new friends! So WHY are we here on a Monday?
Because its Girls Night Out (guys, you're welcome too)!
We got together to host this party featuring cocktails, mocktails, puppy-dog tails, no umm wait I mean finger foods and party foods too
Our sponsor for this party is

Stuck Together Magnets who is giving away a set of 3 glass charms to 3 lucky links!
I'm bringing my Sangria Fruit Salad to the party!
Add what you're bringing and "sample" everyone else's too! 😉
Sangria Fruit Salad
You can make this non-alcoholic by just omitting the wine! I like to save the dressing and have it as a refreshing juice drink over ice! Of course you could add more wine to it!!
1 orange, cut into 1/2-inch pieces
1 apple, Granny Smith or another tart variety, cut into 1/2-inch pieces
2 cups strawberries, sliced
1 cup blueberries
Dressing
1 cup apple juice
1/2 cup orange juice
1/4 cup red table wine, cabernet sauvignon
1 Tbsp honey
1 Tbsp lemon juice
1 Tbsp lime juice
1/2 teaspoon orange zest
1/2 teaspoon lemon zest
1/2 teaspoon lime zest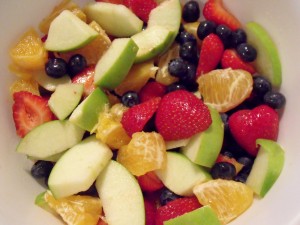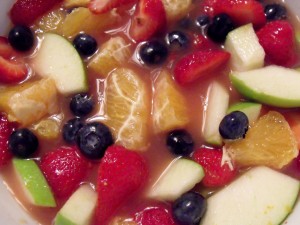 1. Mix fruit together in a large non-metal bowl.
2. Mix dressing ingredients together in a separate bowl.
3. Pour dressing over fruit. Stir. Refrigerate for at least 2 hours to allow flavors to blend.
4. Remove with slotted spoon. Reserve dressing. Serve.
5. Reserved dressing can be used in drinks.
Servings: 12
Yield: 6 cups
Cooking Times
Preparation Time: 15 minutes
Inactive Time: 2 hours
Total Time: 2 hours and 15 minutes
Nutrition Facts
Nutrition (per serving): 51 calories, 2 calories from fat, <1g total fat, 0mg cholesterol, 1.8mg sodium, 132mg potassium, 12.5g carbohydrates, 1.8g fiber, 8g sugar, <1g protein, 70.9IU vitamin a, 40.3mg vitamin c.
Stop by and check out our party co-hosts!