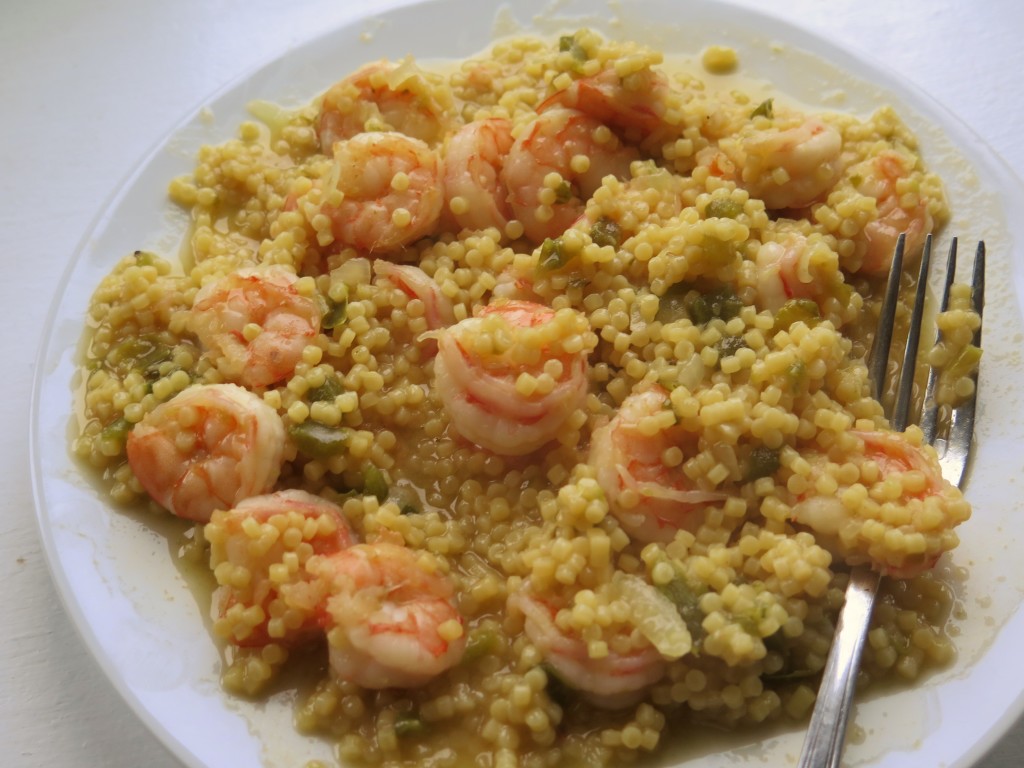 Shrimp Acini de Pepe serves up tender shrimp and pasta in a creamy casserole without the milk.
How many shrimp are too many shrimp? I don't know about you, but I have HST (high shrimp threshold)! 😉
That doesn't mean my recipes need to lean heavy on the ingredients list. Shrimp Acini de Pepe can be made with just a few ingredients. A great idea for this month's Recipe ReDux challenge.
7-Ingredient (Or Less) Recipes
It's Income Tax Season, so our brains could use some easy arithmetic; as in seven-ingredient-or-less recipes. Show us the healthy, no-brainer dish you fix for breakfast, lunch or dinner. Think beyond smoothies or drinks, please. (And for those of you living in countries where it's not Tax Season – we're pretty sure you and your readers would still love doing the math for seven-ingredient-recipes!)
Shrimp Acini de Pepe gets its sauciness from the pasta itself. Pasta releases starch  as it cooks. The result is a creamy casserole any shrimp lover will devour!
Ingredients
1 pound shrimp, peeled and deveined
2 1/2 cups chicken broth plus 1 cup
1 cup acini de pepe
1/4 cup diced onion
1/4 cup diced green or red bell pepper
1 teaspoon minced garlic
1 tablespoon olive oil
Instructions
In a large skillet, saute shrimp, onion and peppers in oil until pink and thoroughly cooked. Remove shrimp and set aside. Add pasta, 2 1/2 cups broth and garlic to the skillet. Bring to a boil then reduce heat and simmer uncovered about 10 minutes until pasta is tender. Add additional broth a little at a time if needed. Taste frequently for doneness. Do not overcook.
Return shrimp to pan and heat thoroughly.
Notes
Finish off this dish as you would risotto by adding the extra broth a bit at a time. Allow each addition to to be fully absorbed before adding more liquid.
http://www.cindysrecipesandwritings.com/shrimp-acini-de-pepe-thereciperedux/
What is Recipe Redux?


As the first and only recipe challenge founded by registered dietitians, The Recipe ReDux is focused on taking delicious dishes, keeping them delicious, but making them better for you. Dietitians Regan Jones (ofReganMillerJones, Inc.), Serena Ball and Deanna Segrave-Daly (both of Teaspoon Communications) founded the group on the belief that healthier eating should always taste delicious. As the Latin term "redux" means to revisit or reinvent, we are reinventing the idea of healthy eating with a taste-first approach. We aim to inspire the food lover in every healthy eater and inspire the healthy eater in every food lover.
Enjoy all these easy 7 ingredient or less recipe from The Recipe ReDux.