Shrimp Beurre Blanc blends butter with wine and white wine vinegar creating a smooth, velvety sauce perfect for shrimp or chicken. Serve over seasoned rice.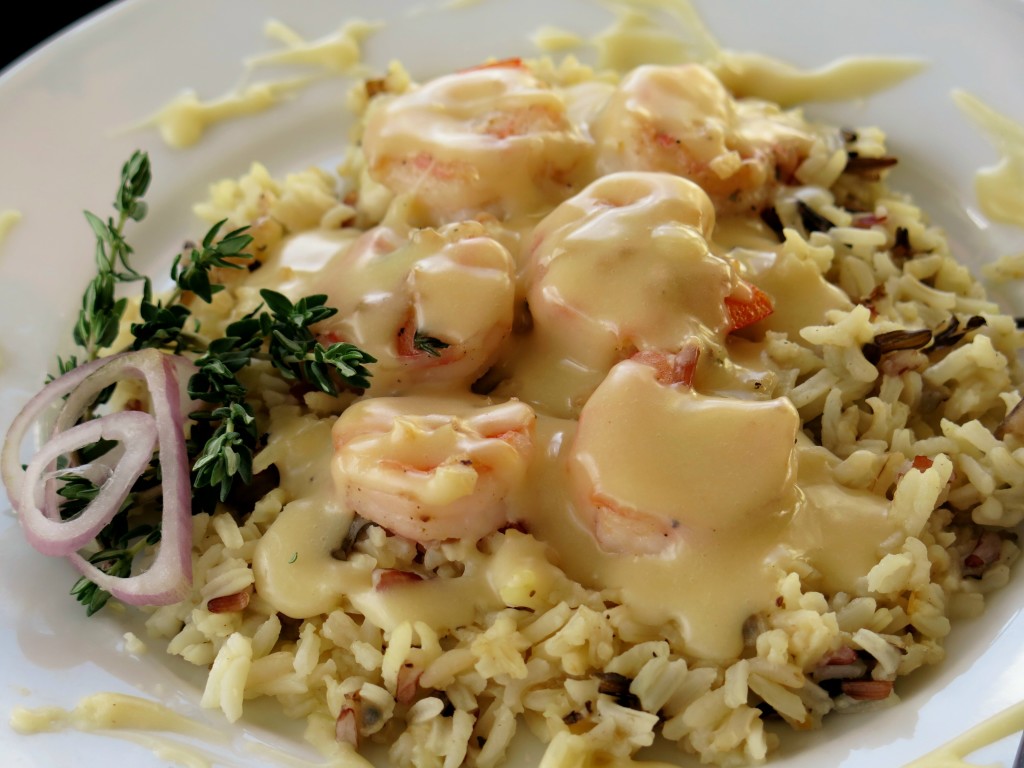 My friends at VinegarTips.com asked me to create a recipe using white wine vinegar. I was compensated for writing this post. All opinions are my own.
Beurre Blanc butter sauce can be intimidating if you never tried making it at home. I've heard horror stories about how easy the sauce breaks, it burns easily and so on.
In reality it is easy if you keep this few tips in mind.
First, use really cold butter. Second, don't be afraid to rely on residual heat. Third, use a skillet not a saucepan.
We all can use cooking tips from time to time. I love when people share their finds with me. I know helpful hints make me a better cook. I love it when my meals turn out great the first time. Less epic fails equals less time in the kitchen and more dinner time to spend with family and friends. Win, win.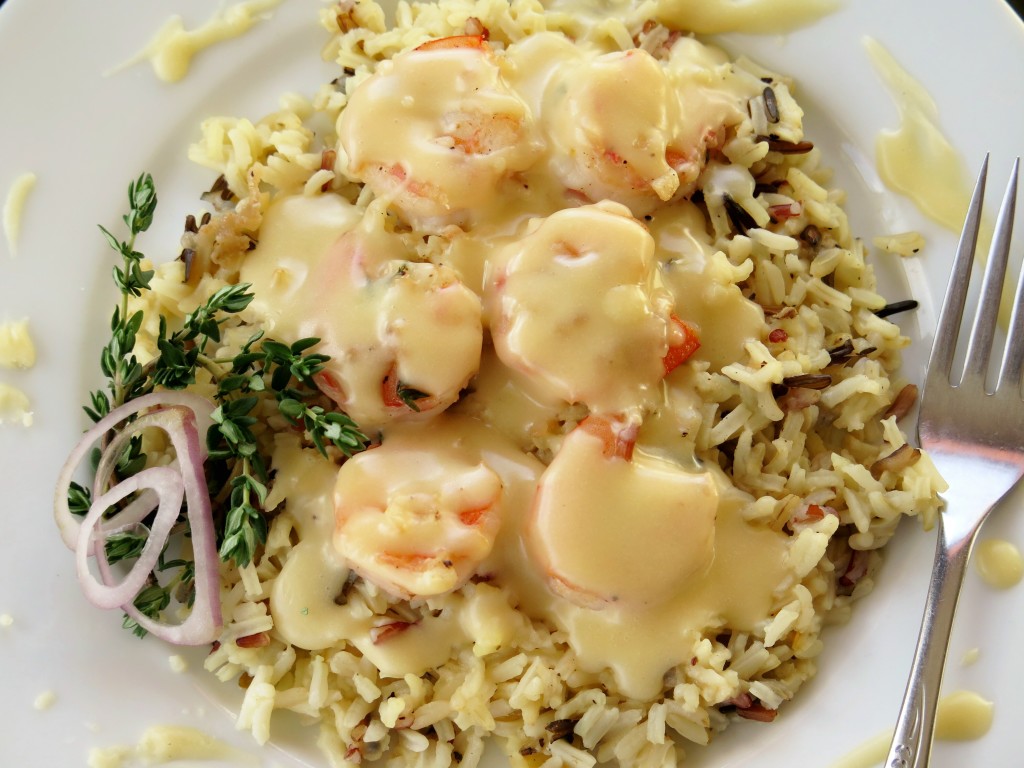 Another tip I learned about making a white butter sauce like Beurre Blanc is it benefits from the addition of something acidic. The acid reacts with the butter fat to create a delicious emulsion.
White wine vinegar is a great choice to add more acidity to the initial reduction. Wine alone is acidic but by enhancing the sauce with vinegar, you incorporate a smooth, creamy texture into the sauce.
I always have several kinds of vinegar on hand. Vinegar aids in cooking everyday.  A bit of vinegar will brighten marinades, tenderize meat, help balance flavor and more.
VinegarTips.com lets you in on many ways to use vinegar in the kitchen and around the house.
Learn more about them at VinegarTips.com or their social sites including Facebook, Twitter , Pinterest and Google +
Shrimp Beurre Blanc
Ingredients
1/2 pound peeled and deveined shrimp
1 tablespoon butter
1 clove garlic, minced
1 tablespoon chopped shallots
2 tablespoons white wine
1 tablespoon butter
salt and pepper to taste

Sauce

1/2 cup white wine (I used Pinot Grigio)
1/4 cup white wine vinegar
2 sprigs fresh thyme
4 whole black peppercorns
1/4 cup chopped shallots
1/2 cup cold butter cut into small pieces
salt and pepper to taste

Rice

1/2 cup favorite rice blend
1 cup chicken stock
1 teaspoon lemon pepper seasoning
Instructions
Saute shrimp, garlic, shallots and wine and butter in a small skillet until shrimp are opaque and liquid is reduced. Keep warm.
In a 2-quart saucepan, combine rice and broth. Bring to a boil and cook according to package directions. Mix lemon pepper seasoning into finished rice. Keep warm.
While rice is cooking start the reduction. In a small skillet, combine 1 tablespoon of the cold butter and the shallots. Cook about 2 minutes over medium heat just until shallots begin to sweat and soften.
Add wine, white wine vinegar, peppercorns and thyme sprigs. Simmer over medium heat, stirring constantly until most of the liquid is reduced.
Turn burner to low and remove pan. Remove thyme sprigs and slowly add the remaining butter, a few pieces at a time. Allow each addition to be fully incorporated into the sauce. Periodically return pan to burner as needed to gently heat sauce. Remove warmed pan and continue whisking in butter until all of it is absorbed.
Strain finished sauce and serve immediately or keep warm in a bowl placed over hot water for a short time.
http://www.cindysrecipesandwritings.com/shrimp-beurre-blanc-vinegartips/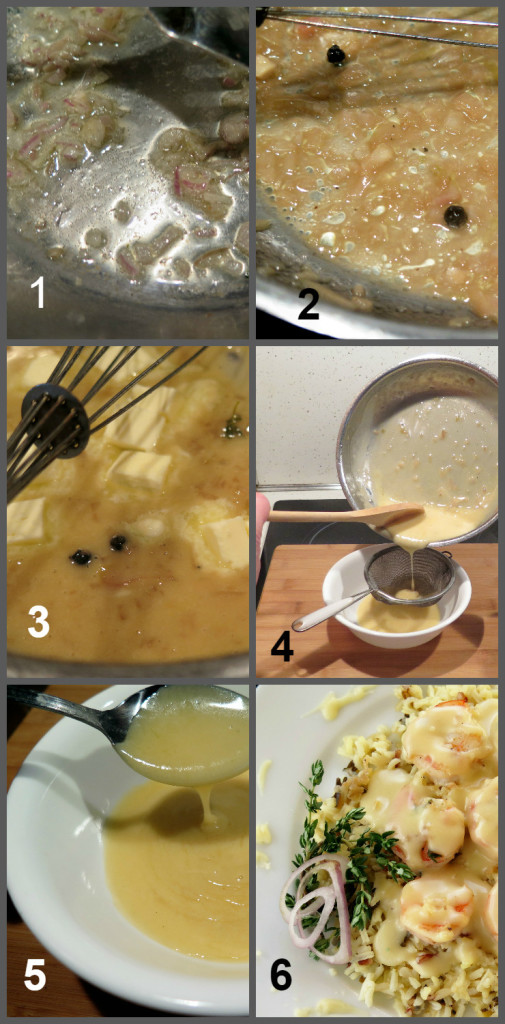 Enjoy Beurre Blanc over your favorite meat or vegetables.
Thanks for stopping by. I'd love to hear how you use vinegar in the kitchen. Drop me a comment below. Happy cooking!