"I received a free sample of Kikkoman soy sauce mentioned in this post. By posting this recipe I am entering a recipe contest sponsored by Kikkoman and am eligible to win prizes associated with the contest. I was not compensated for my time."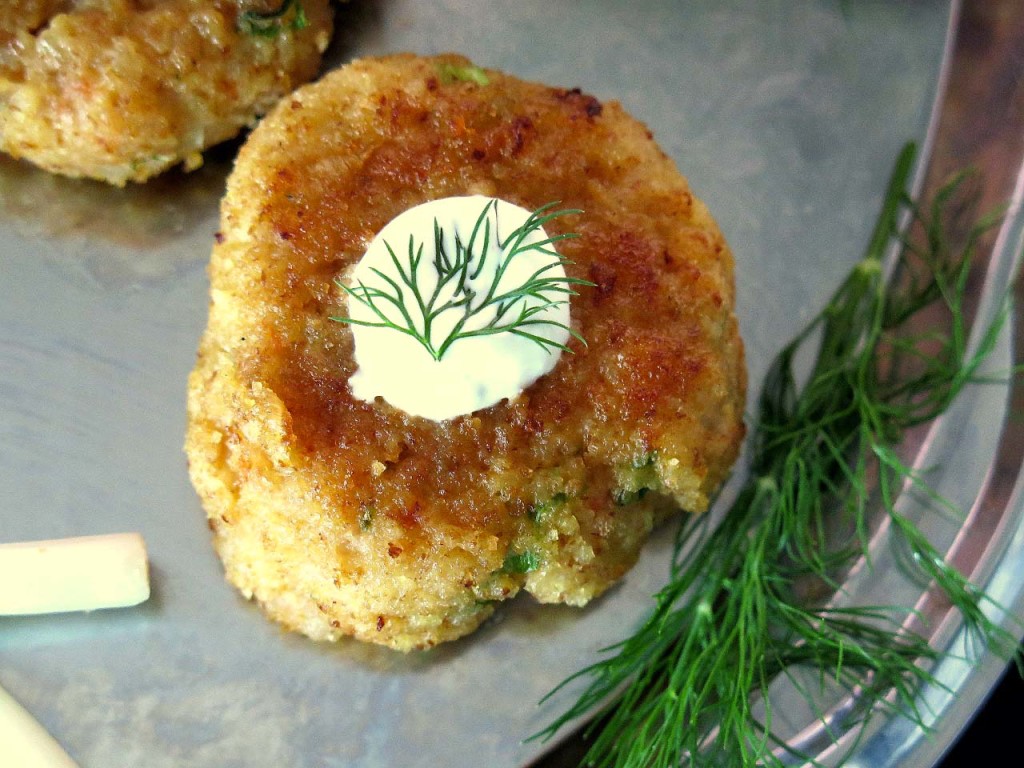 Shrimp Cakes offer tender shrimp in delicious patties. Serve with horseradish dill sauce. Skip the roll. Enjoy these patties for dinner or as an appetizer.
January 2017 Recipe ReDux Sponsored Challenge: Sodium Saving, Flavor Raising Recipes with Kikkoman
Take a favorite dish that you, your family and/or friends love and swap soy sauce for salt. Can they taste the difference?
Cooks know that most dishes need a salty taste to create a good flavor balance. You can add various salts like Kosher salt, sea salt or table salt directly. Using these salts will raise the sodium level of the dish. That's something to keep in mind when planning healthy meals.
You can cut the amount of sodium in your dish with soy sauce and still retain that salt component to bring out the flavor.
Here are some interesting facts about soy sauce.
By using 1/2 tsp. Kikkoman Soy Sauce in place of 1/2 tsp. table salt, the sodium content of the recipe is cut by 1000 mg.
Soy sauce is rich in umami, a savory taste that helps round out the overall flavor of a dish and enhances the palatability of a wide variety of foods. In fact, a study published in the Journal of Food Science revealed that swapping soy sauce for salt reduces the sodium by up to 50% without decreasing consumer acceptance.
Did You Know?
For over 300 years, Kikkoman Soy Sauce has been seasoning all of our lives. A family business to this day, Kikkoman's growth has been inspired and guided by a family creed, passed down for nineteen generations. This creed speaks to the core values that have enabled Kikkoman to survive and thrive for more than three centuries.
Kikkoman offers a variety of less sodium products: Less Sodium Soy Sauce, 50% Less Sodium Gluten-Free Tamari Soy Sauce, Less Sodium Teriyaki Marinade & Sauce, and 50% Less Sodium Gluten-Free Teriyaki Marinade & Sauce.
Visit their Website at KikkomanUSA.com for the latest news, recipes and product information.
Stay in touch with Kikkoman on your favorite social media outlets: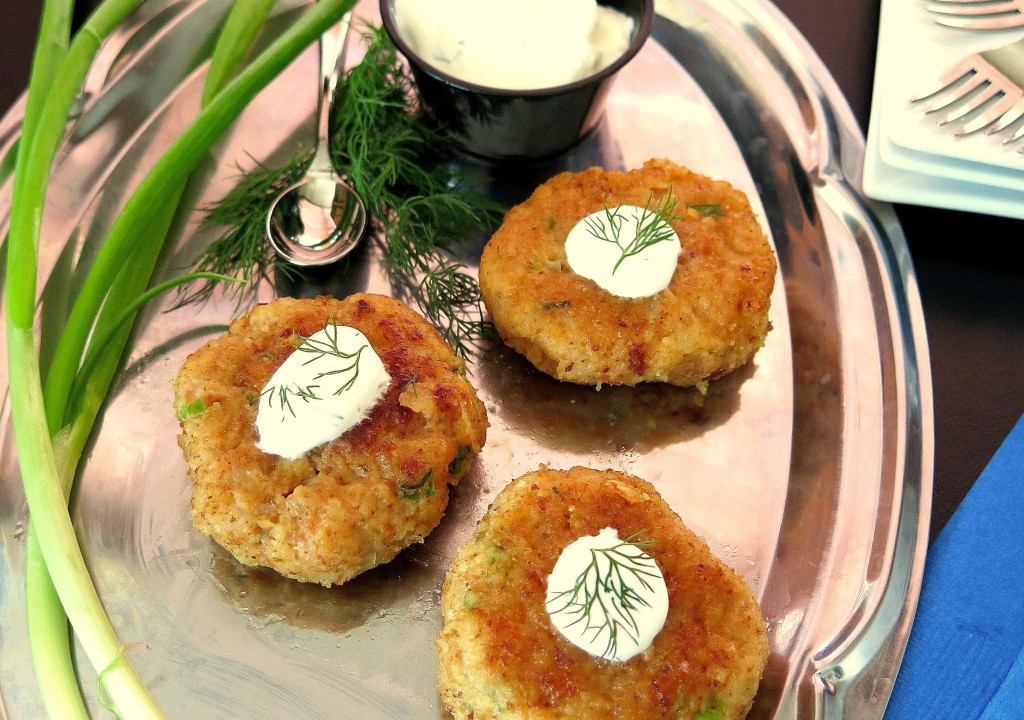 I chose to make my Shrimp Cakes by switching out the salt with Kikkoman Less Sodium Soy Sauce. Shrimp has a natural briny taste that breaks up when cooked so I still add a bit of salt. Kikkoman Less Sodium Soy Sauce was the perfect amount of flavor to round out my dish. We were pleasantly surprised that the patties retained the flavor we love without the salt. The soy sauce blended great with the other ingredients.
Enjoy!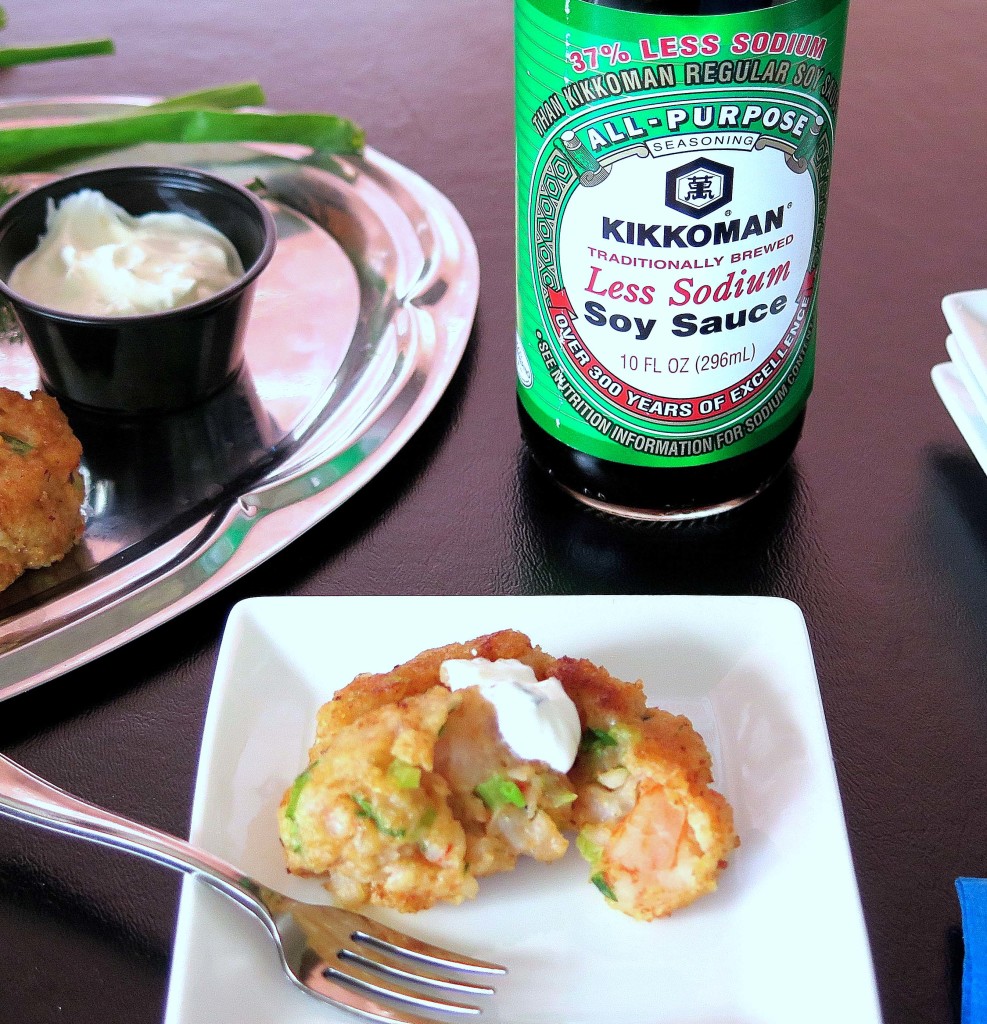 Shrimp Cakes #TheRecipeReDux #AD
Ingredients
1 pound shrimp, about 2 cups when chopped
1/4 cup minced celery
2 tablespoons minced green onion
1 tablespoon Kikkoman Traditionally Brewed Less Sodium Soy Sauce
1 tablespoon lemon juice
1 teaspoon fresh dill, chopped
1/2 cup plain bread crumbs divided

sauce

1/2 cup light sour cream
1 teaspoon prepared horseradish
1/2 teaspoon fresh dill, chopped
1 tablespoon oil for frying, optional
Instructions
Mix together sour cream, horseradish and 1/2 teaspoon dill. Refrigerate.

For the shrimp cakes

Chop shrimp in food processor leaving small chunks intact.
Mix together shrimp, celery, Kikkoman Traditionally Brewed Less Sodium Soy Sauce, dill and lemon juice. Add breadcrumbs 1 tablespoon at a time to reach desired consistency (about 2 tablespoons)
Form into 4 shrimp cakes. Cover cakes with bread crumbs.
Fry in oil in skillet on each side about 4 minutes over medium heat turning once until golden brown and thoroughly cooked. Shrimp cakes can be alternatively sprayed lightly with cooking spray and baked at 350 for about 30 minutes until thoroughly cooked.
Serve with a dollop of horseradish dill sauce on the side.
http://www.cindysrecipesandwritings.com/shrimp-cakes-thereciperedux-ad/
More about the Recipe ReDux.


As the first and only recipe challenge founded by registered dietitians, The Recipe ReDux is focused on taking delicious dishes, keeping them delicious, but making them better for you. Dietitians Regan Jones (of ReganMillerJones, Inc.), Serena Ball and Deanna Segrave-Daly (both of Teaspoon Communications) founded the group on the belief that healthier eating should always taste delicious. As the Latin term "redux" means to revisit or reinvent, we are reinventing the idea of healthy eating with a taste-first approach. We aim to inspire the food lover in every healthy eater and inspire the healthy eater in every food lover.