Disclaimer: I received a sample kit from Smokin O's to try and review. I received no further compensation. All opinions are my own.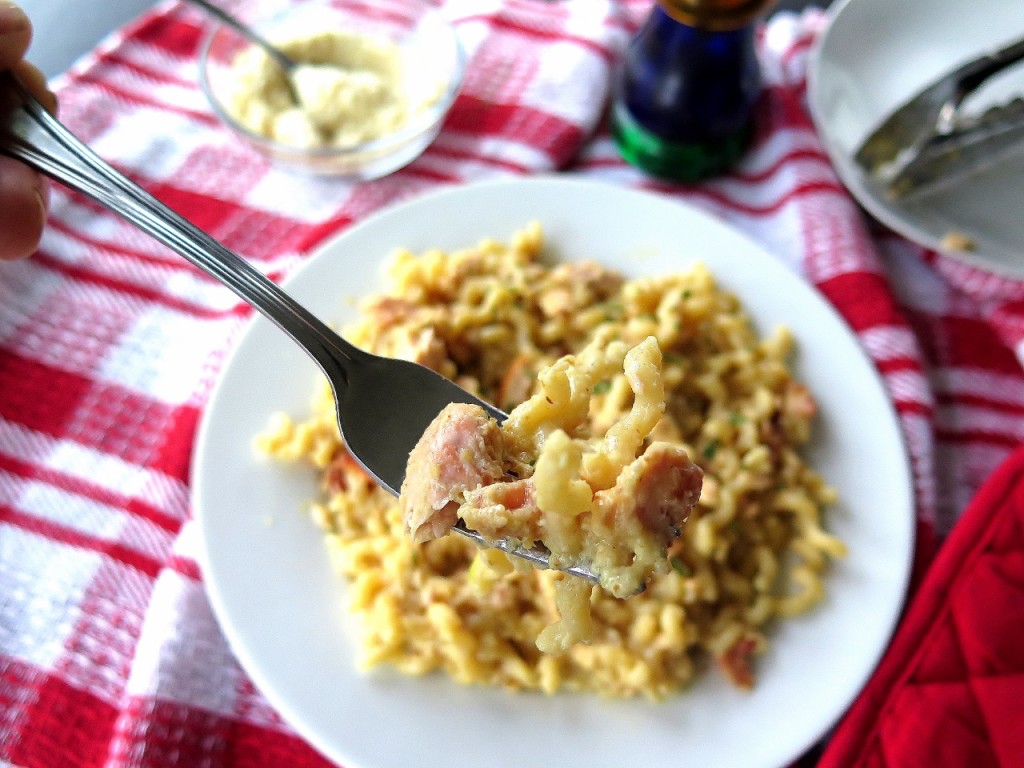 Smoky Salmon Carbonara adds the nutrition of salmon to this rich pasta dish. Slightly smoky taste comes from grilling salmon with Smokin O's natural wood discs.
This recipe is part of #RecipeMakeover week.
Recipe for Smoky Salmon Carbonara is below plus recipes from 40+ bloggers featured this week!
This week, I've joined forced with 40+ of my food blogger friends to present #RecipeMakeover. During this week, we'll all be sharing our favorite better-for-you alternatives to unhealthy dishes. Follow along on any of the blogs below or with the hashtag, #RecipeMakeover on social media to find nutritious dishes that are packed with flavor.
Thanks to our hosts, Allison, Jess and Sharon from The PinterTest Kitchen for organizing this giveaway event!
A huge THANK YOU to our sponsors, who have made #RecipeMakeover possible! They've provided a number of awesome products that you can win by entering our #RecipeMakeover giveaway below.
Just follow the instructions below, and you could win the following prize pack:
This prize pack is valued at over $200, and one lucky winner will get it all! This giveaway is open world-wide except where prohibited. A winner will be randomly drawn on April 29, at the conclusion of #RecipeMakeover, and the winner will be contact via email.
These easy to use compressed wooden discs by Smokin O's add a smoky taste to foods cooked on a gas grill, conventional charcoal grill or smoker.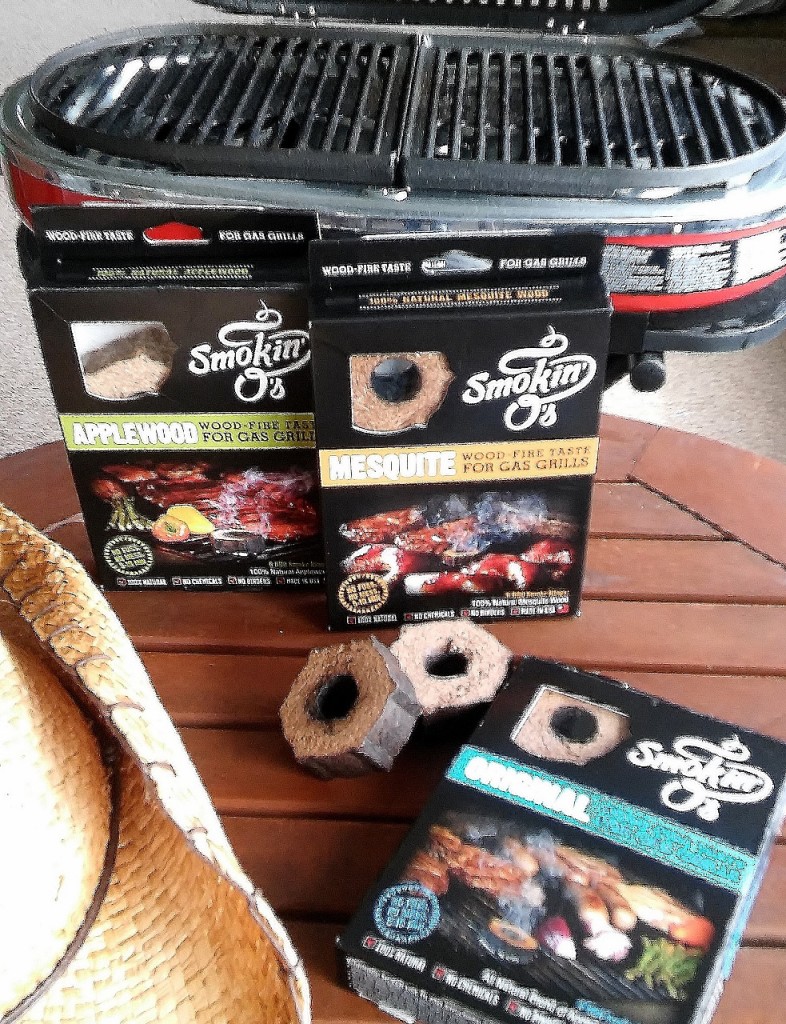 This salmon filet is ready for adding to the carbonara. Just peel off the crisp skin and remove any bloodline or gray-colored meat if desired.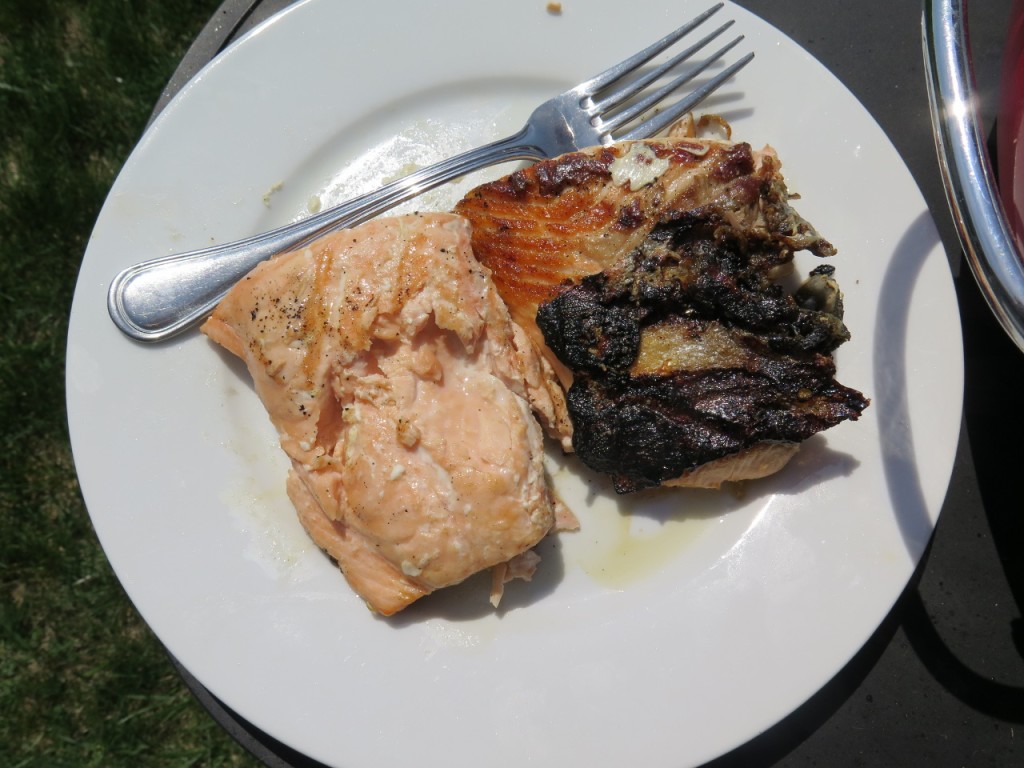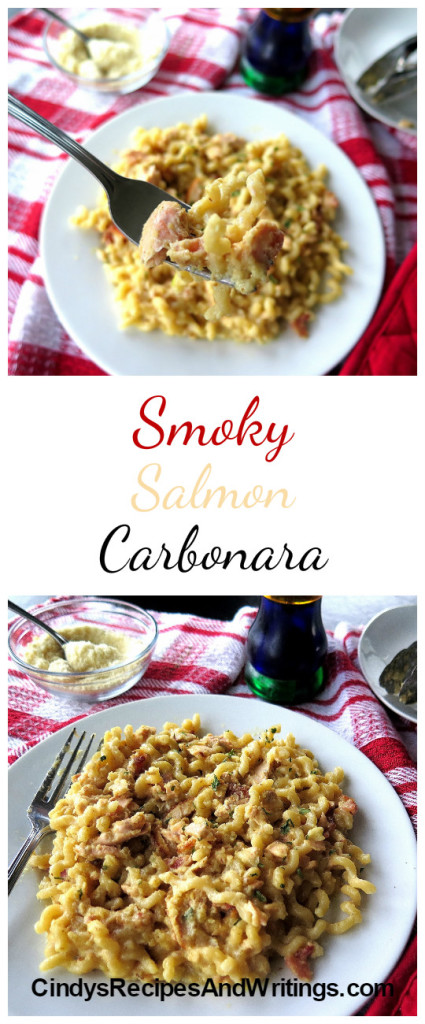 Here's the recipe!
Ingredients
8 ounces (1/2 box) dry spaghetti
4 to 6 ounce salmon filet
1 tablespoon vegetable oil to grease grill
1 smokin O's disc (optional)

sauce

3 eggs, beaten
1/2 cup grated Parmesan Romano blend
2 tablespoons freshly chopped parsley
1/4 cup cooked bacon (optional)
Instructions
Heat grill on high to at least 400 degrees. Use Smokin' O's according to package directions.
Add a light coating of vegetable oil to the salmon and season with salt and pepper.
Reduce heat to 350 and grill salmon skin side down for approximately 3 minutes until skin is crisp and flesh starts to become opaque. Flip and continue cooking until fish easily flakes (about another 3 to 4 minutes).
Remove skin and bloodline meat if desired. Flake.
Whisk together eggs and cheese.
Cook pasta according to package directions. Drain, reserving hot pasta liquid to thin sauce if desired.
Quickly stir egg mixture into HOT pasta. Pasta must be hot to cook eggs. Keep tossing to evenly coat pasta and not create scrambled egg texture. Add a bit of HOT pasta water to thin if desired.
Add salmon, bacon and parsley. Toss to coat,
Serve with a side of Parmesan if desired.
http://www.cindysrecipesandwritings.com/smoky-salmon-carbonara-recipemakeover-giveaway-ad/
Check out today's Recipe Makeovers from participating bloggers!