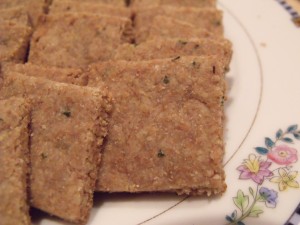 Recently I joined Grain Mill Wagon Challenge sponsored by WonderMill grain mills .
THE CHALLENGE:
Create 5 recipes using fresh flour milled with the WonderMill.
For my second recipe, I got to thinking, since the WonderMill grinds a wide variety of grain why not grind several grains and make something a little different from muffins or breads-although I did make a killer beer bread, but that's another post

.
How about homemade Spicy Ranch Multi-Grain Crackers ?
The WonderMill is so easy to use. In minutes I had fresh ground spelt flour and whole wheat flour for my crackers.
Head over to theGrain Mill Challenge for the recipe and dozens more using fresh milled flours from the WonderMill.