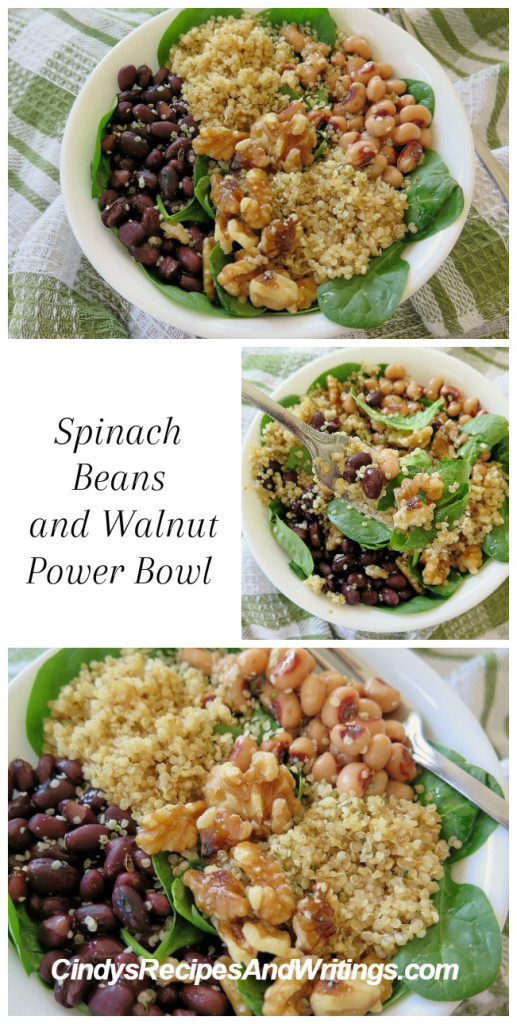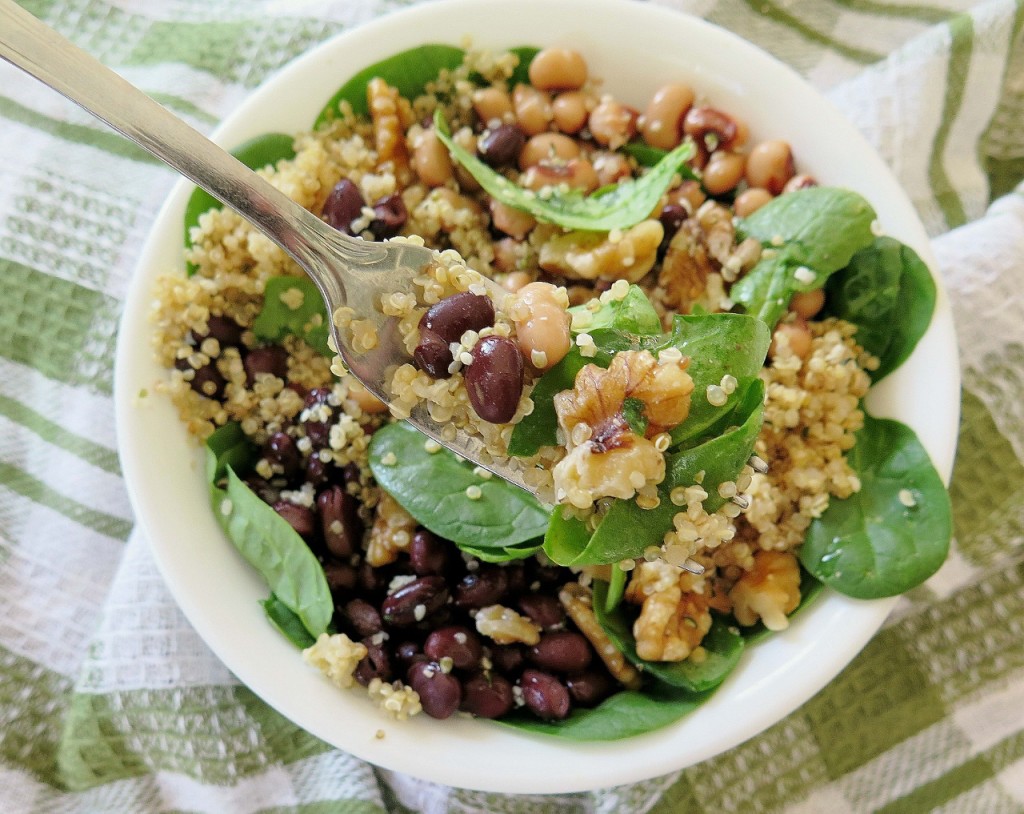 Spinach Beans and Walnuts Power Bowl packs in the plant protein to power you through your day. Hemp seeds, quinoa and apple cider vinaigrette round out the dish.
Welcome to another fun Recipe ReDux challenge!
October 2016 – Theme Plant Protein Power Bowls
Packed with protein, fiber and color, plant power bowls are trendy and delicious. Show us the healthy recipe that's in your bowl!
I put together a little powerhouse of flavors just for the occasion. Spinach, quinoa, black beans, black-eyed peas, walnuts and hemp seeds add important protein and nutrients to the meal.
Here's the breakdown according to the USDA.
Black beans are high in protein, fiber, potassium, calcium, iron, B vitamins, magnesium.
Black-eyed peas contain protein, Vitamin A, magnesium, fiber and calcium.
Hemp seeds are high in omega-3 and omega-6.
Quinoa is one of the few grains contains all nine of the essential amino acids. This grain is high in protein and fiber.
Spinach brings Vitamin A and Vitamin C to the table and helps promote skin and bone health.
Walnuts add omega-3 to our diet along with protein, fiber, Vitamin B-6, and magnesium.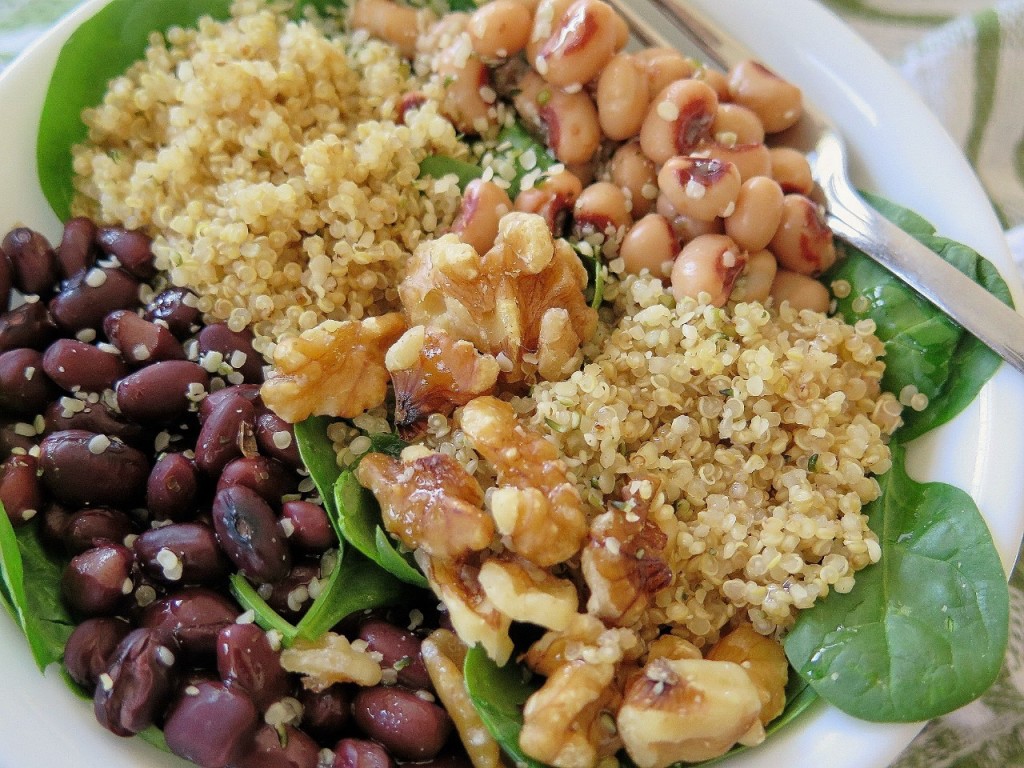 Spinach Beans and Walnuts Power Bowl
Ingredients
1 cup spinach
1/2 cup cooked quinoa
1/4 cup black beans
1/4 cup black-eyed peas or chickpeas
1/4 cup walnuts
1 tablespoon hemp heart seeds
2 tablespoons sunflower oil
1 tablespoon apple cider vinegar
salt and pepper to taste
Instructions
Add spinach to the bowl.
Top with both beans, quinoa, walnuts and hemp seeds.
Drizzle with oil and vinegar. Season with salt and pepper.
http://www.cindysrecipesandwritings.com/spinach-beans-walnuts-power-bowl-thereciperedux/
More about the Recipe ReDux.


As the first and only recipe challenge founded by registered dietitians, The Recipe ReDux is focused on taking delicious dishes, keeping them delicious, but making them better for you. Dietitians Regan Jones (of ReganMillerJones, Inc.), Serena Ball and Deanna Segrave-Daly (both of Teaspoon Communications) founded the group on the belief that healthier eating should always taste delicious. As the Latin term "redux" means to revisit or reinvent, we are reinventing the idea of healthy eating with a taste-first approach. We aim to inspire the food lover in every healthy eater and inspire the healthy eater in every food lover.
Food for Thought…What combinations of plant protein would you put in your Power Bowl? Would fruit be a factor? Which nuts would you consider? How do you feel about a dressing, yea or nay? I'd love to hear your ideas in a comment below!
Enjoy all these versions of Plant Protein Power Bowls from The Recipe ReDux!