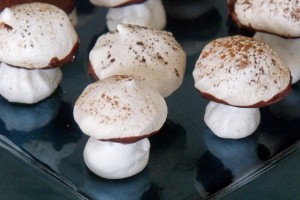 Handmade meringue? Yes, it is possible to hand whip egg whites into a light, fluffy meringue. When OXO sent me these egg tools for free to try, I was thinking, "What would put this hand beater to the ultimate test?"
Of course I tried omelettes. Good, but I could do better.
I made aioli with avocado.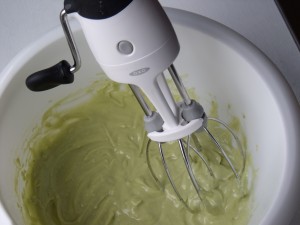 Better, but still I needed something more challenging.
I'm all about people powered tools. I do hand crank my own ice cream and we have a push lawn mower, no gas or electric assist. So why not give meringue a try?
First, I needed clean, yolk free egg whites. This is where OXO's Egg Separator came in handy.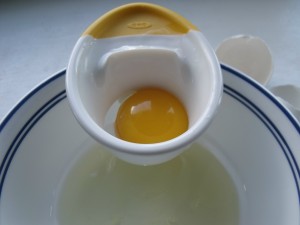 Okay, I had my whites, grabbed the sugar and cream of tartar. What was I forgetting? Oh yeah, this would be a TWO PERSON job!
Meringue requires the slow addition of the sugar into the egg whites. Let's see, one hand to hold the beater, one to crank it and one to pour the sugar. Luckily for me, I have a wonderful granddaughter who loves to cook and willing to lend an extra hand or two!
Meringue Mushrooms
Ingredients
2 large egg whites
1/4 tsp cream of tartar
1/2 cup superfine sugar
1 bag (10 to 12 ounces) of semi-sweet chocolate chips
cocoa powder or cinnamon for dusting
Directions
Preheat oven to 225 degrees. Line 2 baking sheets with parchment (one for caps, one for stems).
In a medium-sized bowl, beat egg whites until foamy.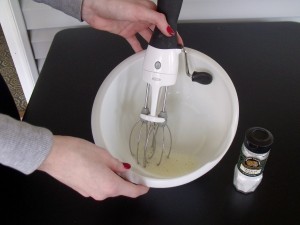 Beat in cream of tartar until soft peaks form.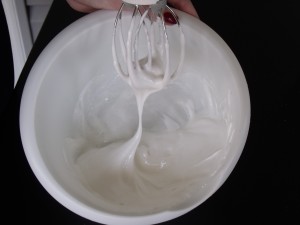 Beat in sugar, a little at a time until you have stiff peaks. This will take several minutes.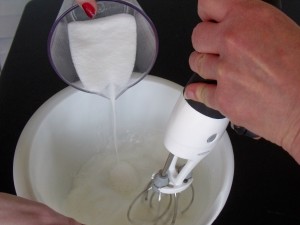 Fill a pastry bag with half the meringue to make the caps. Use a large round or star tip. Pipe caps leaving about an inch space in between. You can smooth out the tops if you like by running a wet finger over top. It doesn't need to be perfect, real mushrooms are bumpy and lumpy!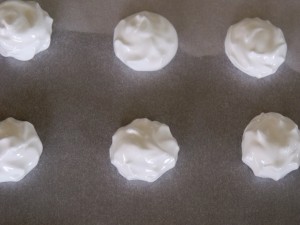 Use the remaining half to pipe the stems. These didn't turn out perfect either. That's okay too!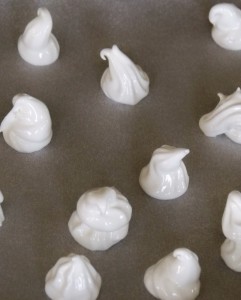 Bake your meringue in a slow oven for about an hour. The finished candy should be totally dry and not browned.
Melt your chocolate in a double boiler. Let it slightly cool so it will be easier to work with when coating meringue.
Cut stems flat if possible. Dip caps in chocolate and attach to stems. Use as little chocolate as possible so it doesn't run for you.
Let dry, and then dust with cocoa or cinnamon. You can also dips the pieces in chocolate and sprinkle with assorted candy toppings.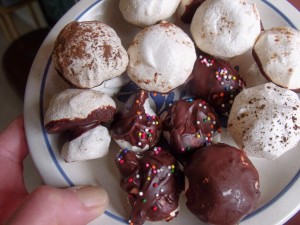 Find out more about these EGGciting EGGtools at the OXO website!
DISCLAIMER I was given these hand tools by OXO for free to try and was under no obligation to review these items. Opinions expressed are my own. I was not monetarily compensated for this post.