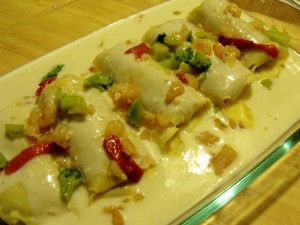 They say you need to break a few eggs to make an omelet and that goes for crepes too. My first attempts were disasters. I wasted a lot of product. I'd think I had the right consistency, but my crepes would still break when I tried to flip them.
When OXO sent me a free Flip and Fold Omelet Turner I knew I had to give crepes another try. It has a thin edge that slid easily under my crepes and volia! Flipped. It did take a few trys to get it "perfect" but wow, what a difference the right tools can make.
No more store bought crepes for me.
Here's an easy recipe to make my favorite crepes. These crepes are savory. Add a little sugar for dessert crepes but be careful because the sugar raises the flash point and could more easily burn for you.
Seafood Crepes
Crepes adapted from Alton Brown's recipe
Ingredients
1 large egg
1/4 cup plus 2 Tablespoons milk
1/4 cup water
1/4 cup all-purpose flour
1/4 cup kamut flour
1 1/2 Tablespoons butter, melted
(Butter or spray for coating pan)
Directions
Combine all ingredients in a blender and pulse until mixed about 10 to 15 seconds. Put batter in the refrigerator for an hour to settle and be easier to use with less tearing.
While batter chills, prepare the filling.
Filling
Ingredients
1/2 lb cooked shrimp, chopped
1/2 teaspoon seafood seasoning
1/2 cup sliced roasted red peppers
1/2 cup broccoli, cooked
Mix shrimp, seasoning, peppers, and broccoli together. Set aside.
Bechamel Sauce
Ingredients
1 1/2 cups milk
2 Tablespoons flour
2 Tablespoons butter
1/2 cup Parmesan cheese
Pinch of nutmeg
To prepare sauce, melt butter in a medium saucepan over medium heat. Stir in flour. Cook until bubbly but not browned. Slowly add milk until totally mixed in. Remove from heat, add parmesan and nutmeg. Set aside.
Directions
Coat a small non-stick pan with melted butter or cooking spray. Heat the pan, over medium heat. Add a small amount of batter, just enough to coat the pan. Swirl to create a thin coating. When making crepes, the thinner the better.
Cook until crepes set, about 30 seconds. Flip.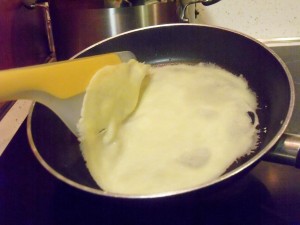 Cook a few seconds longer until firm.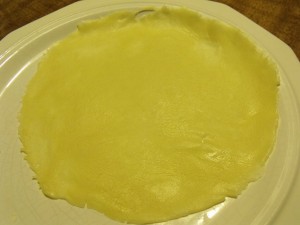 Remove crepes from pan and cool in a single layer on a cutting board or parchment paper.
Makes about 6 crepes.
Add about a 1/4 cup sauce to the bottom of a 9×11 dish.
Add about 2 Tablespoons of filling to each crepe.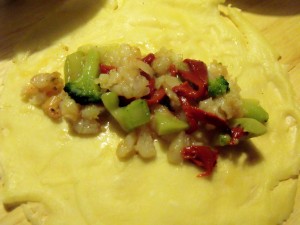 Carefully roll up, tucking in ends as you go.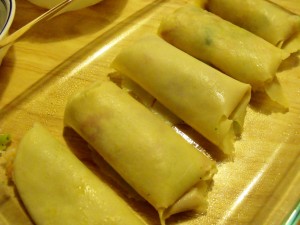 Lay finished crepes seam side down in prepared pan.
Cover with remaining sauce. Add any remaining filling on top.
Bake until thoroughly heated, about 20 minutes. Serve and enjoy!
DISCLAIMER I was given these hand tools by OXO for free to try and was under no obligation to review these items. Opinions expressed are my own. I was not monetarily compensated for this post.