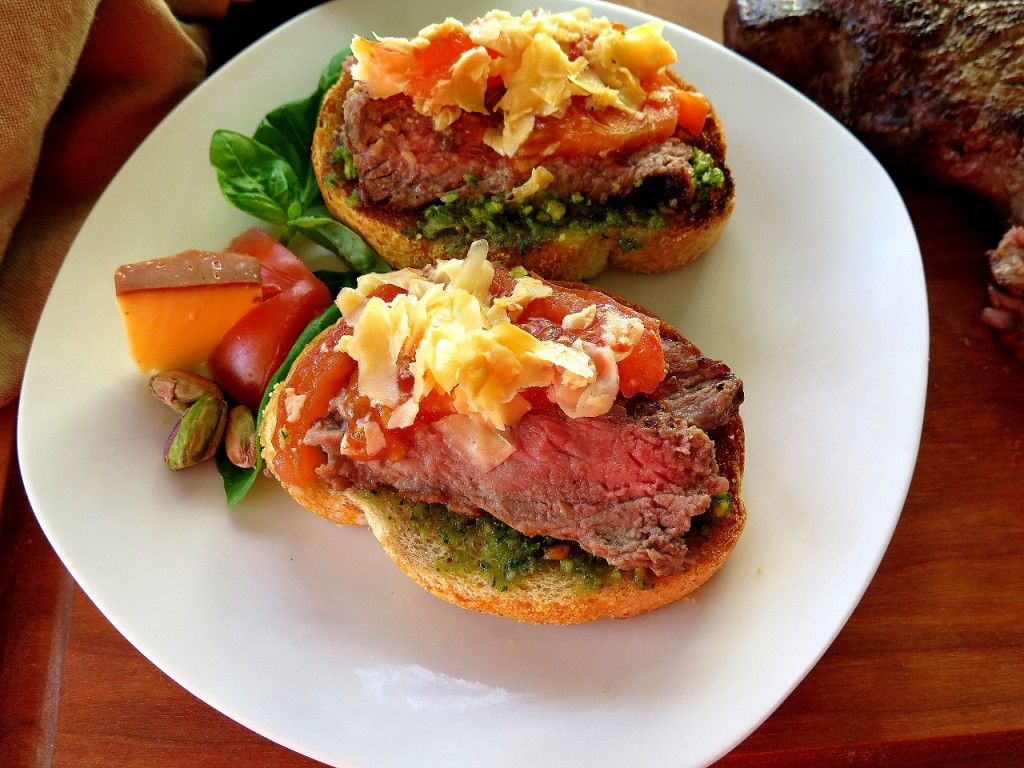 Steak Pistachio Pesto Crostini with grated smoked gouda and bronzed tomatoes. Ready in under 30 minutes. Great for beef lovers of all ages!
Time to enjoy another recipe round up from The Recipe ReDux Group.
November 2017 – Challenge
Naturally Colored Holiday Treats and Trimmings
Holiday feast season is upon us. But there's lots of room on the table for brightly-colored, nutritious foods. Show us your sweet or savory, naturally-colored/naturally-dyed holiday fare. Theme via idea from Casey the College Celiac.
The holidays will soon be here.
That means I need some stress free recipes that look like I fussed all day! I'm kidding of course, but easy appetizers my guests will love will always top the list.
Color is an important component to any dish. As winter drabs set in, we need all the color we can get!
Steak Pistachio Pesto Crostini fits the bill! Green pesto, red tomatoes, yellow cheese and brown bread.
Pretty yes, but there's more here than meets the eye!
A 3 ounce serving of lean beef (150 calories and less than 4.5 grams saturated fat on average) helps power your day with Iron, Choline, Protein,  Selenium, Vitamins B6 and B12. Also Zinc, Phosphorus helps, Niacin and Riboflavin.
Healthy Pistachios add a lively green to the basil based pesto. Pistachios are an excellent source of copper and manganese, and a good source of thiamin and phosphorus. They're also an excellent source of fiber, vitamin B6, offering 20% of the Daily Value per serving.
It makes a great small plates addition to and party or family meal.
I pan fry the steak. Grilled is delicious too!
I used Certified Angus Beef ® brand strip steak for this recipe. I find it cooks up tender every time!
Enjoy!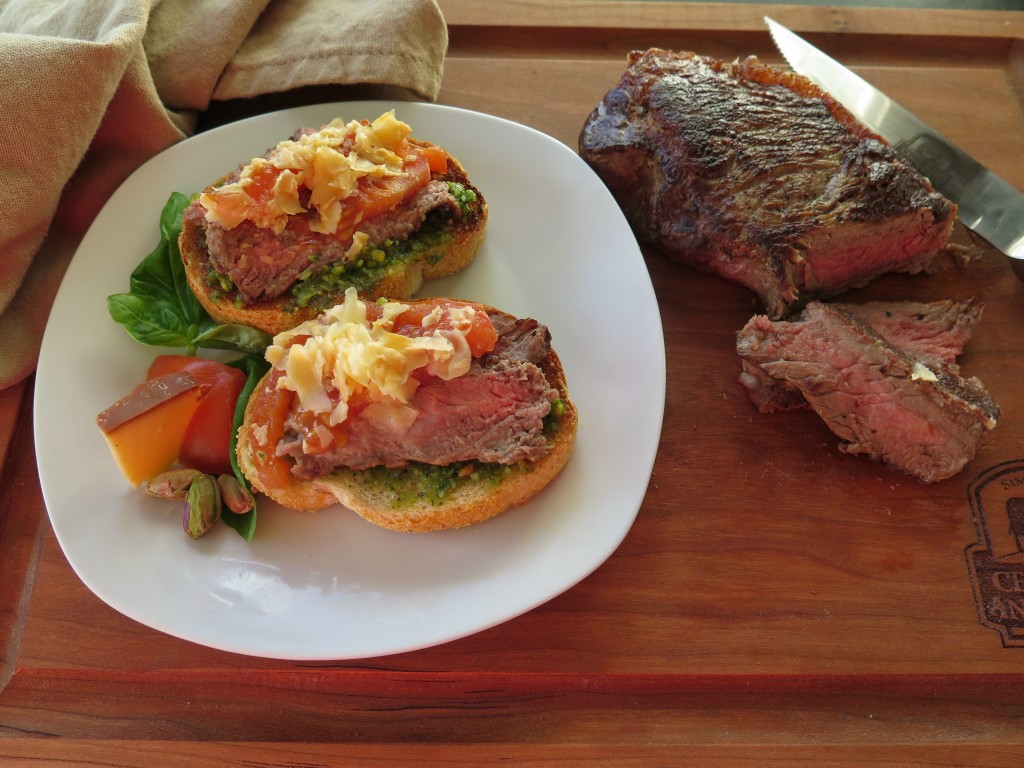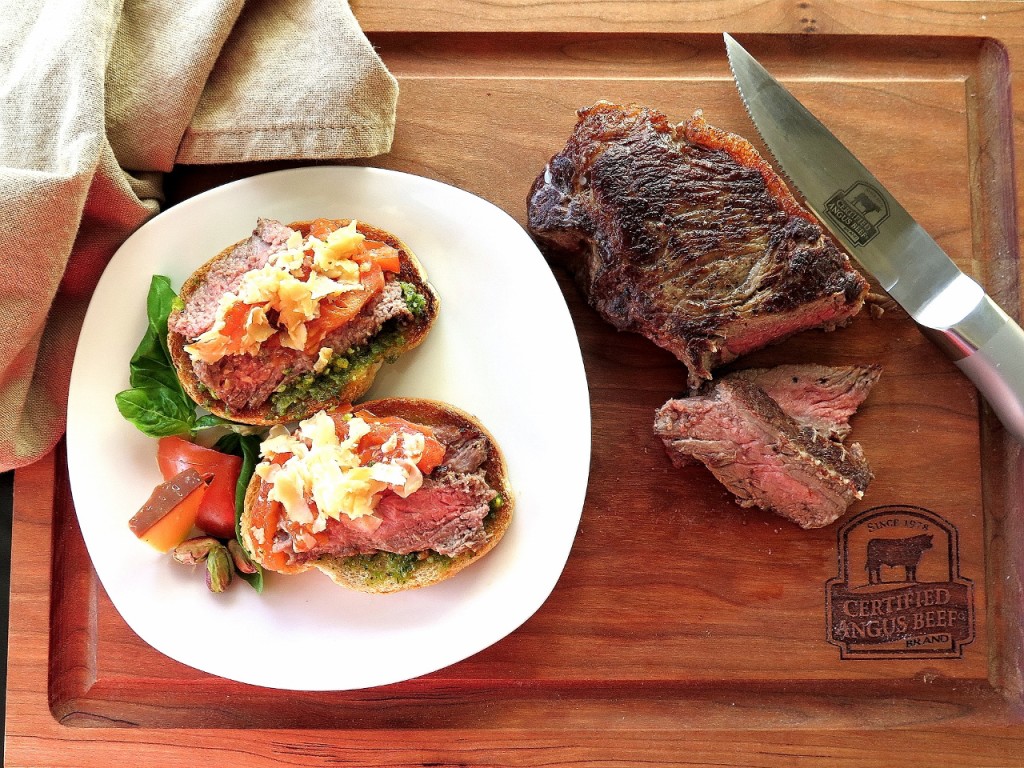 Food for Thought…What is your favorite beef or steak as an appetizer recipe? Do you go for steak and blue cheese or stilton? Maybe horsy sauce or BBQ? I would love to hear your ideas in a comment below!
Steak Pistachio Pesto Crostini
Ingredients
1 10 to 12 ounce strip steak
1 tablespoon olive oil
1 medium tomato, sliced thin
1 baguette sliced into 8 to 10 pieces 1/2-inch thickness
1/4 cup melted butter
1/2 cup shaved smoked gouda

pesto

1/4 cup salted pistachios
1/2 cup fresh basil
2 cloves garlic
1/4 cup grated parmesan cheese
1/4 cup olive oil
Instructions
Heat pan over medium high heat with olive oil. Season steak with salt and pepper. Cook steak 6 minutes per side for medium rare. Temperature 125 rare 130 medium rare. Rest on rack.
In same pan, sear tomatoes for about 30 seconds per side. Remove from heat. cover with grated cheese.

pesto

Add pistachios, garlic, basil and cheese in a food processor. Grind into paste. Slowly add olive oil and process into pesto. Add more oil if needed to reach desired consistency.
Brush both sides of bread with butter. Broil to golden brown.
Spread browned bread with pesto. Top with thinly sliced steak and tomato sliced with cheese.
http://www.cindysrecipesandwritings.com/steak-pistachio-pesto-crostini-thereciperedux/
More about the
Recipe ReDux
.


As the first and only recipe challenge founded by registered dietitians, The Recipe ReDux is focused on taking delicious dishes, keeping them delicious, but making them better for you. Dietitians Regan Jones (of ReganMillerJones, Inc.), Serena Ball and Deanna Segrave-Daly (both of Teaspoon Communications) founded the group on the belief that healthier eating should always taste delicious. As the Latin term "redux" means to revisit or reinvent, we are reinventing the idea of healthy eating with a taste-first approach. We aim to inspire the food lover in every healthy eater and inspire the healthy eater in every food lover.
Enjoy these colorful sweet and savory holiday meal ideas from The Recipe ReDux!
I was not compensated for writing this post. Certified Angus Beef ® brand is a trademark of the beef I used. All opinions are my own.