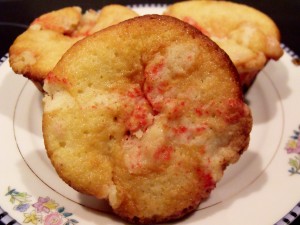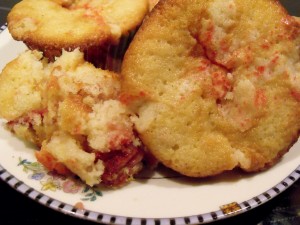 These muffins have a cakelike texture. The crumble on top gives them a chewy yummy topping. No icing needed!
Ingredients
1/2 cup butter
1 1/4 cup sugar
2 each egg, beaten
2 cups flour
2 tsp baking powder
1/2 tsp salt
1/2 cup milk
2 cups strawberries, sliced
1 tsp vanilla extract
crumble
3/4 cup flour
3/4 cup butter
1 cup sugar
colored sugar for garnish, optional
1. Cream together butter and sugar. Add eggs and vanilla. Mix.
2. In a separate bowl, sift together flour, baking powder and salt.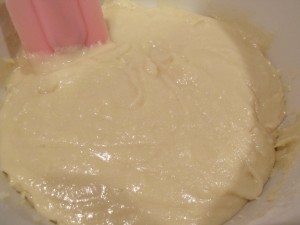 3. Alternate adding dry ingredients and milk to butter sugar mixture until you form a batter. Fold in strawberries, set aside.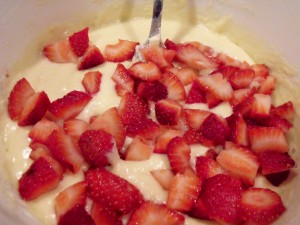 < 4. In a separate bowl, mix flour, sugar and butter together for crumble. 5. Fill paper lined muffin tins 2/3 full with batter.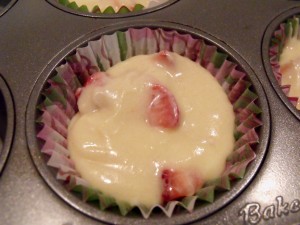 6. Sprinkle with crumble and colored sugar if desired.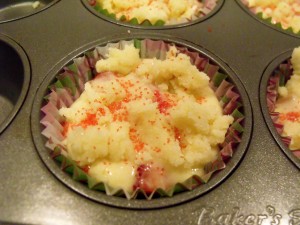 7. Bake at 375 for 30 minutes or until toothpick comes out clean.
Servings: 18
Oven Temperature: 375°F
Nutrition Facts
Nutrition (per serving): 297 calories, 120 calories from fat, 13.7g total fat, 55.1mg cholesterol, 132.4mg sodium, 68.2mg potassium, 41.4g carbohydrates, <1g fiber, 26.2g sugar, 3.1g protein, 439.2IU vitamin a, 9.9mg vitamin c.
Tips
The crumble gives these muffins a chewy top instead of a crumb topping. If you like a crumb top, Add 1/2 cup flour, 3/4 cup brown sugar to the crumble and reduce the sugar to 1/3 cup.