Everyone loves some kind of burger. Your favorite burger might be made with meat. Maybe a veggie burger is more your style. The Art of the Burger by Jens Fischer explores 50 different types of burgers that go way beyond ground beef.

Think, "Build a better burger." Layer on layer of unique flavor combinations. The spectrum of burgers range from classic flavor combinations with exciting new twists to seafood burgers. Fischer doesn't forget the dessert. Some of these burgers are made with doughnuts, blintzes or waffles.
In case you prefer your burgers on bread, Fischer includes several recipes. Choices include classic buns like sesame, whole wheat or brioche. If you're looking for a bit more adventure try Fruity Bread Rolls, Spiced Buns or Squid Ink Buns.
The concept behind building with layers by using a picture legend is a bit confusing. Fischer devised a series of symbols to represent ingredients and categories. Each recipe is laid out by ingredients or "stacked" in the next photo.
Most of the combos sound appetizing to me and are worth a try. Making burgers from scratch isn't new. Creating unique breads and condiments to enhance the meal is a work of art.
Here are some sample recipes excerpted with permission from The Art of the Burger: More Than 50 Recipes to Elevate America's Favorite Meal to Perfection by Jens Fischer. Copyright 2015, Skyhorse Publishing, Inc.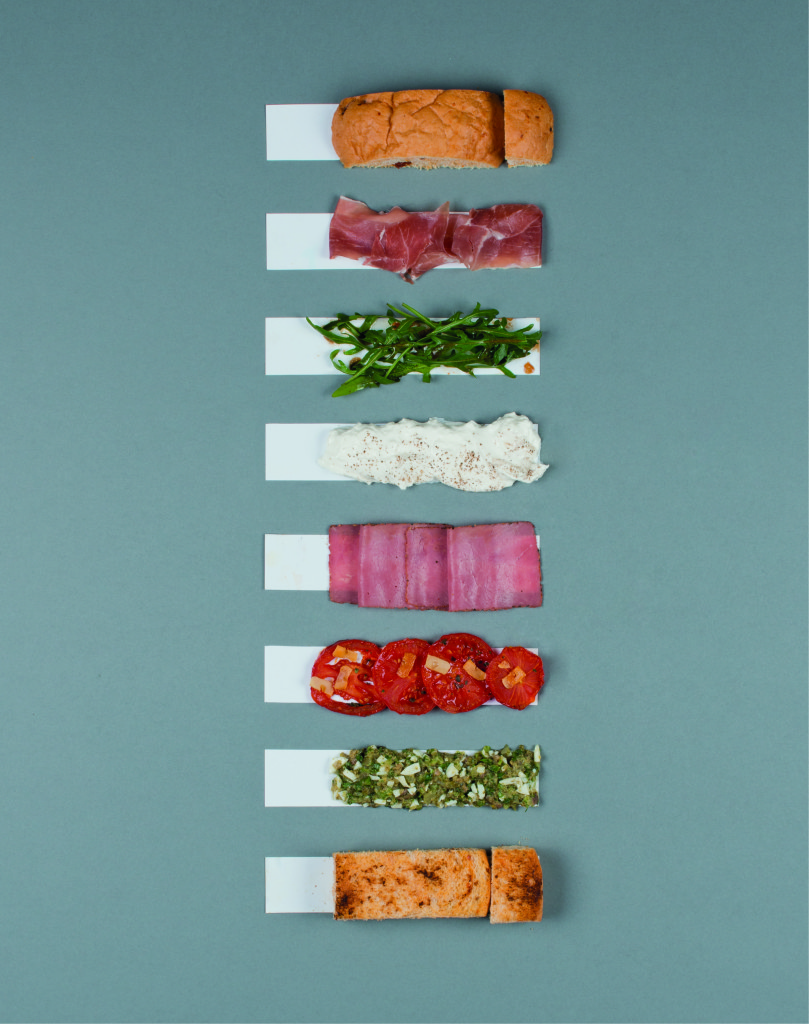 THE ITALIAN JOB
SMOKED BEEF BRISKET / HAM / BURRATA / ARUGULA / TOMATO
INGREDIENTS — 4 vine-ripe tomatoes | 1 garlic clove | 2 stems of thyme | 2 TBSP olive oil | ½ cup arugula | 2 TSP balsamic vinegar | 4 tomato buns (page 19) | 8 TBSP salsa verde (Page 31) | 16 slices pastrami (smoked beef brisket) | 2 medium Burrata (Italian cheese similar to mozzarella) | 4 slices of Culatello or prosciutto | Salt and freshly ground black pepper
1. Preheat the oven to 175°F.
2. Wash the tomatoes, dry, and slice.
3. Peel the garlic and cut it into thin slices.
4. Wash the thyme, shake the leaves dry, and pluck them off.
5.Line a baking tray with parchment paper and the tomato slices on it, drizzle some olive oil, salt, and pepper, and sprinkle thyme and garlic and let dry in the oven for about 1 hour.
6.Rinse the arugula, shake dry and marinate with balsamic vinegar and olive oil, and season with salt and pepper to taste.
7.Cut the buns in half, lightly toast the insides, and coat with 1 TBSP salsa verde.
8.Distribute the tomatoes on the bottom halves and give each burger four slices of the pastrami.
9. Halve the Burrata and lay, with the cut side up, on the pastrami. Add salt and pepper to taste.
10.Spread the arugula evenly on the Burrata, give each a slice of Culatello, and finish by placing the bun on top.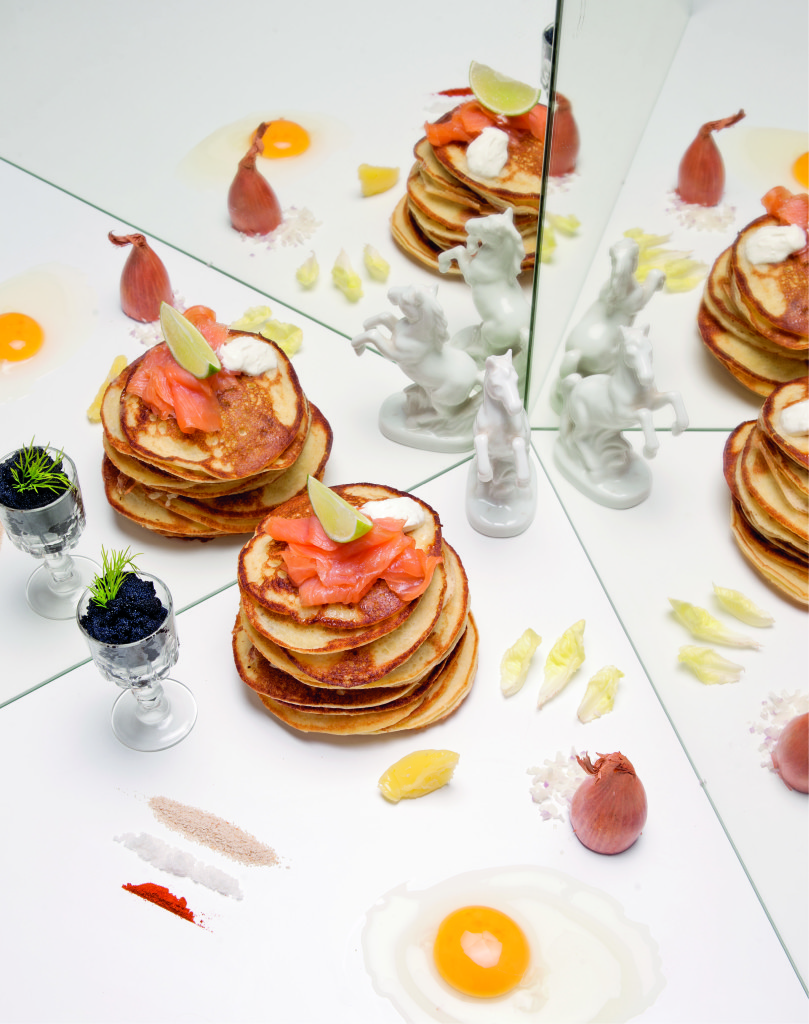 TSAR NIKOLAJ
BLINTZES / SALMON / SMOKED SALMON / CAVIAR
1 LB Fresh Salmon Fillet
1 shallot/ 1 egg
2 TBSP Breadcrumbs
½ cup crème Fraiche
Juice of 1 lime
¼ LB Balik Salmon "Tsar Nikolaj" (alternatively, Smoked Salmon)
4 lettuce leaves
8 large blintzes (page 10)
4 TSP osietra caviar
4 dill tips
Salt and cayenne pepper
Clarified butter for frying
1. Cut the fresh salmon in slices and chop finely.
2.Peel and finely dice the shallots.
3.Mix the salmon with the shallot, egg, breadcrumbs, ½ TSP salt, and ¼ TSP cayenne pepper, shape into four equal-sized patties, indent them in the middles, and refrigerate 1 hour.
4.Mix the crème fraîche with the lime juice and salt and cayenne pepper to taste.
5Cut the Balik or smoked salmon into thin slices.
6.Fry the patties in clarified butter over medium heat on both sides for about 4 minutes.
7.Wash the lettuce leaves and shake dry
8.Coat the four blintzes with half of the crème fraîche, then place the salad leaves, the patties, then the Balik salmon. Give each an additional TBSP creme fraîche and garnish with caviar and dill tips.
9.Finally, place the remaining four blintzes on the burger.
Get your copy at:
Amazon
Moravian Book Shop
I received a free copy of The Art of the Burger to review. I received no monetary compensation nor proceeds from sales generated by this post. All opinions are my own.