You're Invited To Our New Years Eve Potluck Party with Emeril and Giveaway!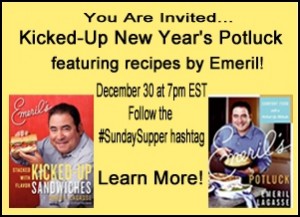 GIVEAWAY CLOSED WINNER ANNOUNCED!
This week our Sunday Supper Team has a special treat in store for you! We're sharing our favorite Emeril Lagasse recipes for a special New Years Eve Potluck menu! That's not all! We will also be giving away copies of Emeril's cookbooks to lucky visitors during our live tweetchat Sunday, December 30th at 7:00pm Eastern Time! Come join us by following the #SundaySupper hashtag at http://tweetchat.com and share your favorite Emeril recipes and Potluck Party Tips! Remember you need to be present during our chat to win and leave a comment about the potluck party below with your twitter handle so I can notify the winner! You can also follow us at http://twitter.com/#sundaysupper and include the #sundaysupper hashtag in your post.
For additional entries, leave a comment below about your favorite Emeril recipe, follow me on twitter , facebook and pinterest and leave a comment with what you did.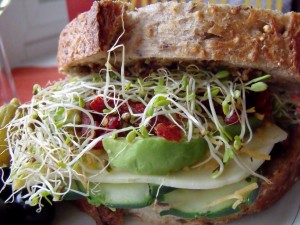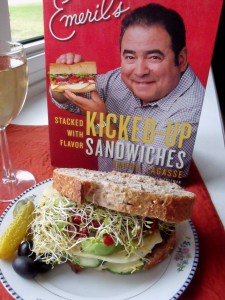 For a Deli Girl at heart like me, getting Emeril's Kicked-Up Sandwiches cookbook is my idea of a cool Christmas present! When Isabel told us that we would be focusing this week's Sunday Supper on Emeril's Kicked-Up Sandwiches and Emeril's Potluck, I hoped I'd get picked for the sandwich cookbook because I'd heard so much about it from Isabel during her week with Emeril Lagasse's Serious Sandwich Cookalong.
As a rule we try to eat at least one vegetarian meal a week at our house. Emeril's Three-Cheese Veggie Sandwich fit the bill immediately!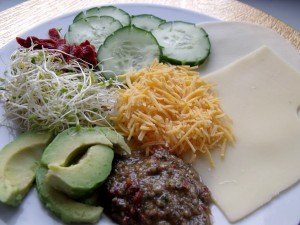 Can you believe all this goodness goes in one sandwich!
Emeril combines provolone, cheddar, and Swiss with cucumber, rich creamy avocado and tender sprouts topped with Sun-dried Tomato and Walnut Pesto, served on his own fresh baked multigrain bread. Wow!
Sound good to you? Yeah me too! Here's the recipe!
Recipe courtesy Emeril Lagasse, Emeril's Kicked-up Sandwiches, William Morrow Publishers, New York, 2012.
3-Cheese Veggie Sandwich
INGREDIENTS
8 slices seeded or multigrain bread(see page 301)toasted
1 cup Sun-Dried Tomato and Walnut Pesto (page 320)
1/2 cucumber sliced into 1/8-inch rounds
Salt and freshly ground black pepper,for seasoning
4 slices provolone cheese
4 slices cheddar
4 slices Swiss
1/2 avocado, thinly sliced
1/2 cup thinly sliced sun-dried tomatoes
1 cup alfalfa or green leaf sprouts
1 teaspoon olive oil
1. Arrange the toast slices in a single layer on a work surface. Spread 2 Tablespoons of the Sun-Dried Tomato and Walnut Pesto on each slice of bread. On 4 of the slices, arrange the cucumber in a single layer, covering as much of the bread as possible, and season with just a pinch of salt and pepper. Place a slice each of provolone, cheddar and Swiss cheese on top of the cucumber. Divide the avocado slices evenly among the sandwiches and season with salt and pepper. Spread 2 Tablespoons of the sun-dried tomatoes evenly over the avocado.
2. In a small mixing bowl, toss the spouts with the olive oil and a pinch of salt and pepper. Spread 1/4 cup of the sprouts over the tomatoes on each sandwich. Complete the sandwiches with the remaining slices of toast.
Emeril's Sun-dried Tomato and Walnut Pesto was a nice change from flavored mayo. I'm a pesto nut, so I made a double batch and used the extra to flavor baked skinless, boneless chicken breasts. Delicious!
Look at all the little bits of goodness!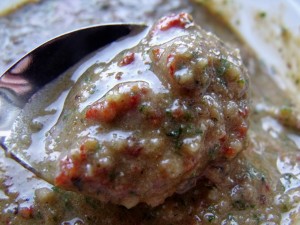 Sun-dried Tomato and Walnut Pesto
Ingredients
1/2 cup walnut halves or pieces, toasted
1 teaspoon minced garlic
1/2 cup fresh basil leaves
1/4 cup parsley leaves
1/4 cup whole sun-dried tomatoes
1/4 cup finely grated Parmigiano-Reggiano cheese
1/2 teaspoon salt
1/4 teaspoon freshly ground black pepper
Finely grated zest of lemon
1 teaspoon freshly squeezed lemon juice
1 Tablespoon balsamic vinegar
1/2 cup extra-virgin olive oil
Place the walnuts in a food processor and pulse until they are thoroughly chopped. Add the garlic, basil, parsley, sun-dried tomatoes, Parmesan, salt, pepper, lemon zest, lemon juice, and balsamic vinegar. Pulse for a few seconds. With the machine running, add oil in a steady stream to combine. Transfer the pesto to a serving bowl and use immediately, or cover and refrigerate for up to 1 week, or store in the freezer for 3 months.
I also made the bread, but in my version I omitted some of the seeds. I used shredded cheddar that I had on hand instead of sliced cheddar.
You can buy your own copy of Emeril's Kick-up Sandwiches and Kick-Up lunch, brunch and even dinner (there is also dessert sandwiches)here!
If you'd like some great potluck ideas and recipes try
Emeril's Potluck get your copy here!
Check out all the great Emeril recipes showcased by our Sunday Supper Team!
25 Bloggers will be giving away 25 copies of Emeril's Cookbooks!* You don't want to miss this special Celebration!
Sunday Supper NYE Potluck Drinks:
Sunday Supper NYE Potluck Starters:
Sunday Supper NYE Potluck Dishes and Sandwiches: 
Sunday Supper NYE Desserts:
* The bloggers with royal blue posts will be giving away a copy of one of either Serious Sandwich Cookbook or Potluck Cookbook during the Chat.
Please join on us on Twitter throughout the day during #SundaySupper on December 30th and the #SundaySupper conversation on twitter tonight, Sunday December 30, 2012 starting at 7:00 pm ET for more on Emeril recipes and a chance to win an Emeril cookbook! You do not want to miss out on the fun! Follow the #SundaySupper hashtag and remember to include it in your tweets to join in the chat. Check our our #SundaySupper Pinterest board for more fabulous recipes and food photos.
I received a courtesy copy of Emeril's Kicked-Up Sandwiches and a copy of an Emeril Lagasse cookbook to giveaway to one of my readers. Opinions expressed are my own and I received no additional compensation.