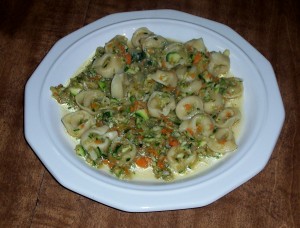 This started as a quick throw-together meal that used some extra zucchini as a bonus, but turned into a favorite family standby on those hectic short on time dinner nights!
2 medium zucchini, chopped (about 2 cups)
1 cup carrots, peeled and chopped
1/2 cup onion, peeled and chopped
4 cloves garlic, minced
2 vegetable bouillon cubes
2 tablespoons olive oil
1 12 ounce bag frozen tortellini
1 cup water
In a large fry pan, sauté zucchini, carrots, onion and garlic in olive oil for 2 minutes. Add bouillon cubes and water. Simmer over medium-low heat until tender and bouillon is dissolved (about 5 minutes).
Cook tortellini according to package directions. Drain, and then add to sauce mixture. Stir and serve. Enjoy!
Chop all the vegetables at once in a food processor, if possible to cut down preparation time.
Add some parmesan cheese for an Italian touch or red pepper flakes for a spicy zing!