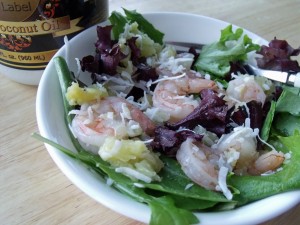 Here in PA we're in the winter doldrums. I really could use a visit to a tropical isle. Let me see, I'll do a quick check of my finances and the answer is obvious. I need to do it through a food journey.
My first choice is this shrimp salad sprinkled with crunchy crushed pineapple and moist sweetened coconut. Candied ginger adds some extra zing. Toss it with a pineapple coconut dressing using Tropical Traditions Gold Label Virgin Coconut Oil and served on a bed of crisp, fresh greens.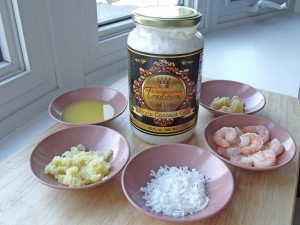 In medium-sized bowl, add 1/2 cup cooked shrimp, sprinkle with 2 Tablespoons crushed pineapple, drained and reserve the liquid, 1 Tablespoon shredded sweetened coconut, 1 Tablespoon chopped candied ginger or fresh ginger.
liquefy oil by placing desired amount in a bowl and heat over a pan of hot water or in a double boiler.
To make the dressing, in a separate bowl, combine 2 Tablespoons of the reserved pineapple juice, 1 Tablespoon orange juice, 1/4 teaspoon salt and 1 Tablespoon liquid oil.
Whisk and pour dressing over shrimp mixture. Stir to coat and top greens with shrimp mixture. If dressing solidifies, place the bowl over hot water just long enough to liquefy.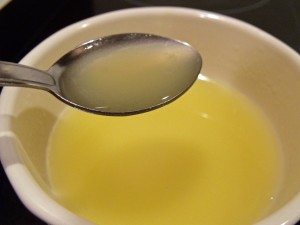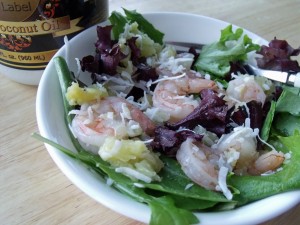 Sound good to you? Learn more below about this coconut oil and other Tropical Traditions products below.
Want to win your own jar of Tropical Traditions Gold Label Virgin Coconut Oil? Click on the Rafflecopter entry form below and good luck!
Win 1 quart of Gold Label Virgin Coconut Oil!
Tropical Traditions is America's source for coconut oil. Their Gold Label Virgin Coconut Oil is hand crafted in small batches by family producers, and it is the highest quality coconut oil they offer. You can read more about how virgin coconut oil is different from other coconut oils on their website: What is Virgin Coconut Oil?
You can also watch the video they produced about Gold Label Virgin Coconut Oil:
Tropical Traditions also carries other varieties of affordable high quality coconut oil. Visit their website to check on current sales, to learn about the many uses of coconut oil, and to read about all the advantages of buying coconut oil online. Since the FDA does not want us to discuss the health benefits of coconut oil on a page where it is being sold or given away, here is the best website to read about the health benefits of coconut oil.
Tropical Traditions provided me with a free sample of this product to review, and I was under no obligation to review it if I so chose. Nor was I under any obligation to write a positive review or sponsor a product giveaway in return for the free product.