COOKIES!!!!!!!!!!!!!!!
Sorry, I go crazy when it comes to cookies. No self control. None. Big fat zero. 😉 I can eat a bag of Milanos in under a minute. I'm not proud, just saying…
So when I heard that this week Sunday Supper was all about cookies AND we have Janet Keeler, Food & Travel Editor for the Tampa Bay Times and Author of Cookielicious joining us with tips on baking for the Ultimate Cookie Exchange and to answer any of your baking questions. I was super excited!
That's not all.
Wait for it.
Wait for it.
Bang! We are giving away 5 signed copies of Cookielicious with 150 fabulous recipes to bake and share!
My contribution to the #SundaySupper virtual cookie exchange is one of my Mom's old-fashioned recipes marked in her favorite cookbook. It was for Wheaties Cookies. I was never a Wheaties fan, although I used to eat a lot of Total back in the day. Anyway, I adapted that recipe and I was pleasantly surprised! Move over oatmeal, make room for wheat flakes again!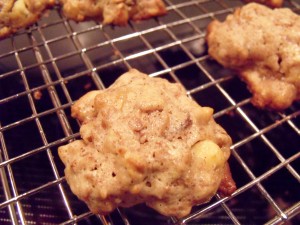 Whole Wheat Cereal Cookies
preheat oven to 375
Ingredients
1/2 cup unsalted butter, softened
1/2 cup sugar
1 egg
1/2 cup milk
1 cup flour
1/4 teaspoon Baking Soda
1/4 teaspoon salt
1 1/2 cups cereal (Uncle Sam's, Wheaties, Total)
2 teaspoons cinnamon
1/2 cup white chocolate chips
1/2 cup chopped walnuts
Cream butter and sugar together. Mix in egg. Stir in milk.
Sift together flour, baking soda, cinnamon and salt. Add to creamed mixture. Stir in chocolate chips and walnuts.
Chill dough for 30 minutes.
Drop by teaspoonful onto ungreased cookie sheet and bake at 375 for about 10 minutes. Cool and enjoy!
Try ALL The Sunday Supper Favorite Cookie Exchange Cookies:
For more amazing cookies recipes like Snowball Surprise Cookies, check out  Cookielicious by Food Editor Janet K. Keeler from The Tampa Bay Times now while there is a special… Buy One Cookielicious Cookbook and get one for a friend!
Do you have a favorite cookie to take to a Cookie Exchange?  Please join on us on Twitter throughout the day during #SundaySupper on December 9th.  In the evening we will meet at 7pm EST for our #SundaySupper Ultimate Cookie Exchange live chat.
All you have to do is follow the #SundaySupper hashtag or you can follow us through TweetChat.
We'd also love to feature your recipe for The Ultimate Cookie Exchange on our #SundaySupper Pinterest board to share them with all of our followers, too.