"By posting this recipe I am entering a recipe contest sponsored by the Wild Blueberry Association of North America and am eligible to win prizes associated with the contest. I was not compensated for my time."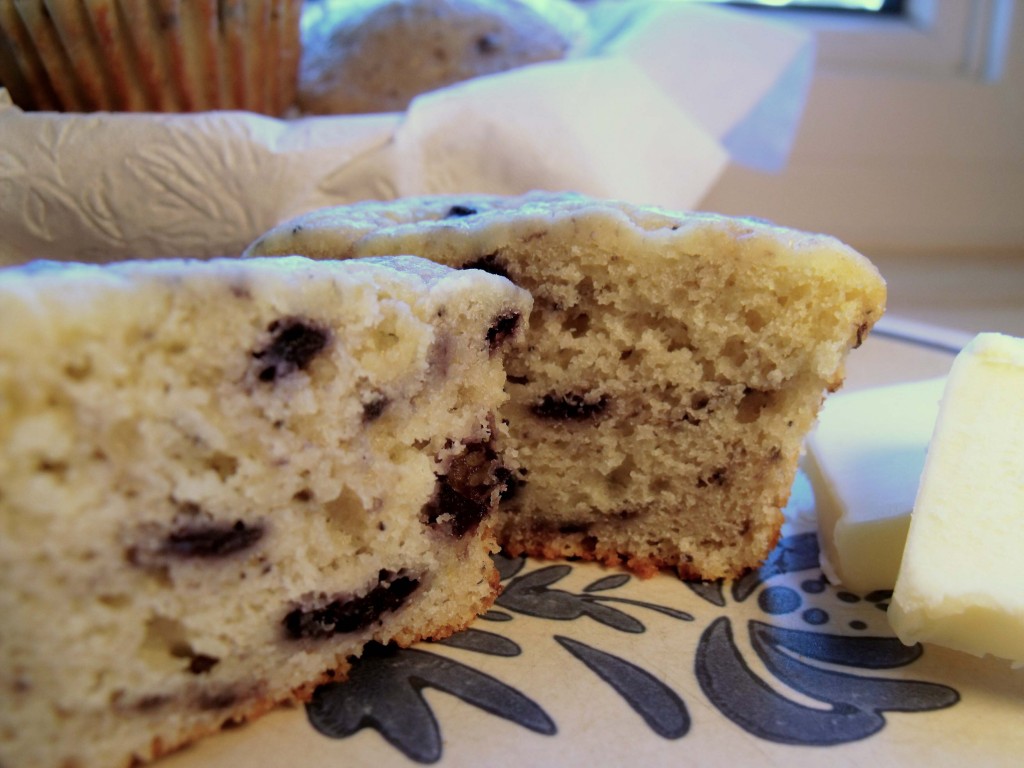 I had the pleasure of tasting wild blueberries for the first time during this Recipe ReDux challenge! Recipe ReDux challenged its members to join in the fun by creating a healthy recipe with wild blueberries.
I like the taste of blueberry in muffins and I know my stuffed Blueberry Muffins would benefit from using wild blueberries in the recipe.
For today's challenge, I made a light Wild Blueberry and Ricotta Muffin. The part skim milk ricotta melts into a moist flaky textured treat packed with little blue jewels. Delicious!

Here are some interesting facts about wild blueberries provided by the Wild Blueberry Association of North America.
Wild Blueberries give you more than twice the number of berries per pound compared with cultivated blueberries. That means your baked goods have more berries in every bite.
The little wild ones also have a higher skin to pulp ratio. More skin and less water equal more antioxidant-rich pigment — and a better freezing blueberry.
Frozen Fresh Wild Blueberries are just as nutritious as fresh and may even retain their nutritional value longer.
Frozen Fresh Wild Blueberries are available year-round; they can be used right out of the freezer – no thawing required
Frozen Fresh Wild Blueberries offer consumers the most convenient way to have the Antioxidant Superfruit at hand at all times.
Frozen Fresh Wild Blueberries make it easy to get your "Daily Dose of Wild Blue"
Frozen Wild Blueberries are an excellent value, they offer consistent quality, ease of use, high antioxidant content, health benefits, less spoilage, affordability.
Wild Blueberry and Ricotta Muffins
Wild Blueberry and Ricotta Muffins #RecipeReDux
Ingredients
1 cup sugar
½ cup butter, unsalted, softened
2 each eggs slightly beaten
1¾ cup flour
2 teaspoons baking powder
¼ teaspoon salt
1 cup wild blueberries
1 cup ricotta cheese, use low or nonfat if available
1 tablespoon lemon juice, freshly squeezed
½ teaspoon lemon zest
½ cup milk,2 percent
Instructions
Cream together sugar and butter. Add eggs. Stir in Ricotta, lemon juice and zest.
In another bowl mix together, flour, baking powder and salt.
Alternate adding flour mix and milk to the butter mixture.
Fold in wild blueberries.
Bake in paper-lined cupcake tins at 350 for about 30 minutes or until inserted toothpick comes out clean.
Notes
Nutrition (per serving): 189 calories, 69 calories from fat, 7.9g total fat, 43.9mg cholesterol, 130.3mg sodium, 63.3mg potassium, 25.7g carbohydrates, <1g fiber, 13.9g sugar, 4.3g protein, 289.8IU vitamin a, 1.3mg vitamin c.
Connect with Wild Blueberry Association of North America (WBANA)
Website: www.wildblueberries.com
Facebook: https://www.facebook.com/wildblueberries
Twitter: https://twitter.com/WildBBerries4U
Pinterest: https://www.pinterest.com/wbeditor/
Enjoy wild blueberries in these recipes from our Recipe ReDux members.