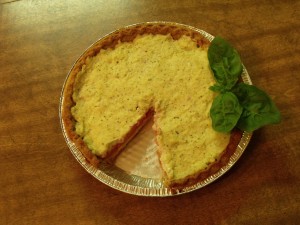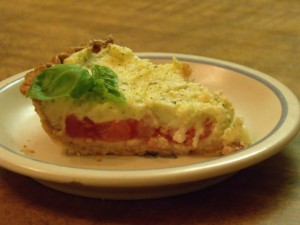 Last week I learned about this great promotion at www.gimmesomeoven.com/tomato-love-recipe-exchange
and
www.bakeyourday.net/tomato-love-recipe-exchange to raise awareness of the IJM (International Justice Mission), about off-season tomato farming in the US and to bring attention to their Recipe for Change campaign as they move through the weeks of their Tomato Love Recipe Exchange!
Each week has a different category and you can link your tomato recipes AND get a chance to win great prizes! This week KitchenAid is sponsoring the giveaway with a KitchenAid 7-quart Stand Mixer ! How great is that? Please take a minute and visit them to learn more and share a recipe or two (actually up to 3) each week!
Show some Tomato Love at twitter too! #Tomatolove
Zesty Tomato Pie
You can cut this pie into as many slices as you like and let guests serve themselves.
1 each pie crust
2 each tomato, large
1/4 cup onion, red, diced
1/2 cup mayonnaise, reduced calorie
1/2 cup sour cream
1 Tbsp pesto
1 1/4 cup Mozzarella cheese shredded, divided
1/4 cup Parmesan cheese, grated
1. 1. Preheat oven to 400 degrees. Prick bottom and sides of crust with a fork. Partially bake pie crust for 8 minutes or until slightly browned. Remove pie shell from oven and set aside to cool slightly. Reduce heat to 350 degrees.
2. While shell is baking, skin and slice tomatoes. Arrange slices in a single layer in colander to drain. Blot slices with a paper towel.
3. In a small bowl, mix together mayonnaise, sour cream and pesto. Stir in 3/4 cup mozzarella and 1/4 cup parmesan cheese. Set aside.
4. Sprinkle 1/2 cup shredded mozzarella onto the shell to cover the bottom.
5. Arrange tomato slices in a single layer. Sprinkle with onion. Cover with mayonnaise-cheese mixture.
6. Bake filled pie crust at 350 degrees for 20 to 25 minutes or until golden brown.
This pie can be served warm or cold, as an appetizer, side dish or main course. Cover and refrigerate any leftover pie for up to 3 days.
Servings: 16
Oven Temperature: 350°F
Nutrition Facts
Nutrition (per serving): 113 calories, 70 calories from fat, 7.9g total fat, 13.7mg cholesterol, 172.7mg sodium, 61.1mg potassium, 6.4g carbohydrates, <1g fiber, <1g sugar, 4.1g protein, 198.3IU vitamin a, 1.7mg vitamin c.
Tips
To easily skin a tomato, place it in boiling water from 30 seconds to one minute then immerse it in cold water.