Recipe ReDux challenged food bloggers to break out those canning jars and repurpose them into new cooking and baking ideas. I recently made zucchini brownies and thought, why not a parfait?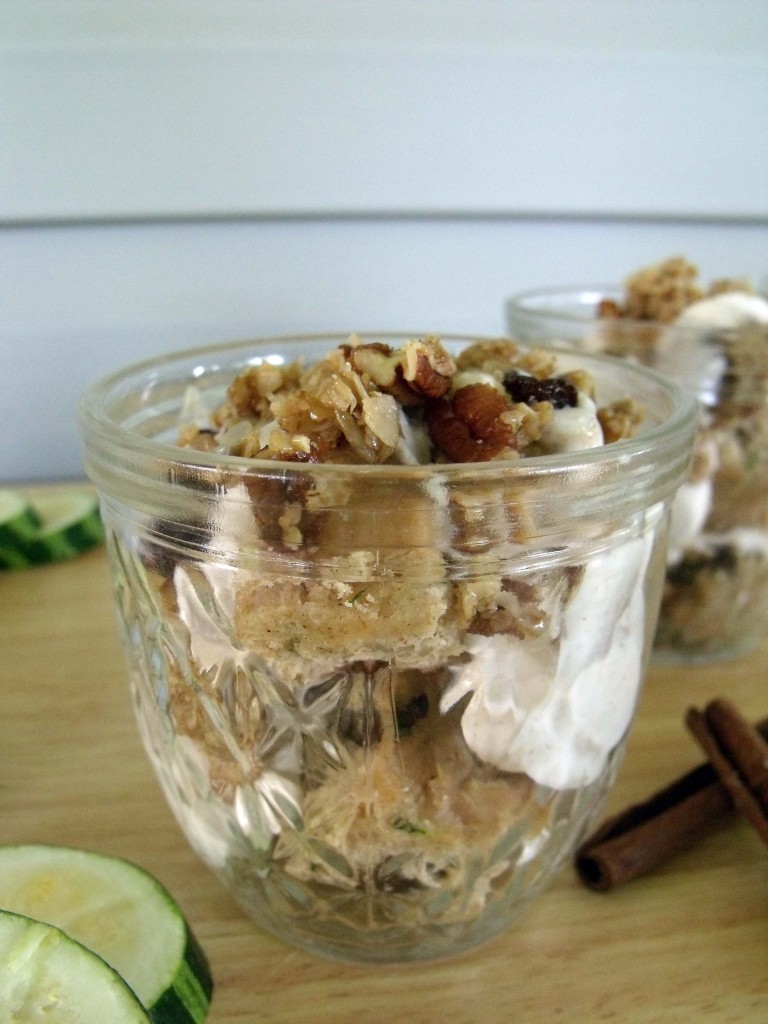 This parfait has the nutrition of zucchini in a moist cake with the warm of Saigon cinnamon, cool smooth nonfat Greek cinnamon-honey yogurt and the crunch of granola laced with pecans, dried fruit and sunflower seeds.
This is my first entry in the Recipe ReDux monthly challenges. I'm excited and honored to be part of this group. Recipe ReDux members believe that nutritious food should also taste good. Sometimes that can be a challenge in itself when I'm using new to me vegetables, grains or fruit. I'm looking forward to these monthly secret ingredient or technique challenges!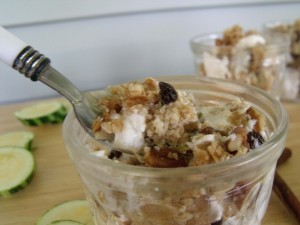 Zucchini Brownie Parfaits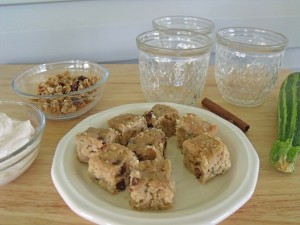 Brownies
Ingredients
1/3 cup butter
1 cup brown sugar
1 egg
1 tsp vanilla
1 cup shredded zucchini
1 cup flour
1 tsp cinnamon
1/4 tsp nutmeg
1/4 tsp baking powder
1/3 cup chocolate chips
Directions
Cream together butter and sugar.
Add egg, vanilla and zucchini.
In a separate bowl mix together dry ingredients.
Fold dry ingredients into the wet mix. Stir well.
Place in a greased and floured 8×8-inch or 9×9-inch baking pan.
Bake at 350 &#176 for about 20 to 25 minutes and an inserted toothpick comes out clean.
Cool in pan on a wire rack. Cut into desired sizes directly from the pan or remove as you would a cake and cut it.
Yogurt layer
Ingredients
1 6-ounce container plain Greek yogurt
2 tsp honey
1/2 tsp cinnamon
Fold ingredients together so yogurt doesn't break and get watery.
Granola
Ingredients
3 cups rolled oats
1/4 cup packed light brown sugar
1/2 tsp cinnamon
1/4 tsp sea salt
1/3 cup honey
1/4 cup vegetable oil
1/2 cup raisins or craisins (any dried fruit you prefer)
1/2 cup chopped toasted pecans or almonds
1/4 cup sunflower seeds
Directions
Mix oats, cinnamon and salt together.
Fold in honey and oil.
Spread in a single layer into a cookie sheet and bake at 300 degrees for about 10 minutes. Stir then continue baking until granola starts to stick together, about an additional 10 to 15 minutes.
Remove from oven and add nuts and seeds.
Store in an airtight container.
Layer brownies and yogurt as deep as you please! Top with granola and enjoy!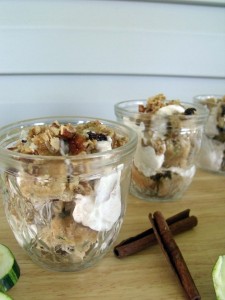 Here are more exciting recipes for using jars from Recipe Redux Members: