Compensation was provided by Gallo Family Vineyards via Sunday Supper, LLC. The opinions expressed herein are those of the author, and are not indicative of the opinions or positions of Gallo Family Vineyards.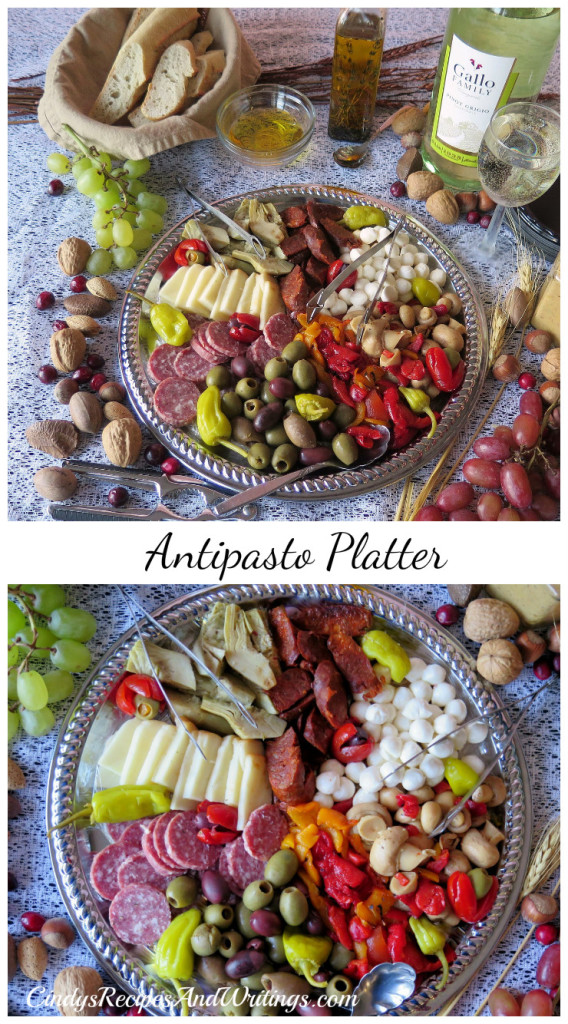 Thanksgiving is a time when friends and families travel near and far to get together. For some, it's the only time of year they see each other. That makes it even more important to serve up quality time as well as quality food and wine.
Over the years, as my family evolved so did my Thanksgiving meals. I think that's true for most families. We gathered guests from 2 to 20 at a table. In-laws, friends both old and new and guests they bring: new faces, new boyfriends or girlfriends, and kids of all ages.
Sometimes dinner was a traveling show. I have already packed up an entire spread from turkey to dessert and cooked it at a relative's home too frail to travel. It was quite an undertaking but the rewards far outweighed the effort.
We often took turns playing host. When my daughter got her first apartment she put out an elaborate spread. Orange Pomegranate Turkey, chestnut stuffing, you know "the works".
One constant was and is that we always have nibbles. Those all-important snacks and finger foods to pick at while decompressing from travel. The cook needs a bit of nosh too!
My Mom put out the famous relish tray to welcome guests. Piles of assorted pickles, ring bologna, cheese cubes, olives and for some reason, hot peppers. Crudités platters popped off and on the scene depending on the host.
Charcuterie boards became quite popular around here a few years ago. I stick to offering something that appeals to everyone. Antipasto.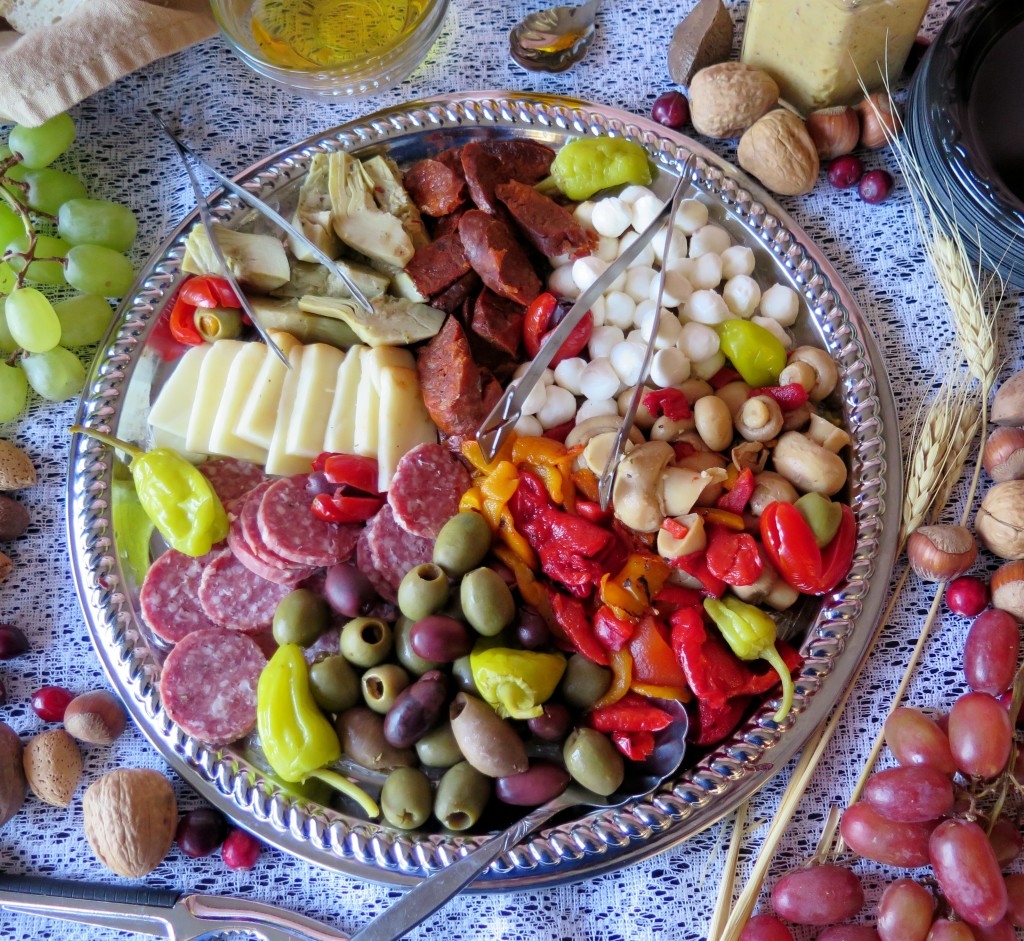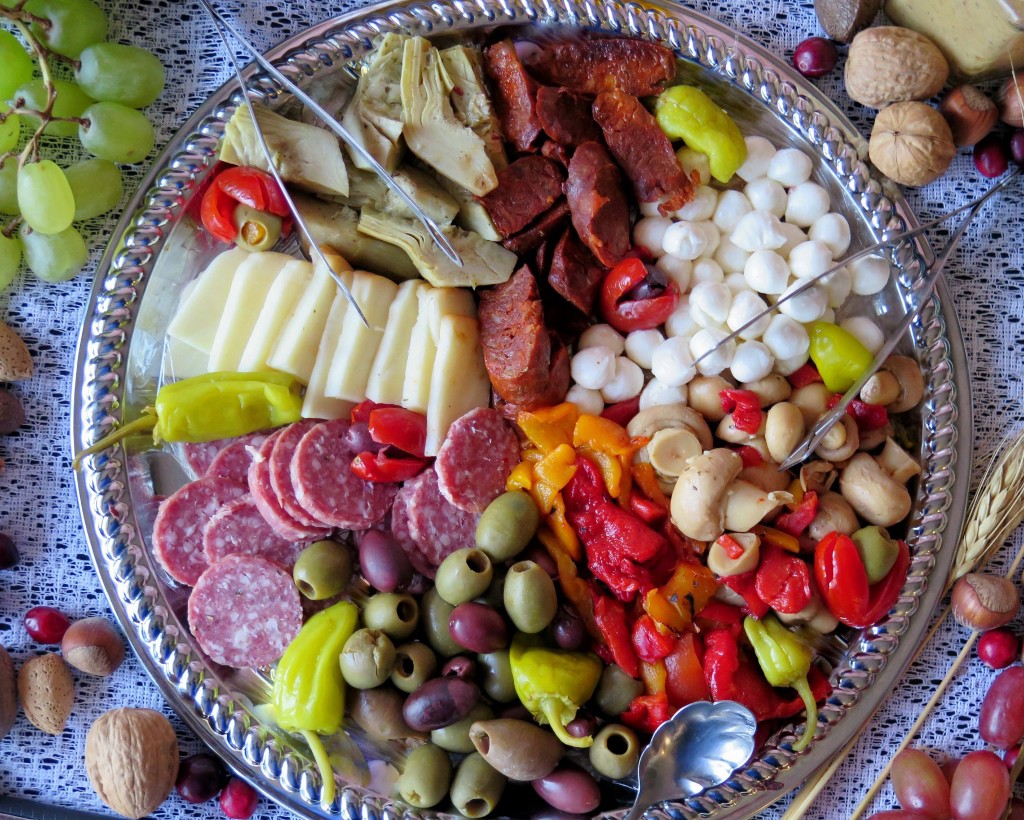 Antipasto (plural antipasti) means "before the meal" and is the traditional first course of a formal Italian meal. A tray of Antipasto can be as simple as a few cured meats, cheese and vegetables or as elaborate as you like with shrimp, nuts and fruits.
Of course your guests need something to drink.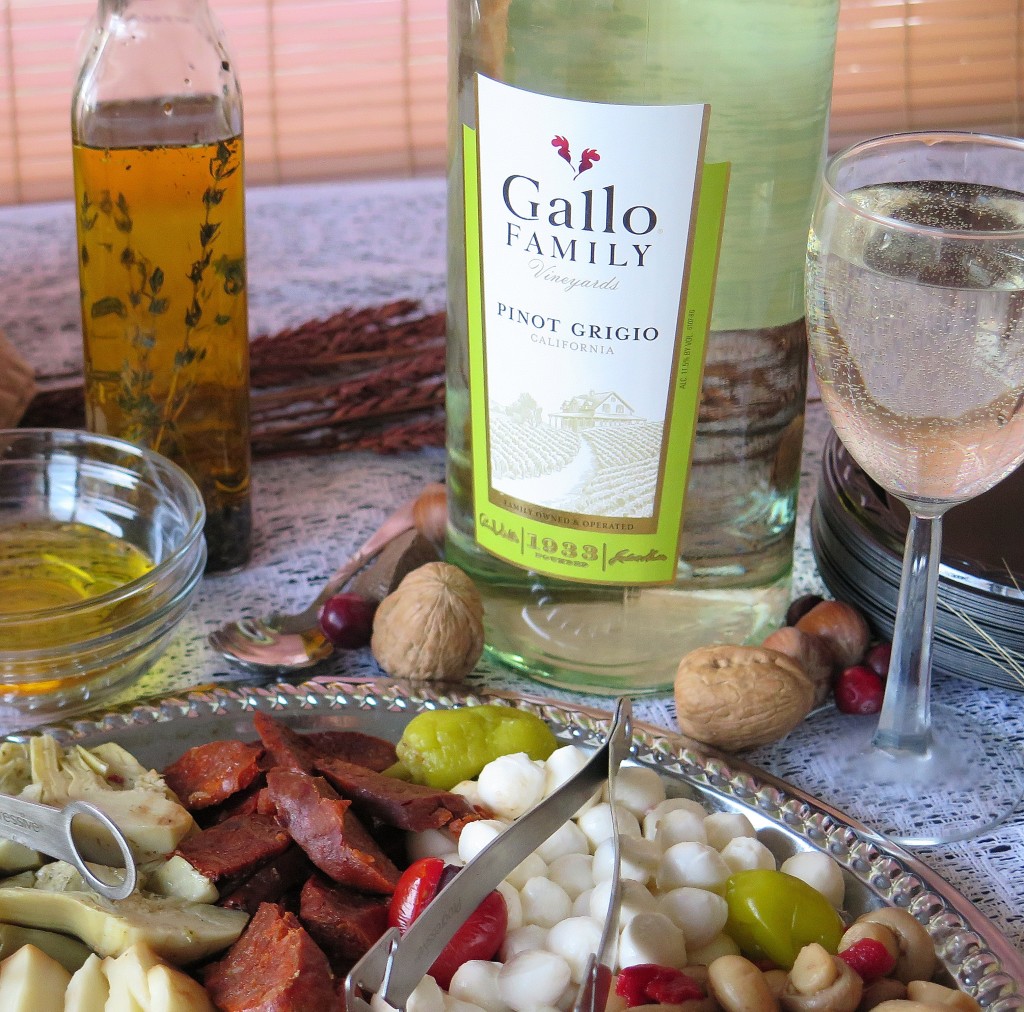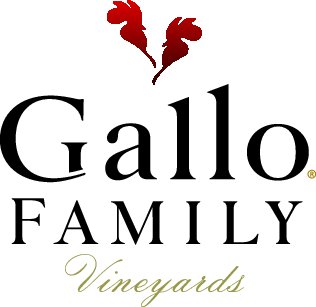 Gallo Family Vineyards Pinot Grigio and Gallo Pinot Noir fit perfectly into your Thanksgiving meal plans.
Gallo Pinot Grigio pairs well with an appetizer like antipasto. The light-bodied, crisp, clean taste is a good match for smoked cured meats, acidic foods like the marinated veggies and shrimp. This wine also pairs well with your star, the turkey!
Gallo Family Vineyard Pinot Noir medium-bodied red compliments poultry, beef and hearty seafood.
Here is my take on Antipasto.  It makes a great way to start off your Holiday meal.
Don't forget to set out a small bowl for guests to discard olive pits!
Ingredients
1/2 pound Sopressata
1/2 pound cured Chorizo
8 ounces fresh Mozzarella pearls
8 ounces smoked Mozzarella or Provolone
1 (10-ounce or larger) jar roasted red and yellow peppers
1 8-ounce jar marinated mushrooms
1 6-ounce or larger jar marinated artichoke hearts
1 1/2 pound assorted olives
1 loaf crusty French bread, sliced
Quality olive oil and vinegar for dipping add fresh herbs of choice and minced garlic
1 cup whole Peperoncini
Instructions
Cut Smoked cheeses, Sopressata and Chorizo into bite-sized chunks. Blanche Chorizo if desired.
Drain peppers, fresh mozzarella, mushrooms, olives and artichoke hearts.
Arrange ingredients on a serving tray.
Garnish with Peperoncini and fresh herbs if desired.
Set out bread slices and dipping oil.
Garnish table with fresh fruit and nuts if desired.
http://www.cindysrecipesandwritings.com/antipasto-sundaysupper/
While we give thanks for our blessings let's keep in mind those less fortunate. I donate time and food to Second Harvest Bank.
Gallo gives back to their community in so many ways. I'm especially happy to share their program called,  Every Cork Counts™ .
Gallo Family is committed to helping Meals on Wheels America to improve the health and quality of life for the seniors they serve. For the sixth year in a row, Gallo Family Vineyards invites Americans to help end senior hunger and isolation with our annual Every Cork Counts™ program. Gallo Family Vineyards will donate $1.00 to Meals on Wheels Program for every Gallo cork you send in. If you can't send in your cork, even a photo of your cork will count. How great is that?
Feeding the hungry and helping our seniors is so important. Thank you Gallo Family Vineyards!
Follow the Recipes Paired with Wine Pinterest Board for more Sunday Supper Family sharing of their favorite recipes paired with Gallo Family Vineyards wine.
Stop by Gallo Family Vineyards Wine Blog for more ways we give thanks.
Gallo has a handy Store Locator to find your favorite Gallo wine in your area.
Connect with Gallo Family Vineyards on your favorite social media: Facebook,  Twitter, Instagram and YouTube.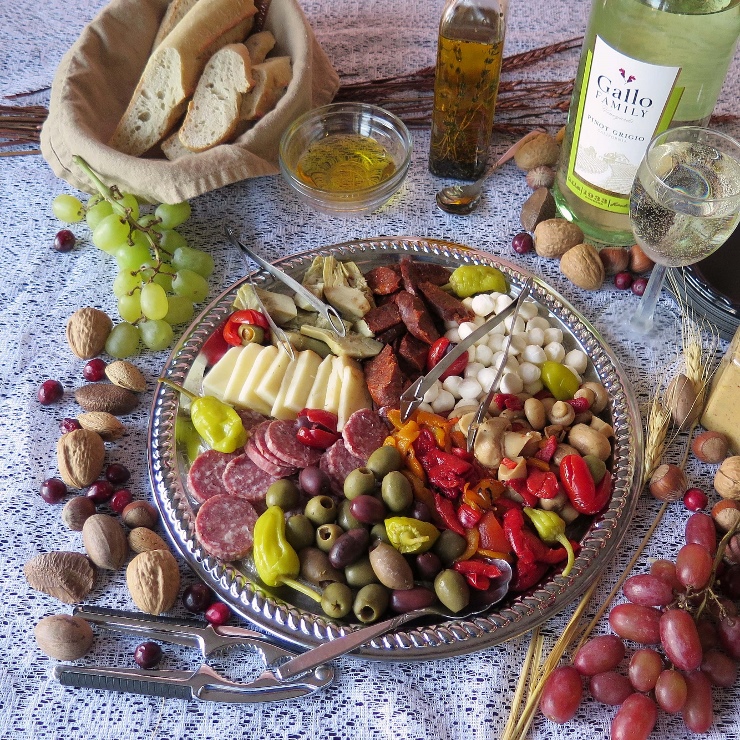 Enjoy these recipes, stories and ideas for Giving Thanks this Thanksgiving from Sunday Supper.
Appetizers and Bread:
Salads and Sides:
Main Dish:
Desserts and Sweets:
Plus 10 Ways to Give Thanks by Sunday Supper Movement
Join the #SundaySupper conversation on twitter on Sunday! We tweet throughout the day and share recipes from all over the world. Our weekly chat starts at 7 pm ET. Follow the #SundaySupper hashtag and remember to include it in your tweets to join in the chat. To get more great Sunday Supper Recipes, visit our website or check out our Pinterest board.
Would you like to join the Sunday Supper Movement? It's easy. You can sign up by clicking here: Sunday Supper Movement.
Disclosure: Compensation was provided by Gallo Family Vineyards via Sunday Supper, LLC. The opinions expressed herein are those of the author, and are not indicative of the opinions or positions of Gallo Family Vineyards