My boss teases me every time I suggest running a lunch special with bacon. I can hear him now, "Bacon, bacon and more bacon!" 😉 In reality, at home I only buy regular bacon, maybe once a year to use as a quick meal like in this BLT Quesadilla. You can use turkey bacon or tofu if you like!
BLT Quesadilla with Avocado Mayo
BLT with Avocados! So good together!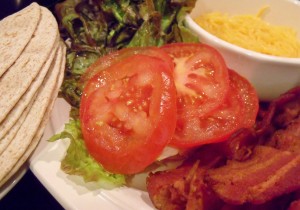 INGREDIENTS
1/2 lb bacon, cooked (about 8 slices)
4 tortillas, whole wheat
1/2 cup tomatoes, diced
1 cup lettuce, shredded
2 ounces cheddar cheese or reduced-fat cheddar cheese, shredded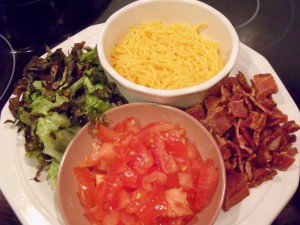 Avocado Mayo
1/2 each avocados, seeded, peeled and mashed (I just mash it with a fork, I like it a little chunky)
1/4 cup mayonnaise, reduced calorie
1/8 teaspoon garlic powder
salt and pepper to taste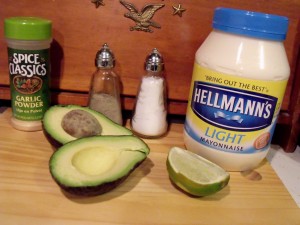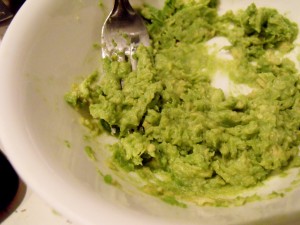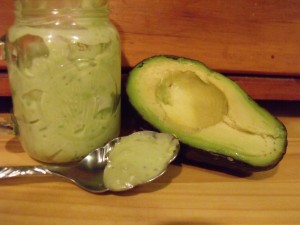 1. Spread Avocado mayo on your tortilla. I like a lot!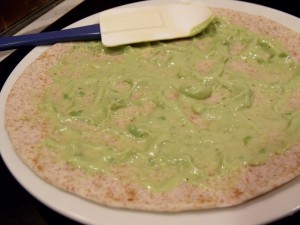 2. Heat Tortilla in the skillet just until warm. Add cheese, bacon, tomato and lettuce.
3. When cheese starts to melt, fold tortilla in half. Brown on both sides.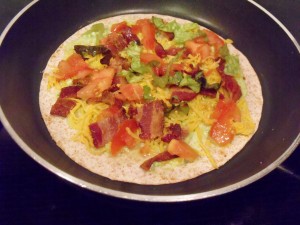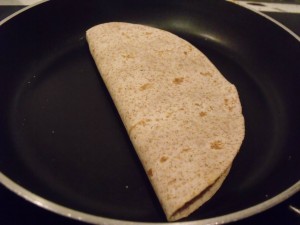 4. Serve with non-fat sour cream (you have to save calories somewhere!) and your favorite salsa!
Servings: 4
Cooking Times
Preparation Time: 10 minutes
Cooking Time: 5 minutes
Total Time: 15 minutes
Nutrition Facts
Nutrition (per serving): 227 calories, 148 calories from fat, 16.7g total fat, 30mg cholesterol, 669.1mg sodium, 329.2mg potassium, 9.8g carbohydrates, 2.4g fiber, 1.9g sugar, 9.2g protein, 1399.8IU vitamin a, 6.3mg vitamin c.