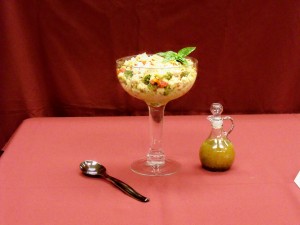 This is a great hot summertime weather salad for lunch or dinner. I came up with this recipe for a state cook-off contest. Guess what? I came in second missing first by 2 points. Not bad huh? We used this dressing recipe for a while at work for our House Italian! We like to switch things up! Try it!
Broccoli, Cauliflower, Smoked Turkey and Orzo Salad
Serves 4 to 6
1 c. Broccoli Florets – fresh
1 c. Cauliflower Florets – fresh
1 c. Smoked Turkey or Turkey Ham – thick cut, diced into 1/2 inch cubes
1 1/2 c. orzo – cooked
2 T. Roasted Red Peppers – jarred or freshly roasted, diced
2 T. Super Fine or Granulated Sugar
2 T. Red Wine Vinegar
2 tsp. Whole Grain Mustard
1/8 tsp. Granulated Garlic
1/8 tsp. Dry Mustard
1/8 tsp. Dried Basil
pinch of Oregano – optional
1/4 cup Olive Oil
Cook orzo according to package directions. Drain. Steam or blanch broccoli and cauliflower in boiling water about 2 minutes or until crisp tender. Drain. Combine broccoli, cauliflower, turkey, and roasted red peppers. Mix together. Add orzo and stir to combine. Set aside.
In a separate bowl, prepare mustard vinaigrette. Wisk together sugar and vinegar until sugar is dissolved. Add whole grain mustard, mix. Add garlic, basil, dry mustard and oregano (if desired). Mix. Slowly whisk in the olive oil one Tablespoon at a time.
Pour desired amount of dressing over the salad. Toss to coat. Refrigerate 30 minutes or until serving time to allow flavors to blend.