"By posting this recipe I am entering a recipe contest sponsored by the Seafood Nutrition Partnership and I am eligible to win prizes associated with the contest. I was not compensated for my time."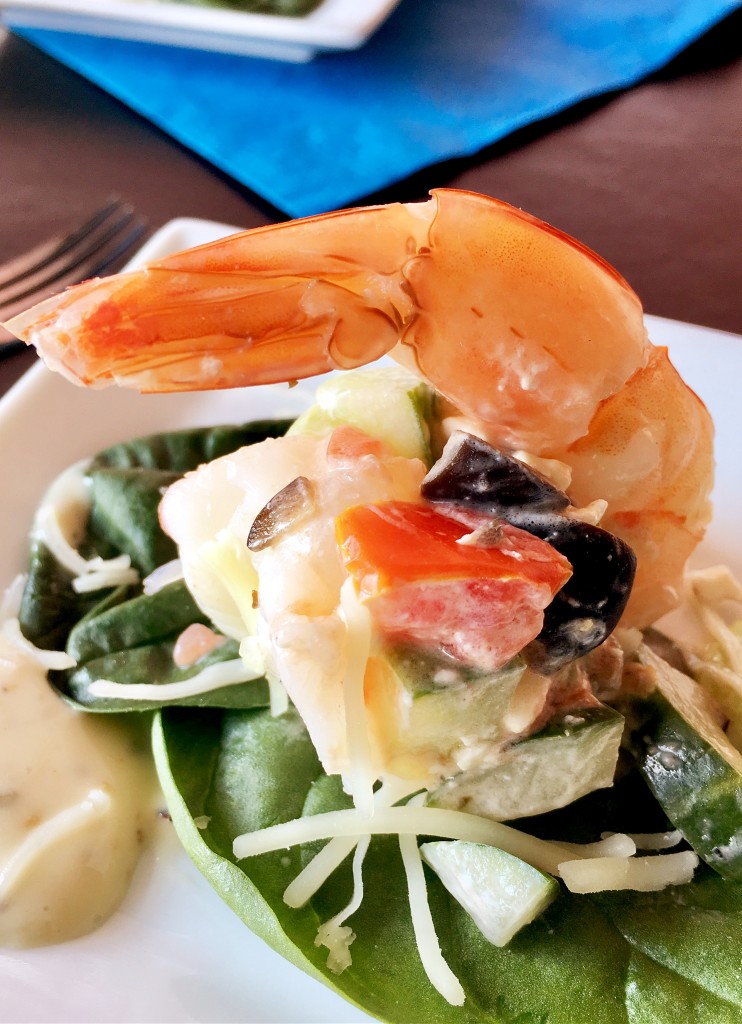 Caesar Salad Stuffed Shrimp shares it's flavor with the famous salad. Diced tomato, cucumber, olives and feta stacked atop a moist, tender shrimp. Sprinkle with freshly grated Parmesan. Serve with a side of Caesar dressing for dipping.


I love a good Caesar salad with chunks of cucumbers, olives, red onions, juicy ripe tomatoes and lots of Parmesan cheese. A few croutons for crunch isn't a bad idea either. Shrimp adds a nice portion of protein to top it off.
Shrimp is one of my favorite foods. Without sounding like a movie cliche, I can eat shrimp boiled, fried, baked, in casseroles, on and in salads. I even like shrimp on a stick. Tropical Shrimp Kabobs.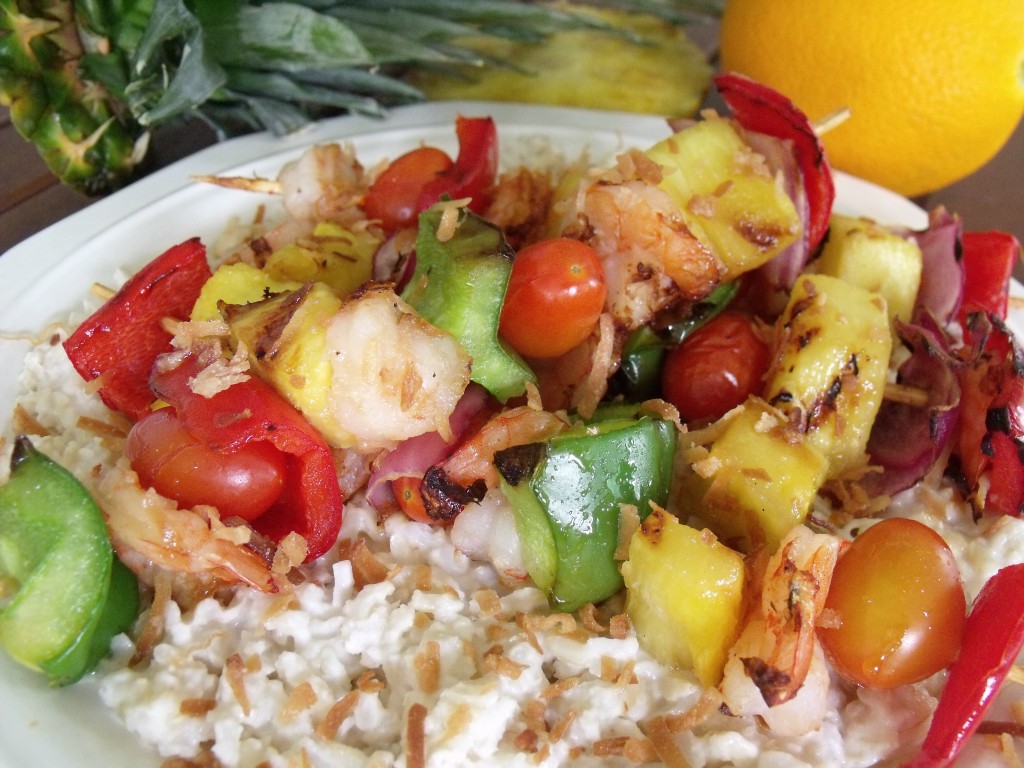 Shrimp is only one of many great seafood choices. Consider trying scallops, clams and mussels as protein replacements for some of your family favorites.
Seafood can be a great addition to any heart-healthy diet. Starting with just two servings a week you can do something good for your heart. Seafood is rich in Omega-3s which are proven to be good for heart health. (Source)
Packed with lean protein, seafood helps give you the energy to get you through your busy day.
Seafood offers something for everyone. Purists can enjoy a mild fish like flounder with just a squirt of lemon. Salmon lovers know their fish can take a variety of sauces and still have its flavor shine through.
Spice it up with blackened seasoning, toss some shrimp into a creole or add some clams to linguine and you are on your way to better health.
Many people fear cooking seafood at home.
Here are some tips from http://www.seafoodnutrition.org/
Cook it safely
Check oysters, mussels, and clams before cooking. If shells don't clamp shut when you tap them, throw them away. After cooking, also toss any that didn't open.
This means that they may not be safe to eat.
Cook shrimp, lobster, and scallops until they are opaque (milky white). Cook fish to 145°F, until it flakes with a fork.
Stock up on canned tuna or salmon for a quick economical weeknight meal. Think outside the box and add salmon to make classics like tuna casserole a new dish. Canned fish also makes quick sandwich spreads and protein additions for salads.
Get connected with the Seafood Nutrition Partnership for the latest news, recipes and more!
Food for Thought…Is there a type of seafood you never tried but would love a recipe? Drop me a line in a comment below and I'll find or create ones for you!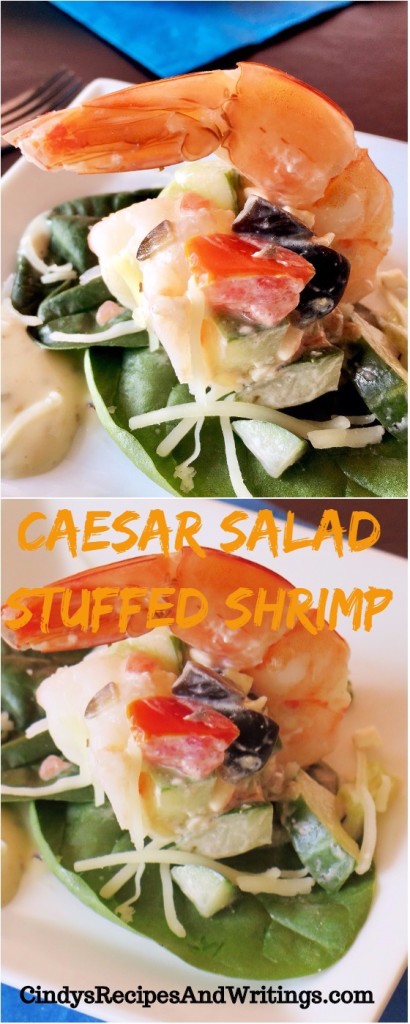 Caesar Salad Stuffed Shrimp
Ingredients
1 pound shrimp 16/20 or larger
1 teaspoon seafood seasoning like Old Bay
1 medium cucumber, diced
1 small tomato, seeded and diced
1 tablespoon red onion, diced
1/4 cup crumbled feta cheese
1/2 teaspoon oregano
1/4 cup cream cheese
1/4 cup mixed olives
1 tablespoon olive oil
2 teaspoons red wine vinegar
salt and pepper to taste
1/2 cup freshly grated Parmesan
1/2 cup fresh baby spinach
1 cup Caesar dressing
croutons optional
Instructions
Marinate cucumber, tomato, onion, olives, oregano, salt, pepper and feta in the oil and vinegar for about 30 minutes.
Butterfly shrimp. Steam until milky colored and cooked. Remove and chill.
Drain salad mixture. Add cream cheese and combine.
Place a small amount of spinach on the plate. Spoon into upright shrimp.
Sprinkle with freshly grated Parmesan.
Serve with Caesar dressing for dipping and croutons if desired.
http://www.cindysrecipesandwritings.com/caesar-salad-stuffed-shrimp-seafoodparty-ad/