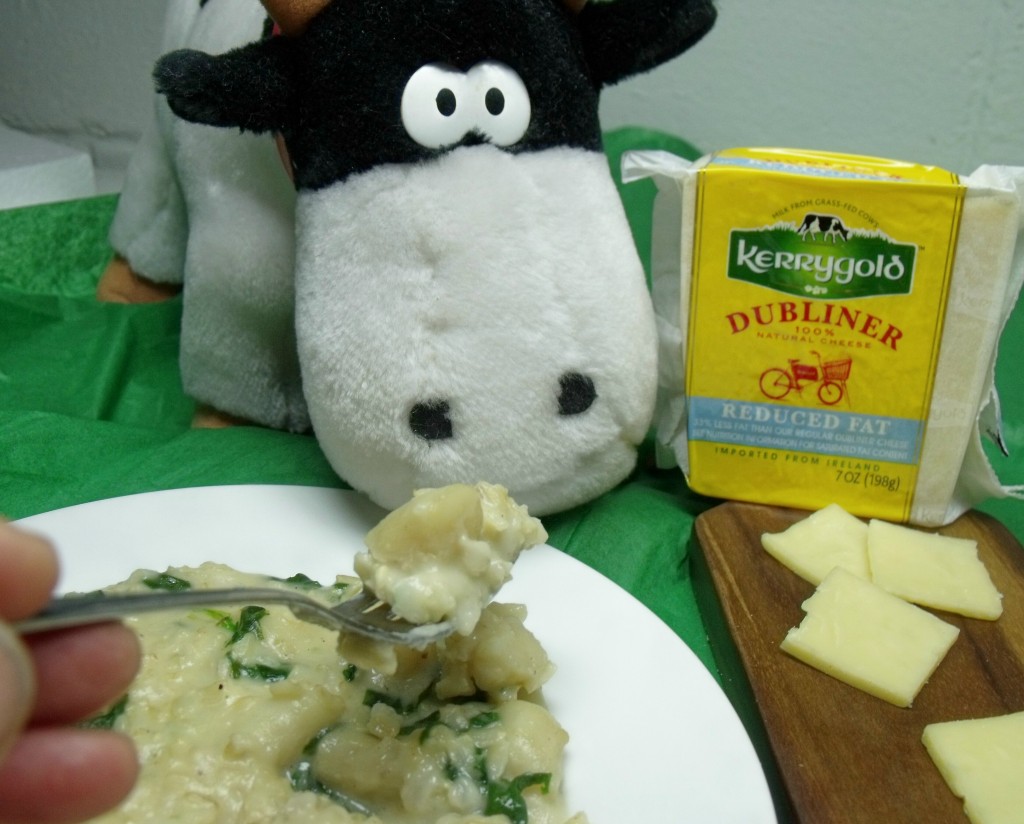 I received samples from Kerrygold to create a lighter version of a favorite recipe. This post is entered in a contest where I have a chance to win Kerrygold products. I was not compensated for writing this post. Opinions are my own.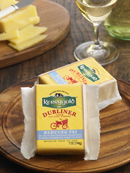 I love cheese but sometimes cheese dishes turn out so rich and filling. When Kerrygold challenged food bloggers to create a lighter version of a favorite dish, my wheels started turning.
We're taught as cooks that flavor is in the fat. Don't trim off too much fat before cooking meat. Then there is healthy fat, saturated fat, unsaturated fat and reduced-fat. How do you choose? I feel the key is in moderation.
For my recipe I chose reduced-fat Dubliner. When I first tried the original Dubliner I couldn't pinpoint the flavor. Kerrygold considers Dubliner to be their flagship cheese and for good reason. Dubliner has a unique taste that blends the best of 3 flavor profiles: mature cheddar's touch of sweetness with the nutty taste Swiss and savory Parmesan.
All these different cheese characteristics work with scallops. Think of Mornay, alfredo and simple cheddar cheese sauce dishes.
Reduced-fat cheese doesn't mean less flavor. It made a creamy sauce that delicately coated the scallops and rice without being clumpy, just smooth and velvety.
Notice the cute cow on package?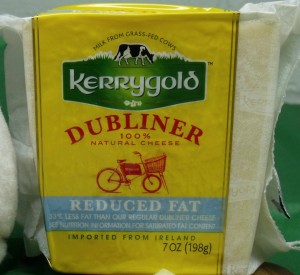 That cow in the pasture scene symbolizes what Kerrygold is about. Wholesome butter and cheese made in Ireland with milk from grass-fed cows that are never given growth hormones. The cows are raised on small family farms; average herd size is 60.
To back up reduced-fat cheese popularity, Roisin Hennerty, Vice President of the Irish Dairy Board in the U.S. adds,"Adult snacking is very much on trend. Together, natural reduced-fat and light cheese comprise the fastest growing segment in the cheese category in the U.S."
Clarence, our resident cow gave this recipe his stamp of approval. Something tells me it had a lot to do with the Dubliner!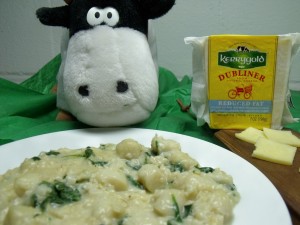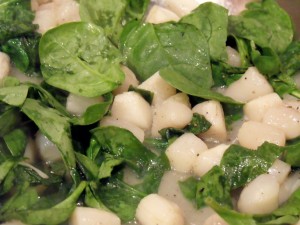 scallops and spinach simmers

Cheesy Scallops Spinach and Brown Rice Casserole
Ingredients
1 lb bay scallops
½ cup chicken broth
3 cups baby spinach
3 cups cooked brown rice
3.5 ounces Reduced-Fat Dubliner, shredded
1½ cups skim milk
1 tablespoon Kerrygold unsalted butter
1 tablespoon cornstarch
1 teaspoon thyme
½ teaspoon smoked paprika
salt and pepper to taste
Instructions
Cheese sauce
Combine skim milk, butter, cornstarch, paprika, salt and pepper in a medium sauce pan.
Bring to a boil over low-medium heat and cook until thickened whisking constantly.
Remove from heat and add cheese and gently stir until melted.
Skillet
Combine scallops, spinach, thyme and broth in a large skillet.
bring to a boil, reduce heat and simmer until opaque, 3 to 5 minutes.
Add rice. Stir and heat thoroughly.
Add cheese sauce.
Serve and enjoy!