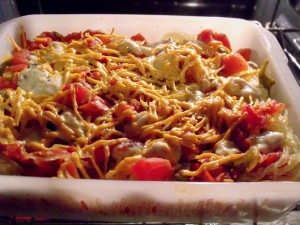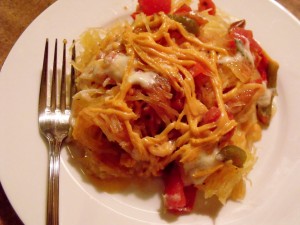 I love spaghetti squash. There I said it. I'm a squash lover. Acorn, zucchini, pattypan, delicata, butternut, carnival, and even sweet dumpling!
To be fair I like most vegetables. (Sorry eggplant, nothing personal.) I also try to make at least one vegetarian meal a week.
So when Tracy announced this Friday's Foodie Friends Friday Vegetarian Challenge Event , I immediately said, "I'm in!"
To make it more special, Daiya offered us a chance to sample their products to cook an awesome dish!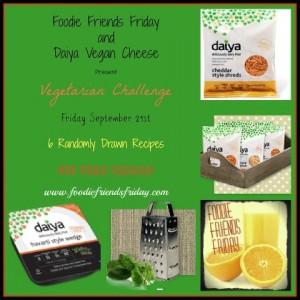 So without further ado, I give you my entry:
Spaghetti Squash Bake
4 cups Spaghetti squash
1 cup bell pepper, chopped
1 can (15 oz) tomato, canned diced with juice
4 ounces Daiya cheddar cheese shreds
4 ounces Daiya Havarti wedge
2 Tbs balsamic vinegar
1 Tbsp Italian seasoning
1. Cut squash in half, remove seeds. Place halves in large Dutch oven and cover with water. Boil until you can easily pierce skin with a fork and squash can shred into strands.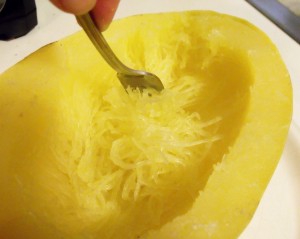 2. While squash is cooking, combine tomatoes, peppers, vinegar and seasonings. Simmer about 5 minutes to blend flavors.
3. Remove squash and place skin side down on a plate. Run a fork vertically along the flesh to produce strands. Set aside.
4. Place 1/2 the squash in the bottom of a baking dish. Layer 1/2 the tomato mixture next. Sprinkle 1/2 of each cheese on top.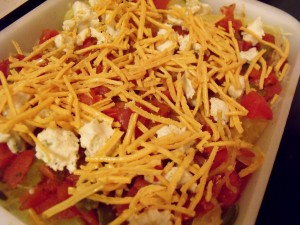 5. Repeat layers. Bake at 350 for about 20 minutes until cheese melts.
6. Enjoy with a salad or crusty bread!
Servings: 4
Oven Temperature: 350°F
Nutrition Facts Nutrition (per serving): 191 calories, 113 calories from fat, 11.4g total fat, 0mg cholesterol, 502.3mg sodium, 425.4mg potassium, 19.3g carbohydrates, 7.8g fiber, 8.5g sugar, 2.1g protein, 1006.7IU vitamin a, 44mg vitamin c.
Check back on Friday for Foodie Friends Friday Linky Party Vegetarian Challenge and link up your creations, get new recipes and ideas! Six lucky entries will win a coupon redeemable for free Daiya Cheese!
This recipe was adapted for the Foodie Friends Friday Vegan and Vegetarian Challenge sponsored by Daiya Cheese. Contestants received coupons redeemable for free Daiya Cheese Products.