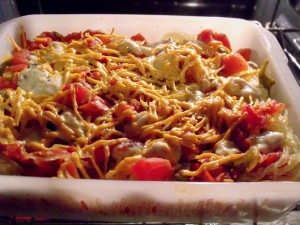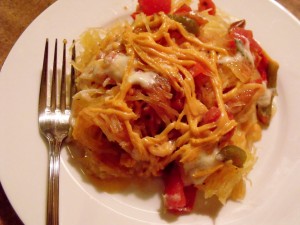 I love spaghetti squash. There I said it. I'm a squash lover. Acorn, zucchini, pattypan, delicata, butternut, carnival, and even sweet dumpling!
To be fair I like most vegetables. (Sorry eggplant, nothing personal.) I also try to make at least one vegetarian meal a week.
Spaghetti Squash Bake
4 cups Spaghetti squash
1 cup bell pepper, chopped
1 can (15 oz) tomato, canned diced with juice
4 ounces cheddar cheese shreds
4 ounces Havarti or fresh Mozzarella
2 Tbs balsamic vinegar
1 Tbsp Italian seasoning
1. Cut squash in half, remove seeds. Place halves in large Dutch oven and cover with water. Boil until you can easily pierce skin with a fork and squash can shred into strands.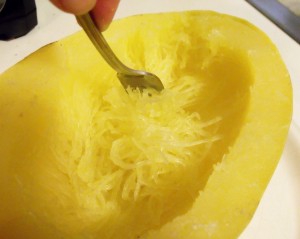 2. While squash is cooking, combine tomatoes, peppers, vinegar and seasonings. Simmer about 5 minutes to blend flavors.
3. Remove squash and place skin side down on a plate. Run a fork vertically along the flesh to produce strands. Set aside.
4. Place 1/2 the squash in the bottom of a baking dish. Layer 1/2 the tomato mixture next. Sprinkle 1/2 of each cheese on top.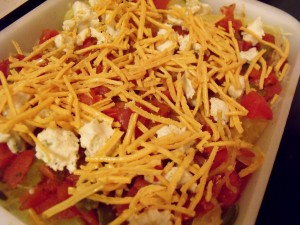 5. Repeat layers. Bake at 350 for about 20 minutes until cheese melts.
6. Enjoy with a salad or crusty bread!
Servings: 4
Oven Temperature: 350°F
Nutrition Facts Nutrition (per serving): 191 calories, 113 calories from fat, 11.4g total fat, 0mg cholesterol, 502.3mg sodium, 425.4mg potassium, 19.3g carbohydrates, 7.8g fiber, 8.5g sugar, 2.1g protein, 1006.7IU vitamin a, 44mg vitamin c.