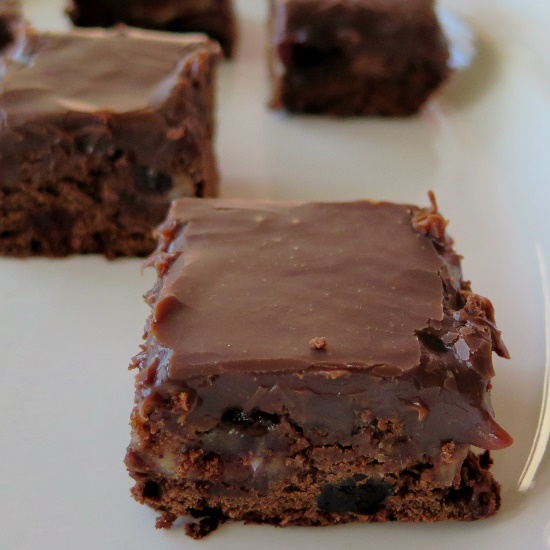 Welcome back to our monthly Foodie Extravaganza!
If this is your first time joining us, the Foodie Extravaganza is a monthly party hosted by bloggers who love food! Each month we incorporate one main ingredient into recipes to share with you and this month that ingredient is a Valentine's Day classic…cherries!
Which means there are 17 delicious & unique cherry recipes waiting for you at the end of this post. Yay!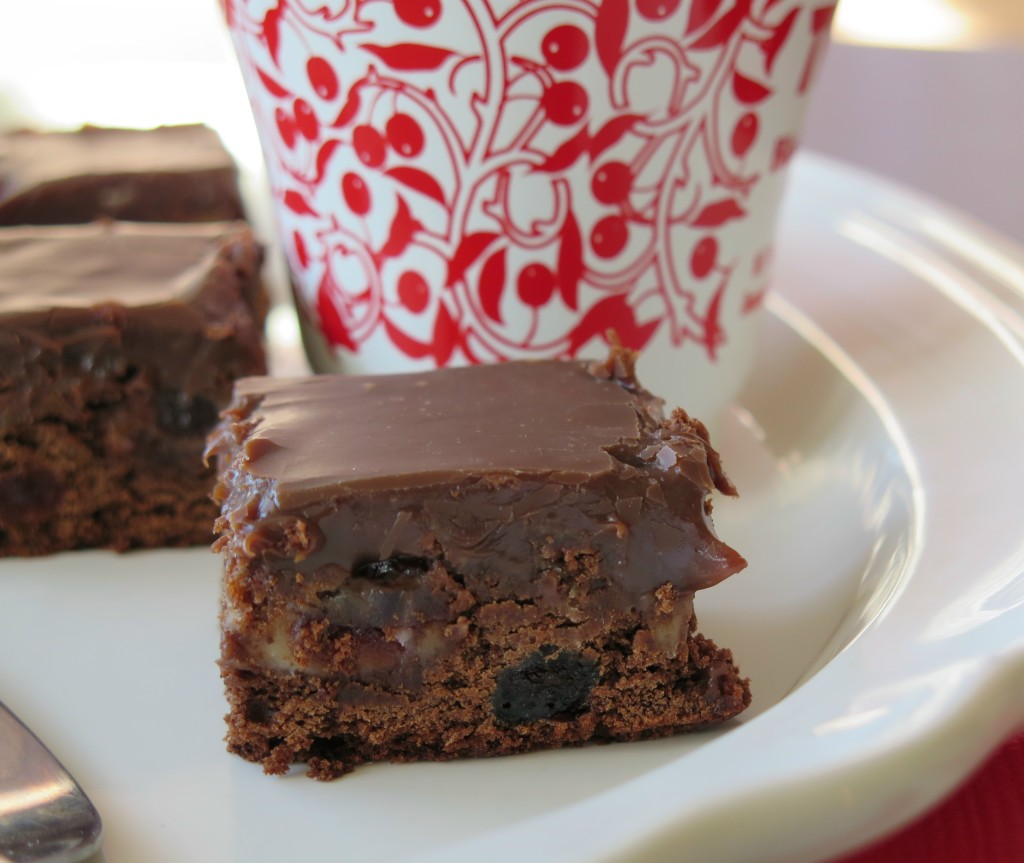 ♥
Cherries!

♥
These yummy cherry recipes will satisfy the cherry lover in you! Anything and everything cherries! Fresh, maraschino or flavored- if its cherry it works!
I found these decadent dark mini cherries at Chef Anthony's Italian Market near Philadelphia. The cherries are suspended in thick syrup and smell a bit like liquer, but are oh so delicious!
You could use dark, sweet cherries or even maraschino as well.
Dark, sweet cherries and chocolate sounded great for my Chocolate Cherry Brownies. Why not go a bit closer to the edge of taste insanity? I added cream cheese.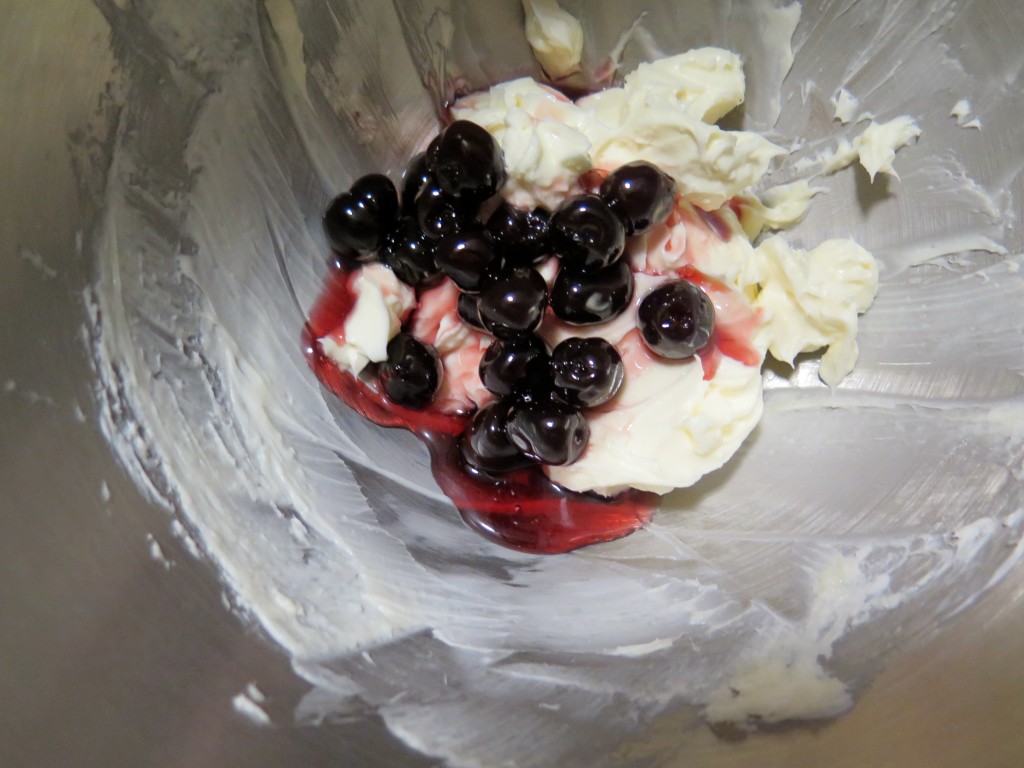 Did I mention these are topped with ganache?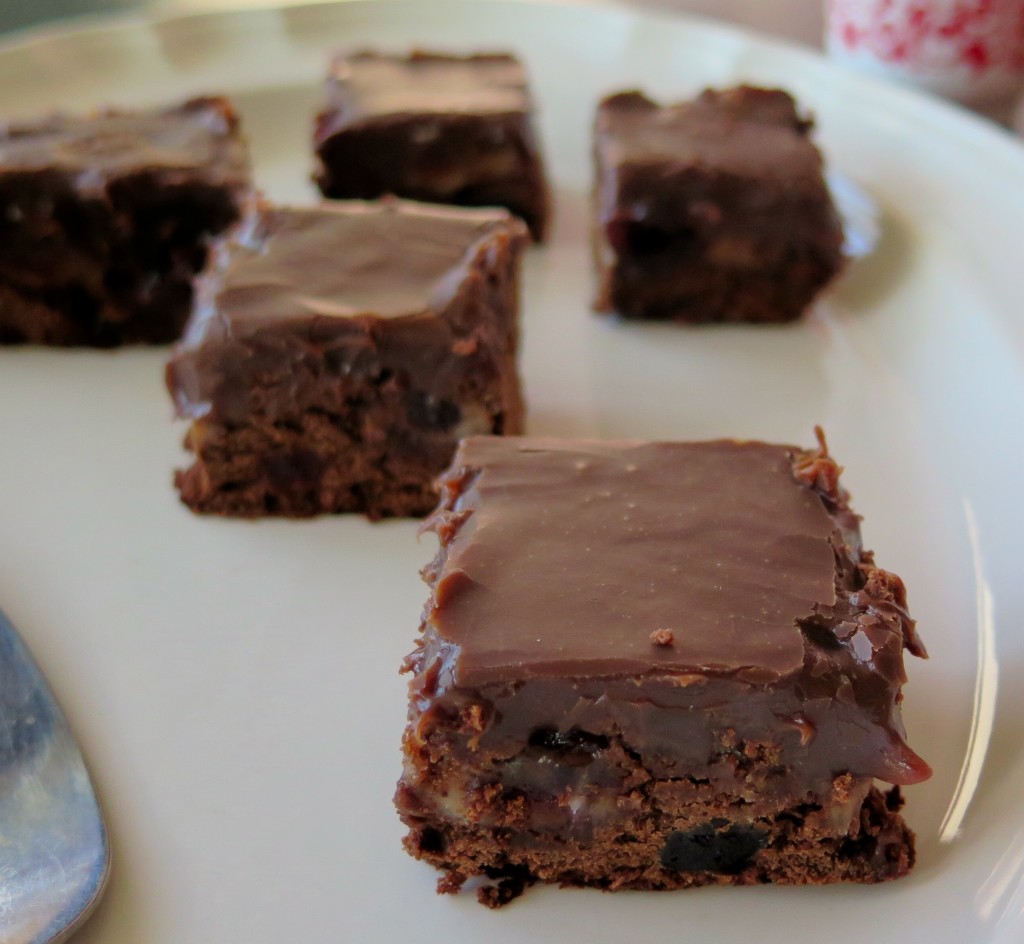 Chocolate Cherry Brownies #FoodieExtravaganza
Ingredients
Chocolate Brownie Batter
1 cup pitted dark cherries, fresh, frozen or in syrup
1 Tablespoon Kirsch, cherry flavor, cherry juice or jar syrup
4 ounces of unsweetened chocolate
½ cup semi-sweet chocolate morsels
¼ cup unsalted butter or shortening softened
½ cup sugar
2 eggs
½ cup flour
½ teaspoon baking powder
¼ teaspoon salt
1 teaspoon almond extract
Cream Cheese Batter
4 ounces cream cheese, softened
¼ cup unsalted butter or shortening
¼ cup sugar
1 teaspoon milk
Ganache
1 cup heavy cream
16 oz. semi sweet chocolate chips
Instructions
Brownie Batter
Toss cherries in above liquid of choice, set aside.
Melt chocolate, butter and sugar together over low heat. Set aside to cool slightly.
Beat eggs in mixer until light lemon colored.
Pour in cooled chocolate mixture. Mix.
Add flour, baking powder and salt.
Stir in half the cherries.
Whip the cream cheese, butter, and sugar until fluffy. Add remaining cherries and liquid.
Grease an 8x8-inch pan.
Pour in the brownie batter. Level.
Top batter with segments of cream cheese mixture. Swirl into batter.
Bake at 375 until set (about 30 minutes).
Cool.
Prepare ganache by melting chocolate with the cream in a double boiler whisking constantly until thick and smooth. Pour over brownies, smooth out.
Chill until ganache is set.
Be sure to check out the rest of these fantastic cherry recipes!

4 Ingredient Chocolate Covered Cherry Cake Balls by Keep it Simple, Sweetie
Chocolate and Maraschino Cherry Shortbread Cookies by Making Miracles
Real Maraschino Cherries by Culinary Adventures with Camilla
Fresh Cherry Crisp by Fearlessly Creative Mammas
Chocolate Cherry Brownies by Cindy's Recipes and Writings
Breakfast Yogurt with Cherries Sauce by Brunch with Joy
Cherry Apple Crumble Tart by Food Lust People Love
Cherry Pie Bites by The Freshman Cook
Dark Cherry BBQ Sauce by The Joyful Foodie
Balsamic Cherry Brie Stuffed French Toast by Pantry Friendly Cooking
Cherry Chocolate Coconut Slices by Baking in Pyjamas
Vanilla Ice Cream with Dried Cherries and Dark Chocolate by Sew You Think You Can Cook
Chocolate Cherry Protein Smoothie by Mrs. Penguin
Cherry Danishes by Passion Kneaded
Dark Cherry-Cranberry Compote by Rhubarb and Honey
National Cherry Month by A Day in the Life on the Farm
Crock Pot Balsamic Cherry Beef Roast by Rae Gun Ramblings
Cherry Glazed Cherry Muffins by We Like to Learn as We Go
If you would like to participate in the next Foodie Extravaganza, just go to the Facebook page to join.  We would love to have you!