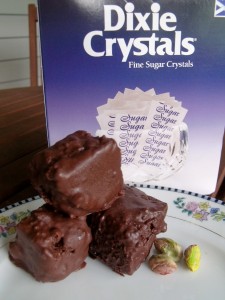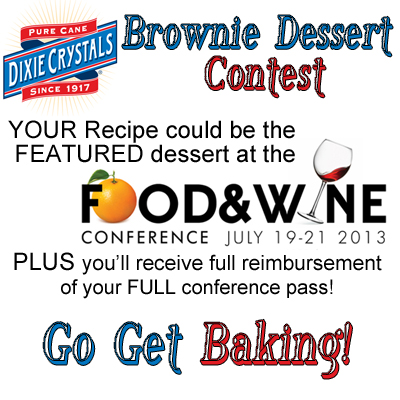 Brownies are one of my favorite go to comfort foods. They're quick, easy and so versatile! I never make them exactly the same way. Sometimes I have marshmallows, butterscotch chips, nuts or even Guinness handy, so poof! These wind up in the brownies.
So when Platinum Sponsor, Dixie Crystals Sugar announced a brownie contest I broke out my 8×8-inch pan!
I poked around my pantry for inspiration. Chocolate. Check. Pistachios. Check. Orange extract. Nope. Orange juice will work. Sugar. Hmmm. I live in PA, north of the Mason-Dixon. Dixie Crystals aren't sold near here. You guessed it. Hello internet, my friend.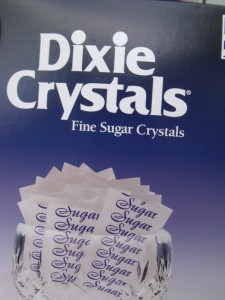 Okay, I was making chocolate pistachio brownies with a hint of orange but it still needed something else. How about dipping them in chocolate?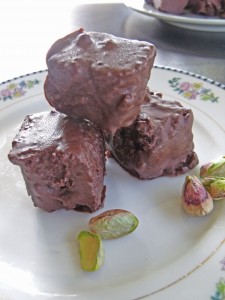 Sound good? I think I'll pack some to take along to the Food and Wine Conference! Keep up with the latest news by following the hashtag #FWConf13 .
Chocolate Covered Pistachio Brownie Bites
Ingredients
2 squares unsweetened chocolate
1/2 cup unsalted butter
1 cup sugar
2 eggs, beaten
1/2 cup flour
1/2 tsp baking powder
1/2 tsp salt
1/4 cup orange juice
1/2 cup pistachios, chopped
1 12-oz bag of chocolate melts
1 Tbsp shortening (optional)
Instructions
Chop or break pistachios into small bits. I like to use a meat mallet for this.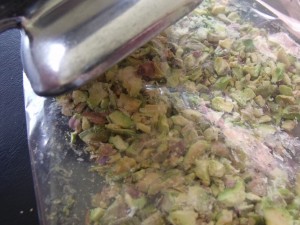 Melt unsweetened chocolate and butter together over low heat. Remove from heat and allow to cool slightly so it doesn't cook the egg when added. Add sugar.
Stir in beaten eggs and orange juice.
In a separate bowl, add flour, baking powder and salt.
Add dry ingredients to the wet mixture. Fold in pistachios.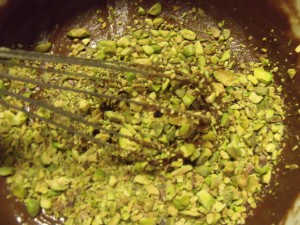 Pour batter into a well greased 8×8-inch pan.
Bake in a preheated oven at 350° until a inserted toothpick comes out clean (about 25 minutes). If edges seem to be getting a little dark, turn off oven and allow brownies to finish baking with the residual heat.
Cool completely before cutting into 1 to 1 1/2 inch squares.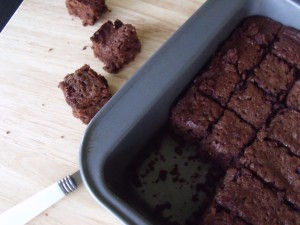 Here comes the fun part!
Melt your chocolate in a double boiler. Add shortening to thin if necessary. Cool slightly.
Use candy tools or a fork to dip brownie bites in chocolate. Working quickly, dunk the bites to coat then lay in a single layer on a parchment covered cookie sheet.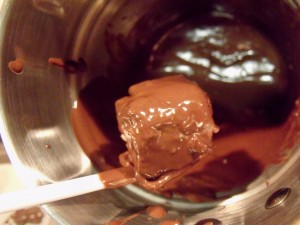 Refrigerate until firm.
If you like a smoother look, dip the brownies again after the chocolate sets before refrigerating.
Want more great brownie ideas? Stop by Dixie Crystals Pinterest board for the Best Brownie Contest Signature Dessert With Dixie .