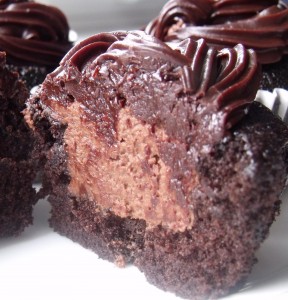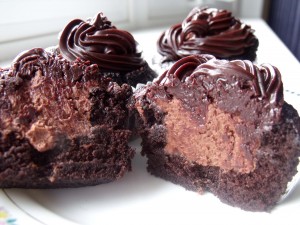 Filled cupcakes are an extra treat around here. I used to inject my cupcakes with a pastry bag filled with whatever creamy concoction I came up with at the time. Very messy, not always "perfect" results.
Then I heard about a little kit designed to bake cupcakes and muffins with the hole ready to fill!
You read that right. The space is baked right inside.
So not being shy, I contacted Elke from http://www.cupcaqe.com/ and asked her about her product. She was gracious enough to send a kit to me to try.
I know it says "Muffinmeal" and I'll post my Stuffed Blueberry Muffins later this week, but today is for cupcakes!

Here is what you get in the kit: plastic baking inserts, special liners, 2 sizes, recipes and more ideas!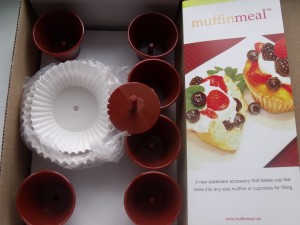 Another cool feature of these cups allows you to adjust the height. You get to control the size of the hole you want to fill. You may need to play around with the locking feature to get it to hold its height. Easy to do but if you are like me, it takes a little practice!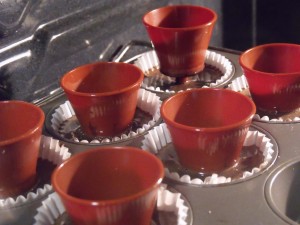 If you would like to see MuffinMeal in a store near you, cast a vote Here . Items with the best voter response will be put on the shelves!
By the way, if you are interested in the cake recipe, here it is!
Chocolate Ganache Filled Cupcakes
Cake
Ingredients
1 cup flour
3/4 cup sugar
1/4 cup malt
1/4 cup cocoa
1/2 tsp baking powder
1/2 tsp baking soda
1/2 cup milk
1/2 cup black coffee
1 tsp instant coffee
1 egg
1/2 tsp vanilla
1/4 cup vegetable oil
Add all ingredients in a medium-sized mixing bowl. Lightly stir by hand to mix, the beat on medium speed with an electric mixer for 3 minutes to incorporate a little air and make your batter light.
Fill Muffinmeal cups according to directions or regular cupcake liners with about 1/4 cup of batter. Do not overfill. Bake at 350 &#176 for about 20 minutes or until inserted toothpick comes out clean.
Finished Muffinmeal cakes look like this: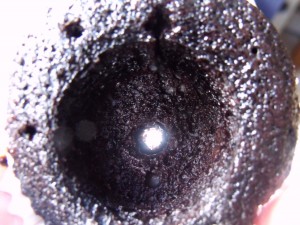 Ganache
Ingredients
1 cup heavy cream
16 oz. semi sweet chocolate chips
Make this ganache right before you're ready to put the dessert together. Bring the cream to a boil in a double boiler and cook until thickened. Pour over chocolate chips and whisk until smooth.
Divide recipe between 2 cold bowls.
Whip 1/2 the ganache with an electric mixer until light and fluffy.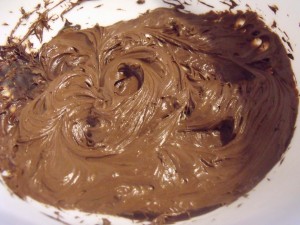 Transfer immediately to a piping bag. Fill your cupcakes.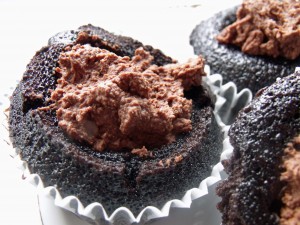 By now the second half of the batch should be cooled enough to put in a piping bag.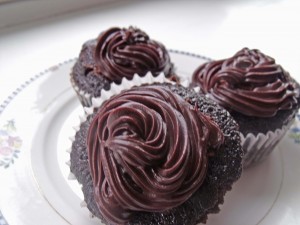 Top your cupcakes with the ganache, refrigerate to set up (if you can wait that long) and enjoy!
A sample Muffinmeal kit was sent to me for a trial. I received no further compensation and was under no obligation to post a review. Opinions expressed are my own and not influenced by the manufacturer.