Chocolate Gingerbread Cupcakes combine warm spices and chocolate in one tasty cupcake. Top it off with gingerbread frosting. A great way to celebrate #CupcakeDay2017!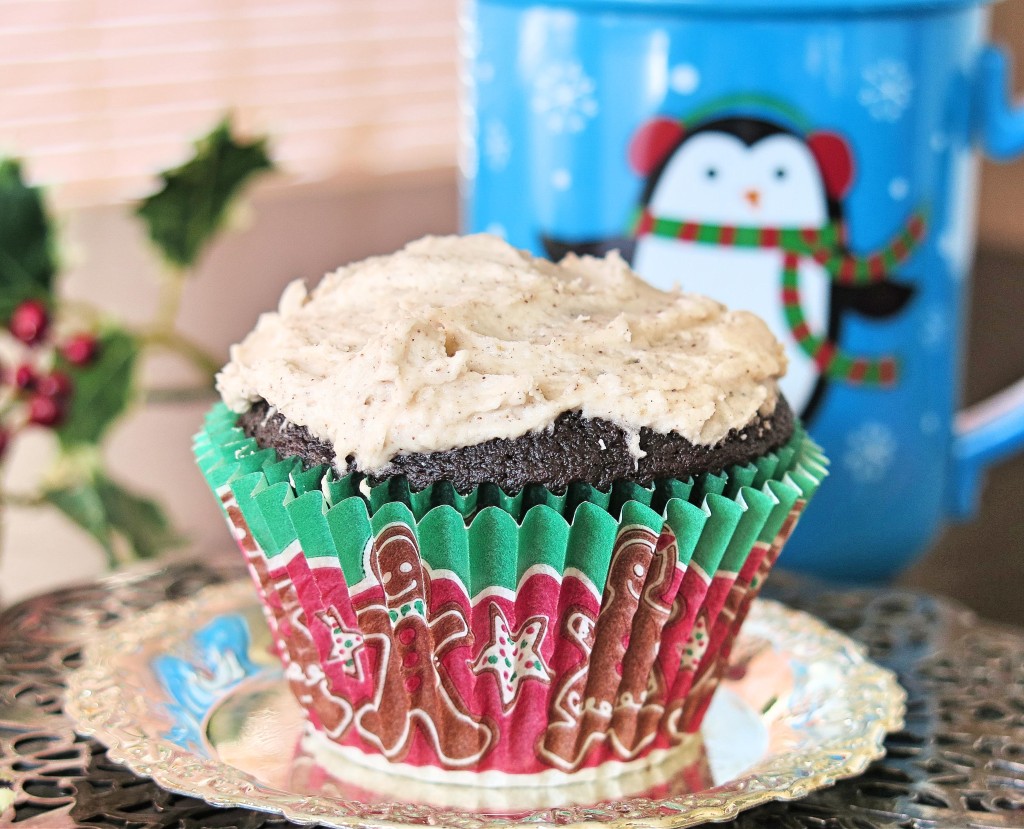 I'd much rather eat a cupcake than a slice of cake. There's something about having that individual piece of heaven in your hands. I peel back the paper and take a big bite. Now comes the tough decision. Eat it all now or kind of fold up the paper and save some for later.
I'm only kidding, who saves some for later? I don't have that kind of willpower. Especially when chocolate cake is in the picture.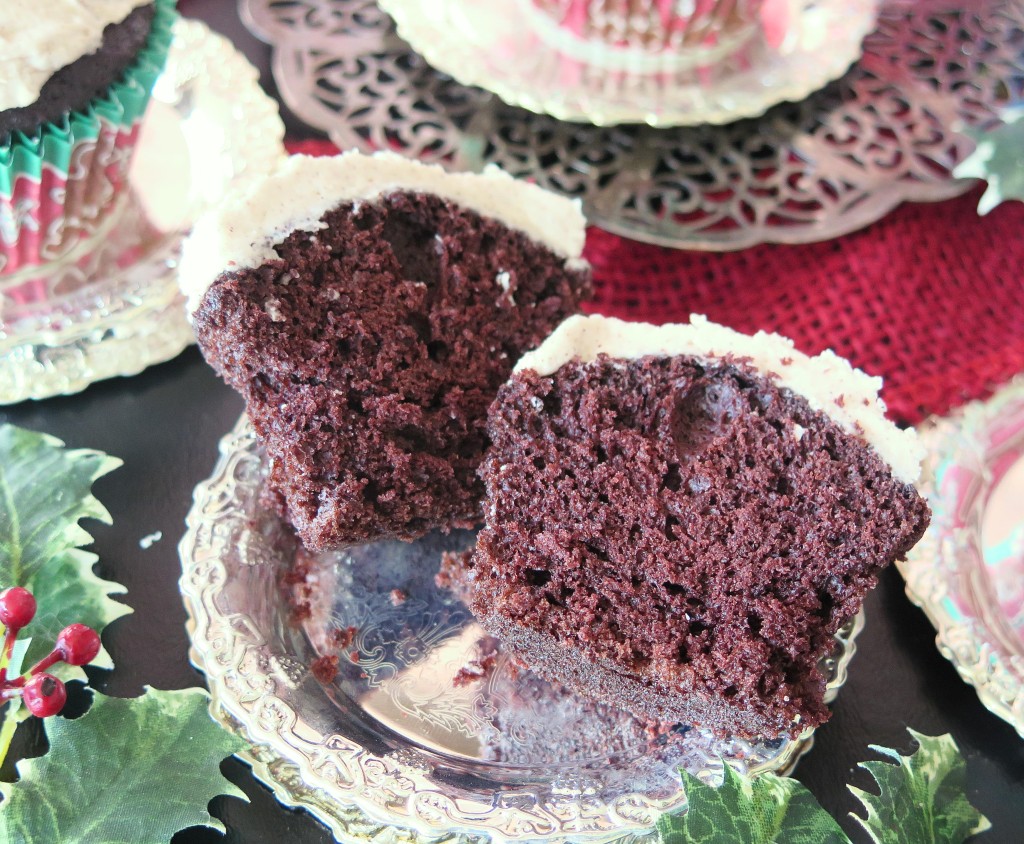 Warm spices like cinnamon, ginger and nutmeg are a perfect addition to anything baked with chocolate. Add a little vanilla and those flavors really pop!
Sometimes you can enhance the taste by adding spices to the frosting too. Each bite packs so much flavor.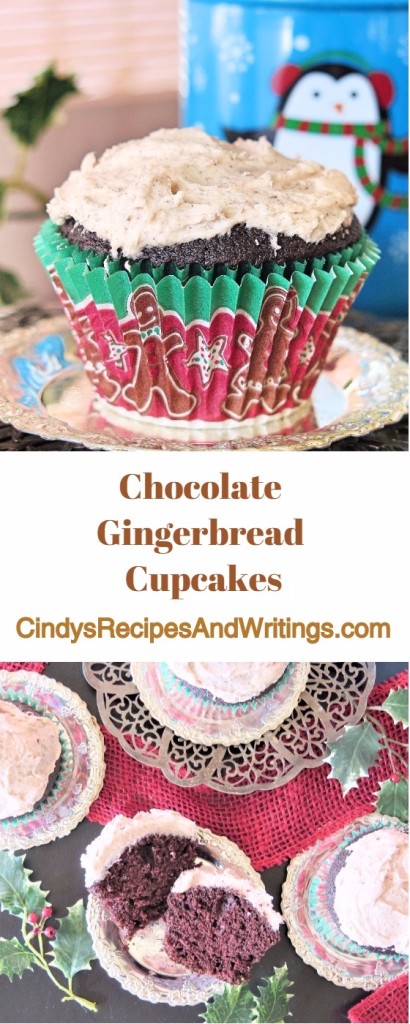 Chocolate Gingerbread Cupcakes
Chocolate Gingerbread Cupcakes
Ingredients
cake

1 cup flour
1 cup sugar
1/3 cup cocoa
1/2 teaspoon baking soda
1/2 teaspoon baking powder
1/2 cup milk
1/2 cup water
1 egg
1/4 cup vegetable oil
1 teaspoon cinnamon
1 teaspoon ginger
1/2 teaspoon nutmeg
1 teaspoon vanilla

frosting

2 cups powdered sugar
1 teaspoon vanilla
1 tablespoon water
1/4 cup shortening
1 teaspoon cinnamon
1/2 teaspoon ginger
1/4 teaspoon nutmeg
Instructions
Whisk together sugar, flour, cocoa, baking powder, baking soda, cinnamon, ginger and nutmeg.
In a separate bowl, whisk together milk, water, egg and vanilla. Add to dry ingredients.
Beat on medium speed for 3 minutes.
Divide batter into 12 cupcake liners.
Bake at 350 for about 12 minutes until inserted toothpick comes out clean.
While cakes bake, prepare frosting. Whip all ingredients until smooth.
Cool completely before frosting.
http://www.cindysrecipesandwritings.com/chocolate-gingerbread-cupcakes-nationalcupcakeday/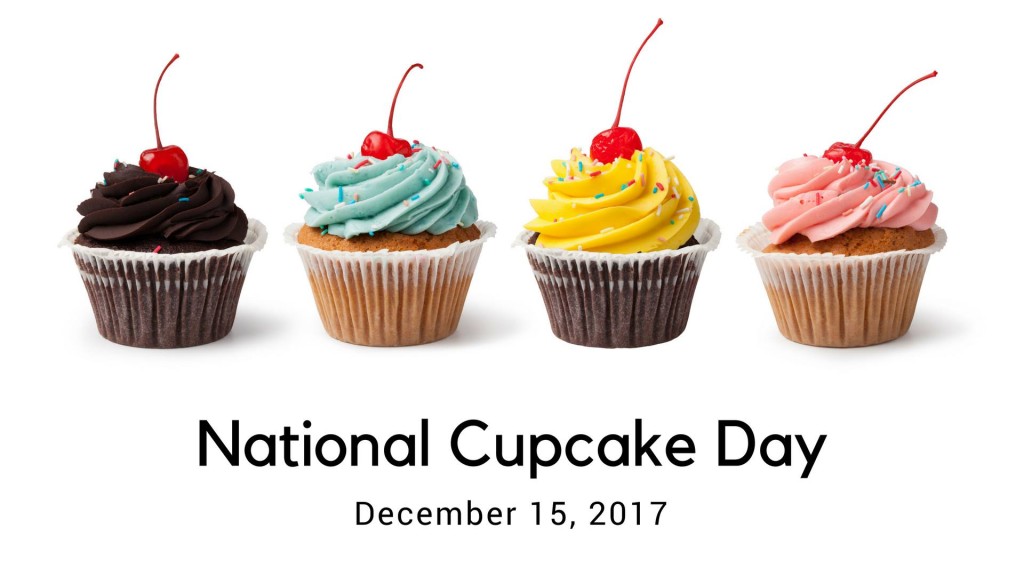 Thank you Coleen from The Red Headed Baker for hosting this event!
Enjoy all these delicious cupcake ideas and recipes throughout the year!