This started out as a dare from a friend (you're safe, I won't give you away) to make a killer Upside-down Cake. How could I resist? You know chocolate needs to fit in somehow!
You can use fresh pineapple or canned. I chose fresh pineapple.
If you use fresh, cut off both ends, cut off peel and slice into 1/4 to 1/2-inch pieces. Cut out cores with a knife or corer. Remember to beware of Pineapple Tongue!.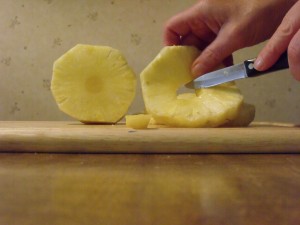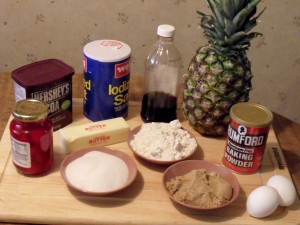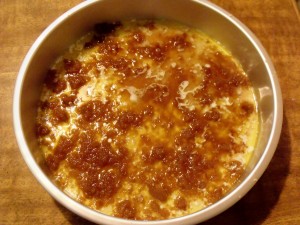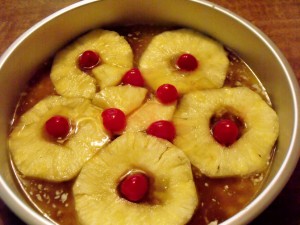 Ingredients
2/3 cup unsalted butter
1/2 cup brown sugar packed
4 to six pineapple slices
Maraschino or bing cherries
2 eggs
2/3 cup sugar
4 Tablespoons pineapple juice or water
2 Tablespoons Maraschino cherry juice or water
1 teaspoon vanilla
3/4 cup flour
1/4 cup cocoa
1/2 teaspoon baking powder (scant)
1/4 teaspoon salt
Melt butter over low heat or in microwave.
Pour into 10-inch ungreased cake pan. Sprinkle on brown sugar.
Arrange pineapple slices and cherries. Set aside.
In a medium bowl, beat eggs until thick and lemon colored.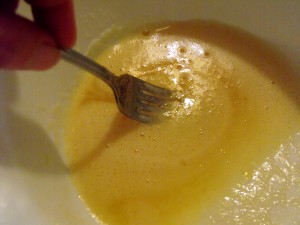 Gradually beat in sugar. Add juice and vanilla.
In a separate bowl, combine flour, cocoa, baking powder and salt. Mix.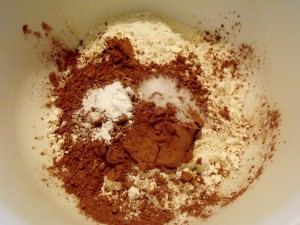 Stir dry ingredients into wet mixture.
Pour batter over pineapple slices. Try to coat evenly.
Bake at 350 for 40 to 45 minutes until toothpick comes out clean.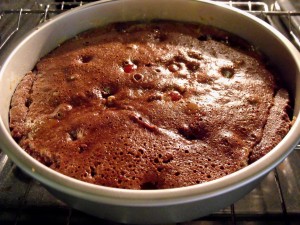 Turn pan over onto serving dish. DO NOT REMOVE PAN. Let pan rest in place for several minutes to allow butter to coat the cake.
Cool, remove pan, cut and enjoy!