=

I'm so excited to be part of Suprise Recipe Swap for February! The first of every month you receive a fellow blogger's blog address from Jutta at Hungry Little Girl so you can pick a recipe to make from their collection. In the meantime someone else is checking out your recipes to pick one to make. Great idea, right?
My assigned blog was Sheena's blog,Hot Eats and Cool Reads . Sheena has many cool recipes likeSausage and White Bean Soup and my new favorite Farmhouse BBQ Muffins.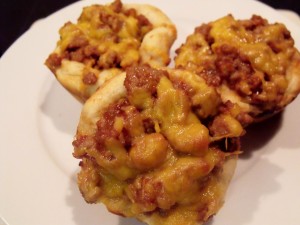 These cute muffins are made from ground turkey and biscuits. Super fast and super easy. We loved them! Thanks Sheena!
Here's my version. I followed Sheena's recipe exactly.
Here's the recipe.
Farmhouse BBQ Muffins
Hot Eats and Cool Reads Farmhouse BBQ Muffins
What you need:
1- 7.5 oz tube of biscuits
1 pound ground turkey
1/2 c. ketchup
3 tbsp brown sugar
1 tbsp vinegar
1/2 tsp chili powder
1 c. shredded cheddar
black pepper
Directions:
Preheat oven to 375 degrees.
Brown ground turkey. Meanwhile, separate biscuits and flatten each one into a 5 inch circle.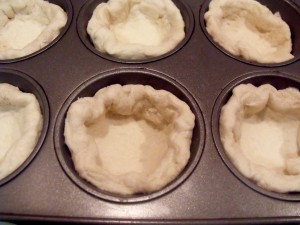 Press one into each muffin cup in a 12 cup muffin pan. (you will have 10) When turkey is finished browning, add ketchup, brown sugar, vinegar, chili powder and black pepper. Mix to combine. Scoop 1/4 c. of turkey mixture onto each biscuit and top with shredded cheddar.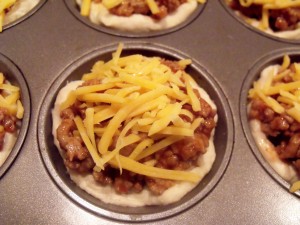 Bake for 18-20 minutes.
Sound like fun? Here's where to find out how to participate. Click the button!