Wow another week flew by already and its time for another Linky Party!
First, congrats to the winners from last week!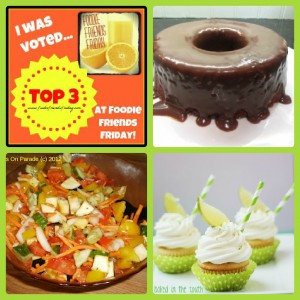 With the most votes… #1 Jams and Pans with Apple Walnut and Coconut Cake with Baileys Fudge frosting #2 Spatulas on Parade with Hodge Podge Salad #3 Baked in the South with Margarita Cupcakes!
Don't forget to grab your "prize" on the "Page of Fame"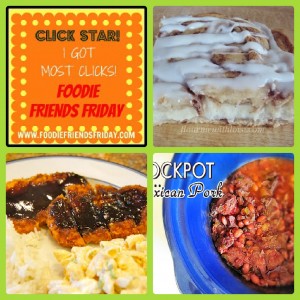 And the recipes who got the "Most Clicks" were:
#1 Flour Me With Love with Stuffed Cinnamon Rolls #2 Family Food Finds with Hawaiian Style Chicken Katsu #3 Diddles and Dumplings with Crockpot Mexican Pork!
My personal favorite from Linky Party 4 is:
Amber's Peachy-Orange BBQ Sauce over Baked Salmon (I like it over chicken, too 😉 ) at Mama's Blissful Bites ! Stop by and check out her new blog!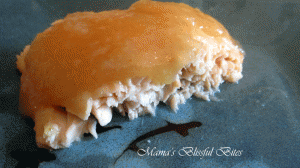 NOW ON TO THE PARTY!!!
Stop by and visit this week's Linky Party Hosts!
Tracy at Busy Vegetarian Mom http://www.busyvegetarianmom.com
Robyn's View http://www.robynsviewathome.blogspot.com
Angie at A lil Country Sugar  http://alilcountrysugar.blogspot.com/
Sarah at Everything in the Kitchen Sink  http://everythingkitchensink.blogspot.com/
Michelle at From Calculus to Cupcakes  http://www.fromcalculustocupcakes.blogspot.com
Marlys at This and That  http://marlys-thisandthat.blogspot.com/
Lois at  Walking on Sunshine http://wifeofthecolonel.blogspot.com/
Lindsey at Family Food Finds  http://www.familyfoodfinds.com
Cindy at Cindys Recipes and Writings  http://www.cindysrecipesandwritings.com
Keira at Luscious Delights www.lusciousdelights.blogspot.com.au
Step 1:  Make sure that anything you link up is:
A Recipe…and is made and photographed by you
Not part of a sponsership/sales/giveaway or other promotions/linky parties
Linked to a specific page of your recipe, not your homepage
Please limit your link-ups to 3 per party
Step 2:
* for example:  This recipe is featured on "Host Blog Link" and  http://www.foodiefriendsfriday.com  Linky Party)
If you want to be the very best Foodie Friend Ever…
Grab our button at http://foodiefriendsfriday.com and put it on your page and share Foodie Friends Friday!
Take some time and check out other submitted links and the blogs of all of our gracious hosts
Come on over and "like" us on Facebook or Follow us on Twitter and Pinterest
***Please note that by linking up you are transferring rights to Foodie Friends Friday and any of it's affiliated websites or publications to use photos/links/recipes for any reprint, republishing and distribution without monetary compensation to you.  If photos/recipes are used, proper credit/ linkbacks will be published with them.  We just want to share your amazing recipes and spread some foodie <3 !
Have Fun and Thank You for Visiting!!