Greens & Eggs & Ham is a delightful dish you can serve straight from the pan. One of 120 exciting new sheet pan cooking recipes directly from Molly Gilbert's new Sheet Pan Suppers Cookbook.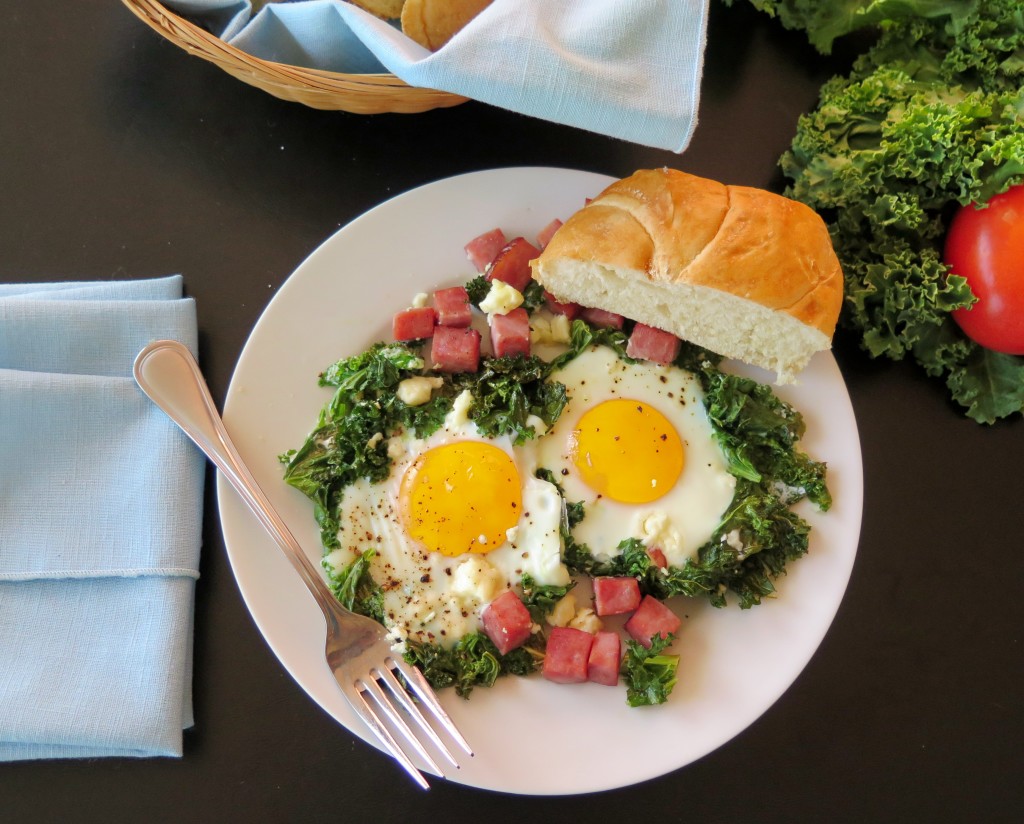 Every cook loves one pan meals. Easy clean up and less dirty dishes equals more time for enjoying your meal. Sometimes depending on the dish you make and vessel you choose it doesn't always work out that way. Casserole dishes can be hard to scrub with all the corners and ridges. Skillets can be a challenge too. Baked on or burnt on food needs, extra care to remove. I love my slow-cooker, but sometimes I need to soak it to get it clean.
I think we have a better idea to share with you. Have you ever considered making an entire meal on one or two sheet pans?
Sheet pan cooking means you can roast, broil or bake a meal on a sheet pan. This method will intensify the flavor of your meals. Sheet Pan Suppers shows you how to achieve juicy, tender meats, perfectly caramelized vegetables and crispy potatoes.
There are also sections for dessert ideas, small bites, snacks, brunch and more!
I love the tips and tricks included with the recipes. You will find the lowdown on different spices, easy ways and short-cuts for preparing a variety of vegetables and useful ideas for making these recipes your own.
Follow the Sheet Pan Suppers Pinterest board for more great sheet pan meal recipes and ideas!
You can purchase a copy of Sheet Pan Suppers here from Workman Publishing Company.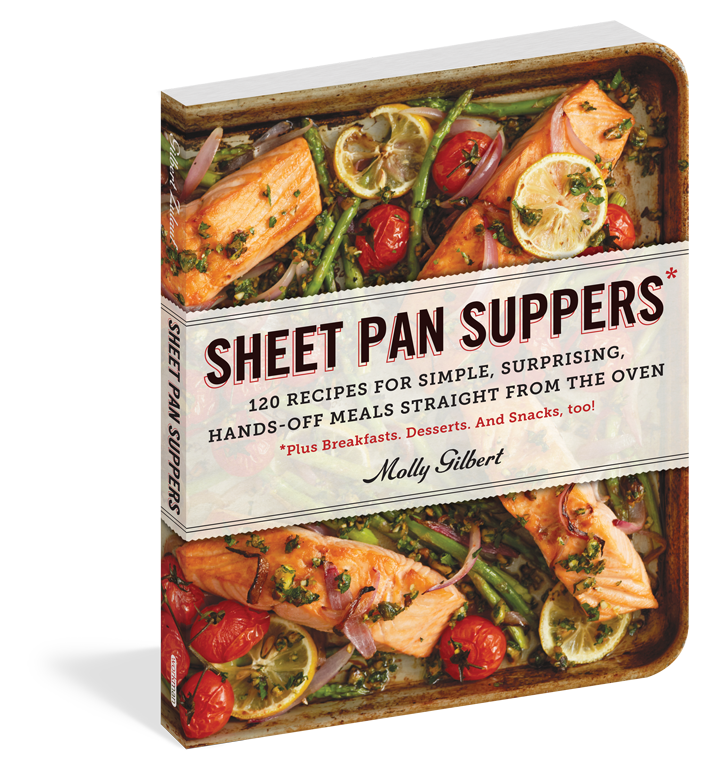 I chose to make Greens & Eggs & Ham from Sheet Pan Suppers as my Weekday Supper meal.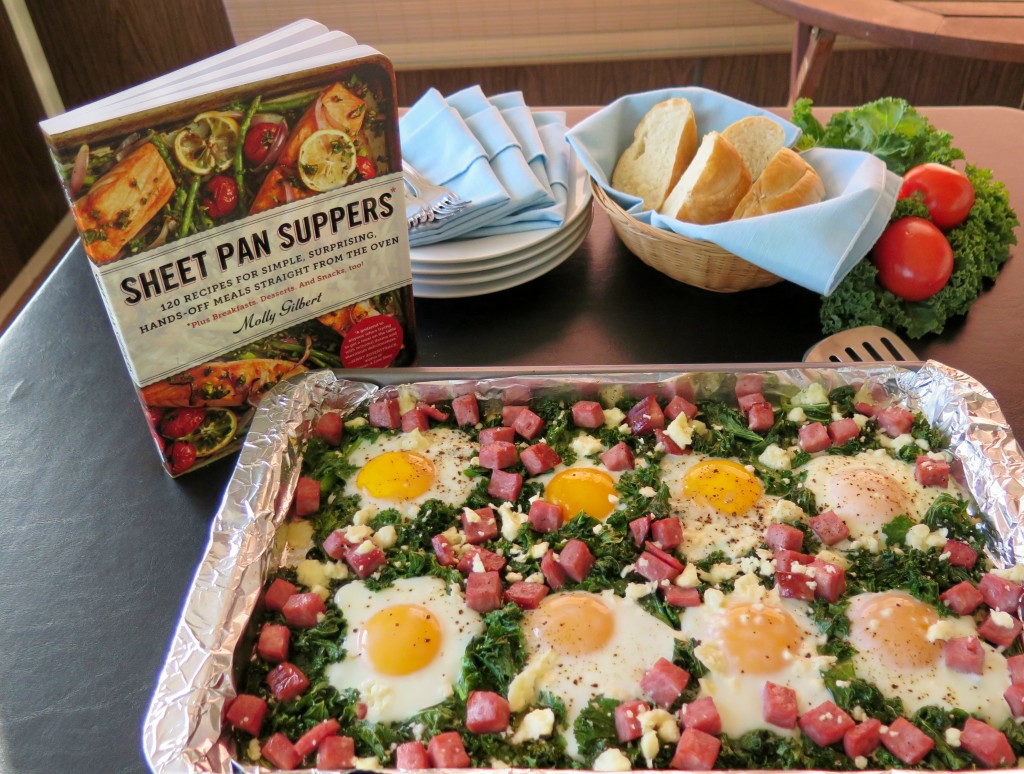 We love breakfast for dinner ideas.
Greens & Eggs & Ham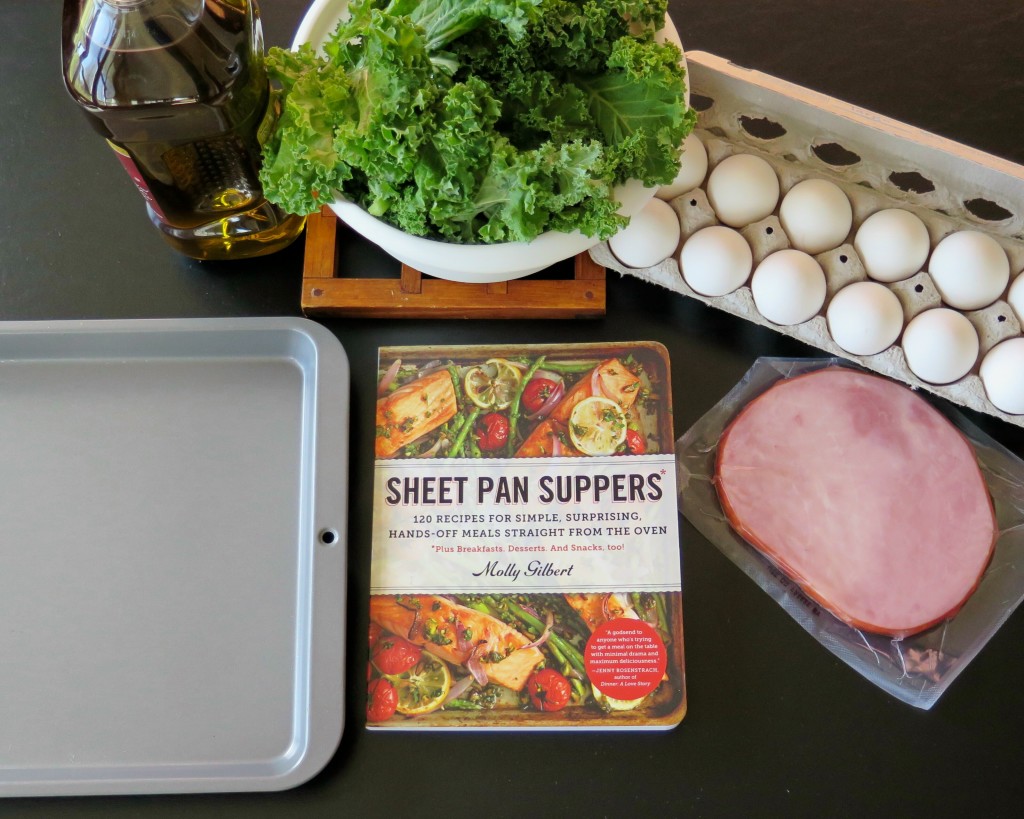 Kale adds texture and nutrition to this ham and eggs recipe. The greens cradle the eggs as they cook.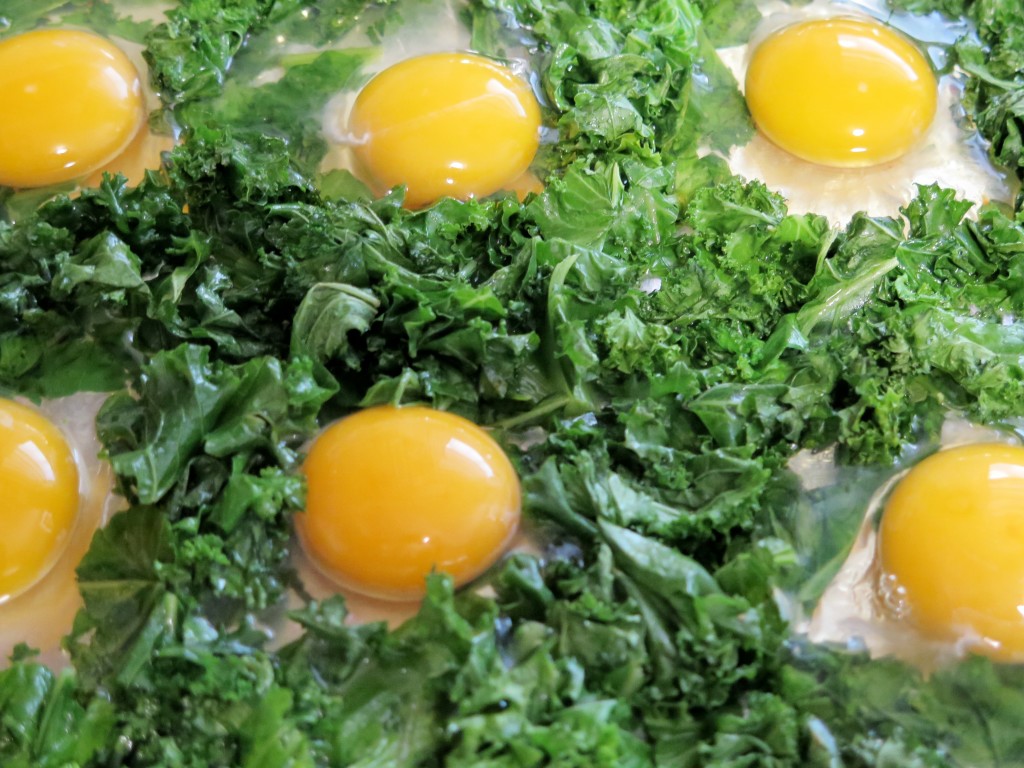 Add ham and feta.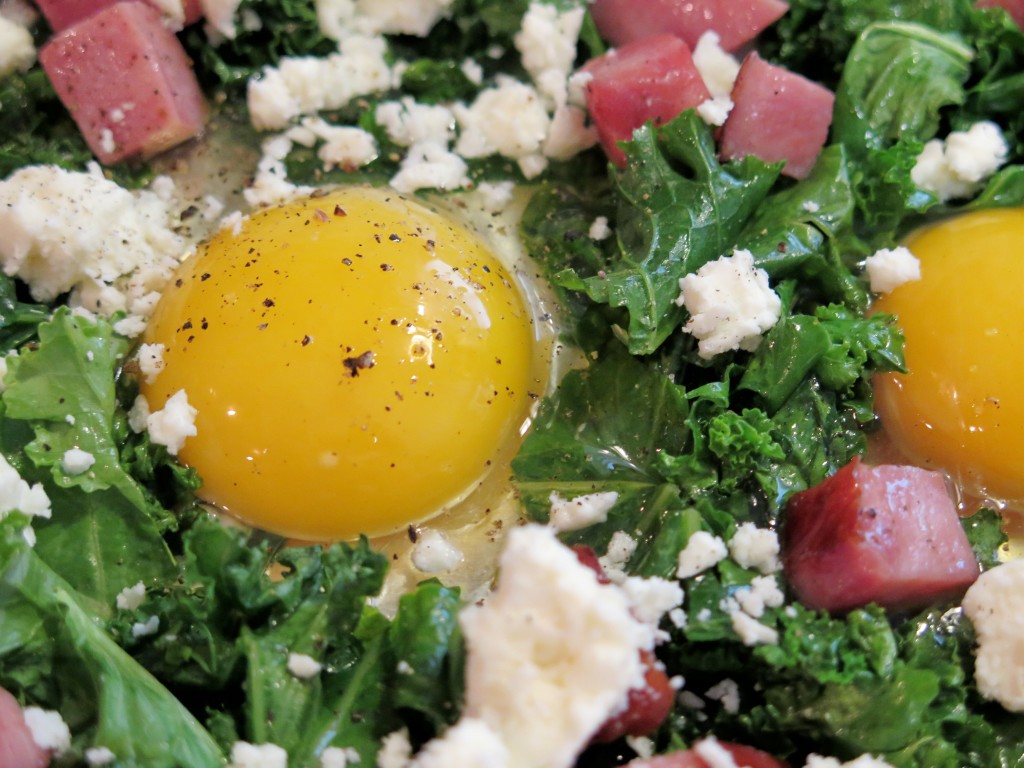 Enjoy!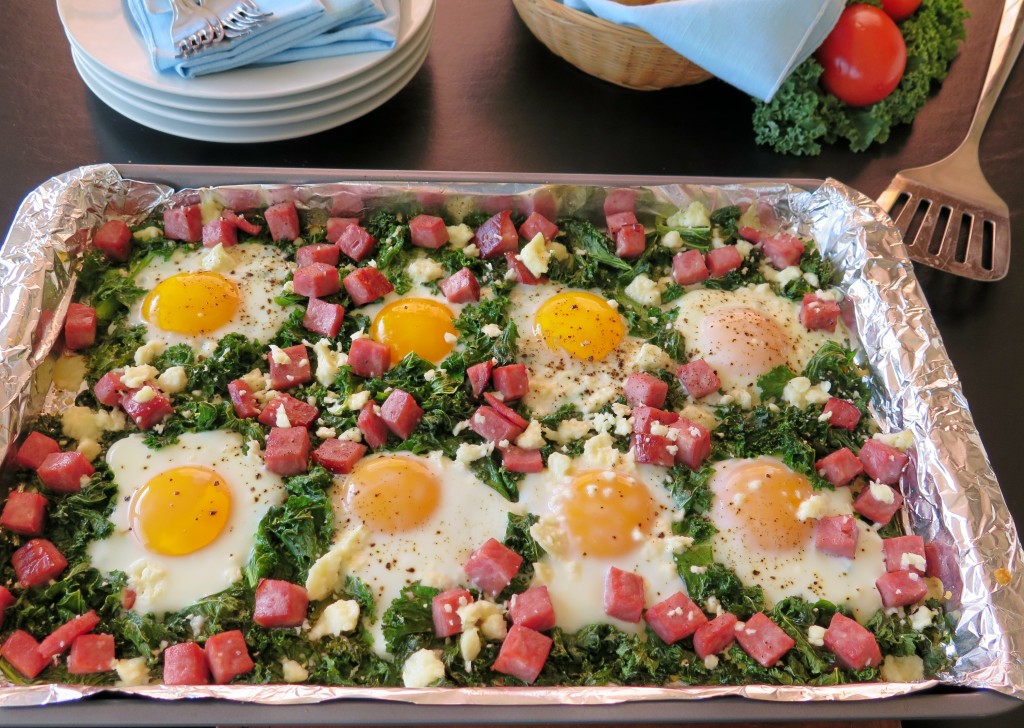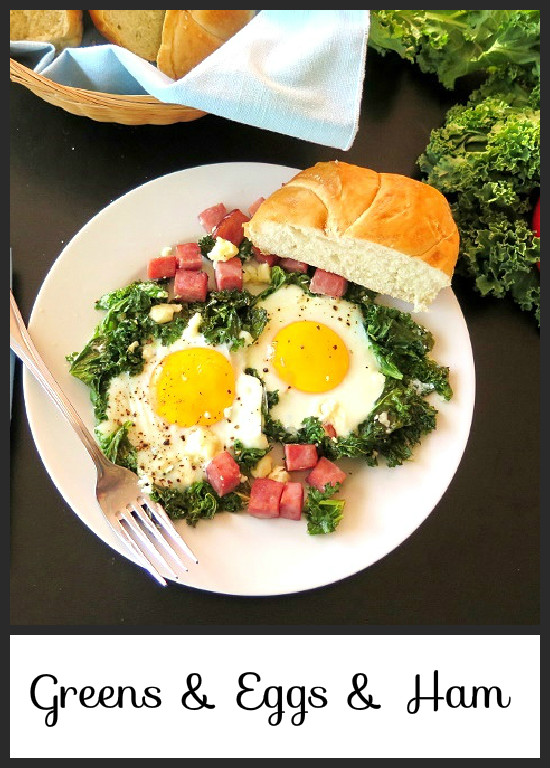 Recipe copyright © Molly Gilbert 2014. Used with permission from Workman Publishing Company.

Greens & Eggs & Ham #WeekdaySupper
Ingredients
Olive Oil Cooking Spray
1 boneless ham steak (7 ounces) cut into 1/2-inch cubes
4 to 5 cups packed chopped kale
1 Tablespoon Extra Virgin Olive Oil
Kosher Salt
8 to 12 large eggs
1/2 cup crumbled feta cheese (about 2 ounces)
Freshly ground black pepper
Crusty Bread for serving
Instructions
Preheat oven to 375 °F with a rack in the center position. Line a sheet pan with aluminum foil and mist the foil with cooking spray.
Spread out the ham on the prepared pan and bake, using a spatula to mix and turn the ham occasionally, until lightly browned, 10 to 12 minutes.
Transfer the ham to a plate with a spatula or slotted spoon. Do not wipe up any grease from the bottom of the pan.
Place kale on the sheet pan, drizzle with the olive oil, sprinkle with 1/2 teaspoon salt and toss to coat. Spread out kale in an even layer. Bake for 5 minutes.
Remove the pan from the oven but leave the oven on. use a wooden spoon to make 8 to 12 evenly spaced divots in the kale to accommodate the eggs. Crack an egg into each divot. Sprinkle the feta, the reserved ham cubes, and some salt and pepper on top.
Return pan to oven. Bake the eggs until the whites are set but the yolks are still runny, 10 to 15 minutes.
Enjoy greens and eggs and ham immediately, with some crusty bread to soak up the warm, runny yolks.
Notes
Recipe copyright © Molly Gilbert 2014. Used with permission from Workman Publishing Company.
http://www.cindysrecipesandwritings.com/greens-eggs-ham-weekdaysupper/
Molly Gilbert, a graduate of the French Culinary Institute, is a cooking instructor, food blogger (dunkandcrumble.com), former private chef, and recipe tester in the kitchen of Saveur. She lives in Seattle.
Learn more about Molly and the story behind Sheet Pan Suppers in a recent interview by Janet K. Keeler on our Sunday Supper Website!
Follow Molly Gilbert on social media for news and updates:
Blog: Dunk and Crumble at http://dunkandcrumble.com/
Facebook:  https://www.facebook.com/DunkCrumble
Twitter: https://twitter.com/mollydunkncrumb
Instagram: https://instagram.com/mollydunkncrumb/
Pinterest: https://www.pinterest.com/mollydunkncrumb/
Enter to win your own copy!
Try all these Weekday Supper recipes recreated from Sheet Pan Suppers Cookbook by The Sunday Supper Group!
Monday – Hearty Ratatouille with Goat Cheese by Soni's Food
Tuesday – Lemon-herb Sole on Crispy Potato Rafts by kimchi MOM
Wednesday – Greens & Eggs & Ham by Cindy's Recipes and Writings
Thursday – Chicken Parmesan by Bobbi's Kozy Kitchen
Friday – Baked Sweet Potatoes with Cannellinis & Baby Spinach by Shockingly Delicious
This post is sponsored by Workman Publishing Company in conjunction with a social media campaign through Sunday Supper LLC. All opinions are my own.