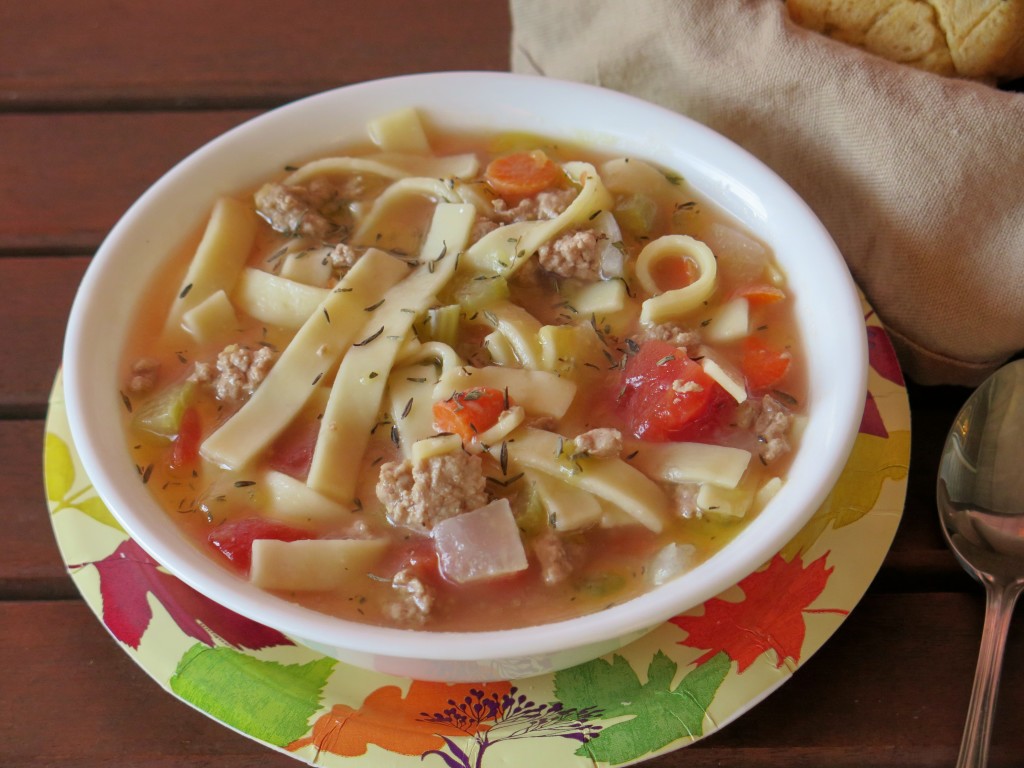 We all have favorite food memories. That is especially true this time of year. Big family get-togethers with tables full of turkey and all the trimmings. Casserole dishes filled with stuffing, candied yams and green beans swimming with mushrooms in a creamy sauce. Platters of cheesecakes and cut out cookies of Santa, bells and Christmas trees. Baskets of warm, fresh rolls with heaps of butter. Are you hungry yet? Me too!
So I was very excited to learn our November theme from Recipe ReDux.
"A Food Memory For Which You Are Thankful"
In the US, November marks the Thanksgiving holiday. But many of us are especially thankful for food memories we have shared with friends or relatives throughout our lives. Was it a special meal you ate as a child? Or, maybe it was a food you grew and harvested with your own children. Please share one of your favorite food memories and the healthier "redo" of the recipe.
That was a tough one. I needed to choose one food memory. It required stepping out of the holiday mindset.
My Mom worked long hours so in the summer I needed to supply myself with lunch. We always had canned soup, American cheese and sliced boiled ham on hand. My favorite canned soup consisted of noodles and hamburger. I know, but I was only about 12 then. I hadn't developed tastebuds yet! 😉
I chose this time and that memory because it was my coming of age time. A time to start gaining independence. A time before having grownup responsibilities.
I was allowed to use the stove when my Mom wasn't home! It was the start of my interest in cooking for myself.
Here is my healthier version of a ground meat soup. Lean ground turkey replaces fatty beef. Fat free, low-sodium broth gets enhanced with vegetables.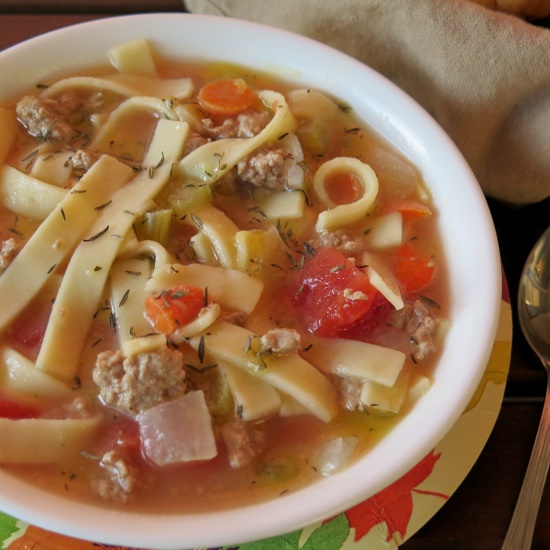 Ground Turkey Noodle Soup #RecipeR
Ingredients
1 lb lean ground turkey
64 ounces non-fat, reduced sodium chicken broth
1 cup diced celery
½ cup diced carrots
½ cup diced onion
1 14.5 ounce can diced tomatoes with juice
1 tablespoon lemon juice
1 teaspoon dried thyme
1 teaspoon garlic salt or granulated garlic
6 cups cooked noodles
1 tablespoon olive oil
Instructions
In a 4 quart saucepan or Dutch oven, all oil, turkey, celery, carrots and onion. Cook over medium heat until turkey browns and vegetables start to soften.
Add broth, tomatoes, lemon juice, thyme and garlic salt. Simmer for several minutes until thoroughly heated.
Add noodles, stir and serve.