"I received free pistachio samples from the Pistachio Health Institute mentioned in this post. By posting this pairing I am entering a contest sponsored by Pistachio Health Institute and am eligible to win prizes associated with the contest. I was not compensated for my time."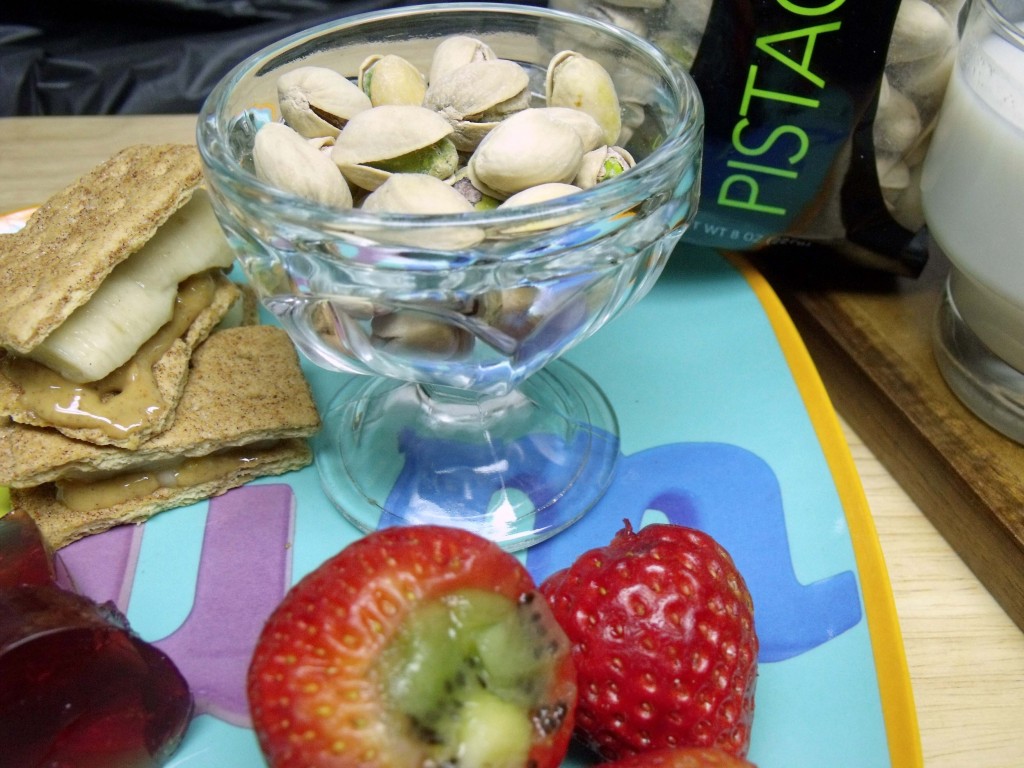 This month The Recipe ReDux has teamed with the Pistachio Health Institute to offer pairing ideas starring In-shell Pistachios!
In-shell pistachios make great kid-friendly snacking. When fun to eat pistachios get paired with other finger foods, kids will clean their plates.
In-shell Pistachios Pairings
Pistachios + Peanut Butter and Banana Grahams + Strawberries and Kiwi + Fruit Juice
Peanut Butter adds protein. Bananas, strawberries, kiwi and the fruit juice in the wigglers adds important vitamins including vitamins C and B1 plus potassium.
Serve as an after school snack to revitalize your hungry nibblers.
Pair this snack with a glass of almond milk, 2 percent milk or fruit juice for added nutrition.
According to the Pistachio Health Institute, "When you snack on in-shell pistachios, just seeing the empty shells may provide the visual cue necessary to help curb consumption. Plus, the act of cracking open each pistachio (versus snacking on shelled nuts) may slow you down making it more difficult for overconsumption in one sitting."
They call this the Pistachio Principle: Crack 'em, Chew 'em, Love 'em, Leave 'em.
As parents and grandparents we can call in-shell pistachios snacking, good for them snacking fun!
 Connect with the Pistachio Health Institute on their website at www.PistachioHealthInstitute.org on Twitter and Facebook.

Jelly Wigglers, PB Banana Grahams, Kiwi Berries and In-shell Pistachios Kid-friendly Snack Pairings
Ingredients
Jelly Wigglers
4 cups fruit juice (I used apple grape)
4 packages unflavored gelatin
PB Banana Grahams
1 banana sliced
4 low-fat graham crackers
½ cup all-natural peanut butter (smooth or chunky)
Kiwi Berries
8 large strawberries, cored
1 kiwi peeled, diced
Instructions
Jelly Wigglers
Pour 1 cup juice in a medium-sized bowl. Sprinkle gelatin on top. Juice will absorb the gelatin.
Heat remaining 3 cups to a boil and whisk into gelatin.
Pour into an 8x8-inch pan or larger depending on how thick you want the wigglers.
Refrigerate until firm and cut into desired shapes.
PB Banana Grahams
Break grahams into individual sections, spread with peanut butter and top with banana slices. Add a second cracker to make a sandwich or leave open faced.
Kiwi Berries
Slightly hollow out berries and stuff with kiwi pieces.
Serve with 2 percent milk or almond milk.
Notes
Healthy Finger Foods for kids to enjoy as a snack with in-shell pistachios.
Here are more great In-shell Pistachio Pairings from the Recipe ReDux.