Irish Corned Beef Style Brisket Dinner uses corned beef spices to create an amazing braised brisket. Add cabbage, carrots and onions for a complete meal. This post is part of a campaign sponsored by Certified Angus Beef ® brand.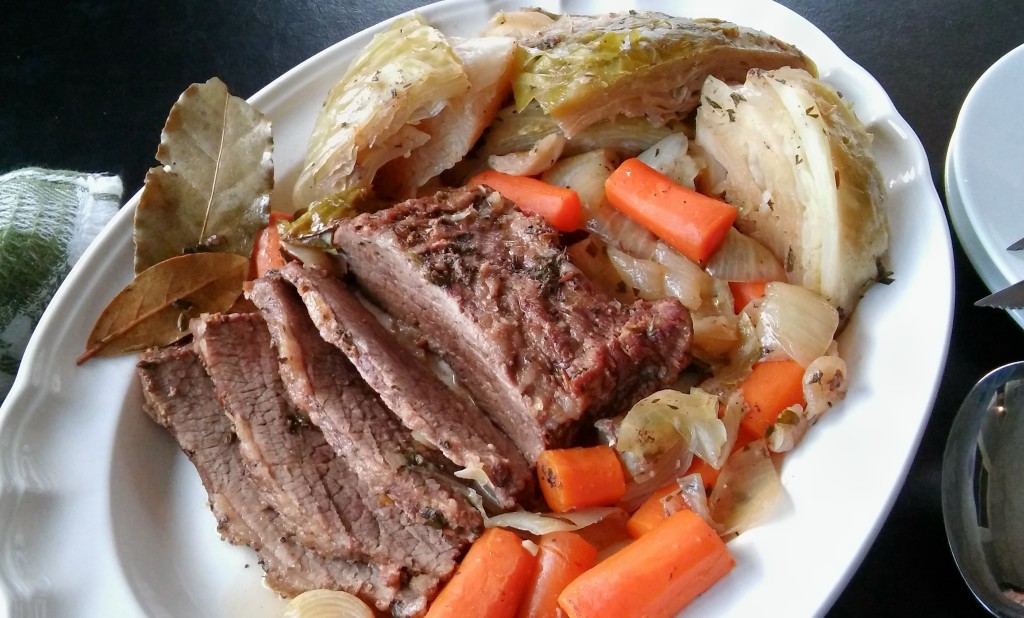 I love traditional corned beef and cabbage. This recipe infuses those flavors throughout the beef and vegetables. I added boiled potatoes served with the broth. This meal tasted even better the second day!
Remember to brown the beef to sear in all that flavor!
Recipe courtesy of Certified Angus Beef ® brand.
Irish Corned Beef Style Brisket Dinner #bestbeef
Use a prepared corned beef brisket for a traditional recipe. Original recipe and tips found here on Certified Angus Beef ® brand website.
Ingredients
1 (3 1/2 to 4-pound) Certified Angus Beef ® beef brisket flat
2 teaspoons ground coriander
1 teaspoon caraway seeds
1 teaspoon coarse ground black pepper
1 teaspoon dried thyme leaves
1/4 teaspoon ground clove
2 tablespoons canola oil
1 pound carrots, peeled and cut in 1-inch chunks
2 onions, cut in 1-inch chunks
6 peeled garlic cloves, cut in half lengthwise
1/2 head cabbage, cut in 8 wedges
4 bay leaves
1 cup beef stock
2 tablespoons coarsely chopped fresh parsley (optional)
Instructions
Remove corned beef from package, rinse and pat dry; cut into two equal pieces.
Preheat oven to 325°F.
In a small mixing bowl, combine coriander, caraway, black pepper, thyme and clove; set aside.
Heat oil in a large skillet over medium-high heat. Sear brisket until browned, fat side down first, 3-4 minutes per side.
Transfer brisket to a large roasting pan or Dutch oven. Evenly coat all sides of brisket with spice blend. Spread carrots, onions, garlic, cabbage and bay leaves evenly around and on top, add stock and cover tightly with foil or lid. Place in oven and braise 2 hours until tender.
Slice thinly against the grain and serve with vegetables and broth, garnished with parsley.
http://www.cindysrecipesandwritings.com/irish-corned-beef-style-brisket-dinner-bestbeef/
Find more great recipes for beef on their website: Certified Angus Beef ® brand recipes.
Download the Roast Perfect app HERE for your mobile device easy access to recipes, tips and a cooking timer!