This recipe is entered in a contest sponsored by Certified Angus Beef ® brand where I have a chance to win a prize package. I was under no obligation or received any compensation for writing this post.
Meatballs and Spaghetti Zoodles Salad serves the classic, salad style. Crisp tender zucchini noodles, #bestbeef meatballs drizzled Tamarind Tomato dressing.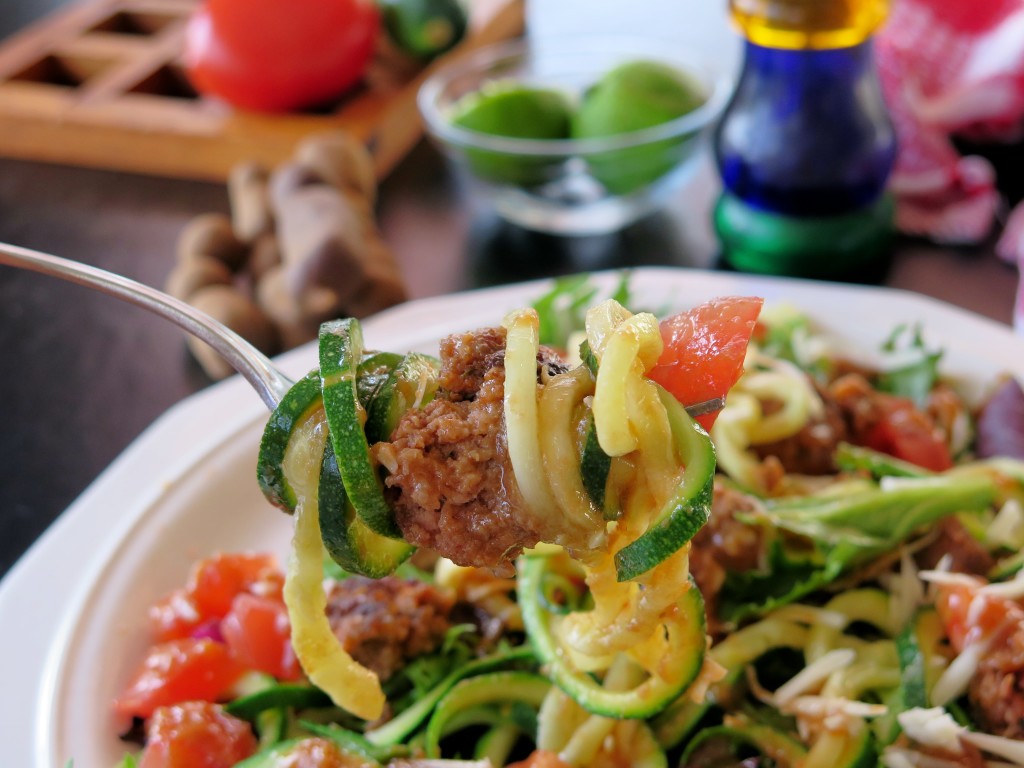 Hooray, it's salad season again! Time for crisp fresh greens. Vine-ripened tomatoes and summer squash to start showing up on a regular basis. We eat a lot of salads. I keep on the lookout for fresh ideas and new ingredients.
A lot of fellow food bloggers have used sweet, tart tamarind in amazing sounding dishes. When I saw some at my local store I knew it was time to try.
The tamarind pairs well with beef. I plan to give it a try in other beef dishes too. Of course I will share those with you!
Meatballs and Spaghetti Zoodles Salad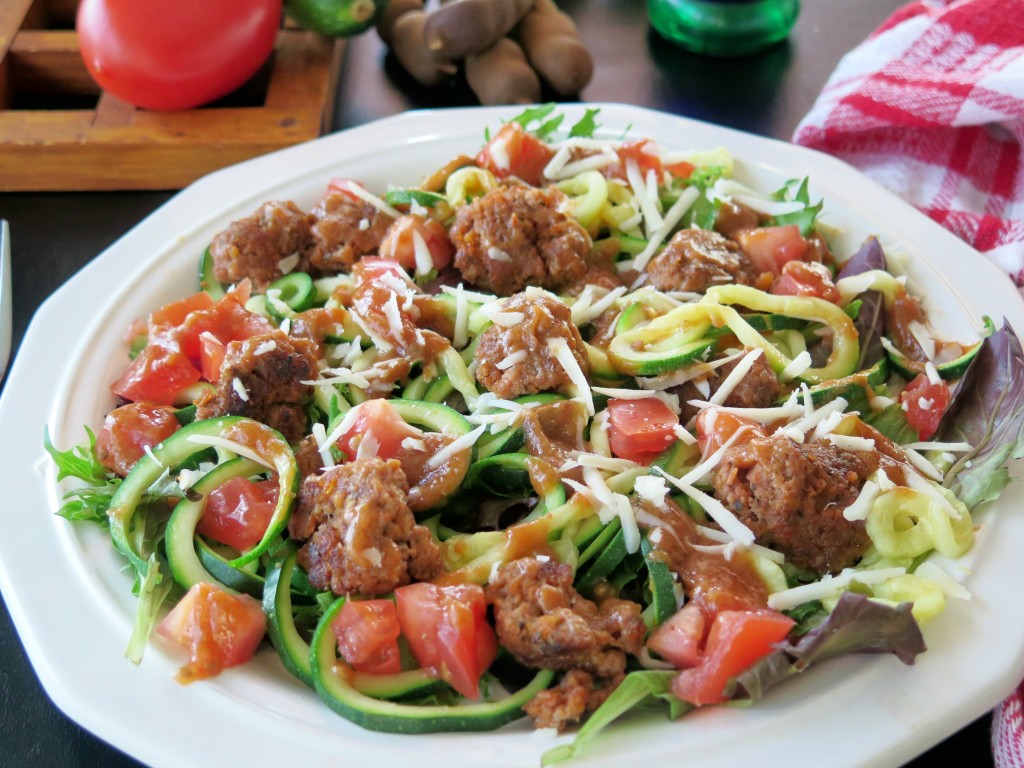 For best results, use Certified Angus Beef ® brand.
Meatballs and Spaghetti Zoodles Salad #BeefUpYourSalad #BestBeef
Ingredients
Meatballs

1/2 lb ground beef (I used Certified Angus Beef ® brand)
1/4 cup breadcrumbs
1 tablespoon tomato paste
2 tablespoons beef broth (optional)
1 egg
1/2 teaspoon Italian seasoning
salt and pepper to taste
1 tablespoon oil for frying

dressing

1/4 cup tamarind paste
1 tablespoon tomato paste
juice from 1 lime (about 2 tablespoons)
1 teaspoon soy sauce
2 teaspoon honey
1 tablespoon olive oil

zoodles

2 medium zucchini, spiralized
1/2 cup diced tomatoes
1/4 cup grated Asiago cheese
2 cups mixed baby greens
Instructions
Meatballs

Mix together beef, crumbs, egg, tomato paste, broth and seasoning. Form into mini meatballs. Add a bit more broth or crumbs if needed to achieve desired consistency.
Fry in oil over medium-high heat, turning frequently to brown all sides. Reduce heat and simmer until completely cooked. Set aside.
Blanch zoodles in boiling water for 2 to 3 minutes until tender but not mushy. Drain and arrange on 2 plates over mixed greens.

dressing

Whisk together tamarind, lime juice, tomato paste, soy sauce, honey and oil. Set aside.
Arrange meatballs over zoodles. Add tomatoes. Drizzle with dressing. Sprinkle with cheese.
http://www.cindysrecipesandwritings.com/meatballs-and-spaghetti-zoodles-salad-beefupyoursalad-bestbeef/