Mini Cheese Stuffed Meatloaves Savory ground beef wrapped around smoky cheddar. One for you and one for sweetheart!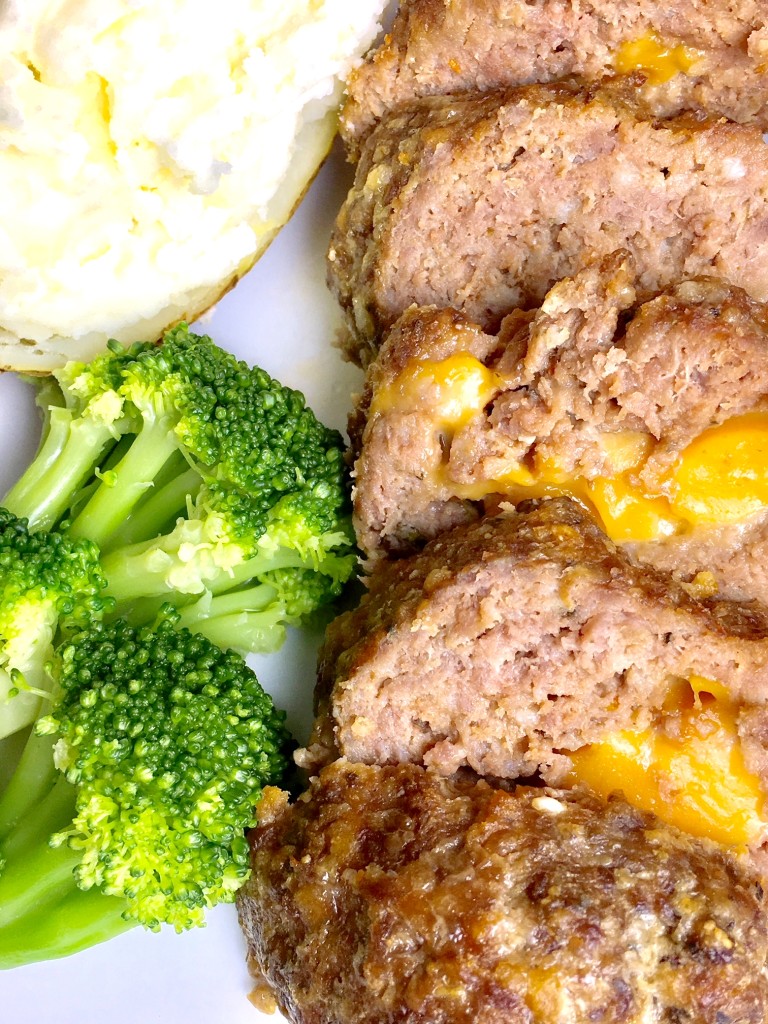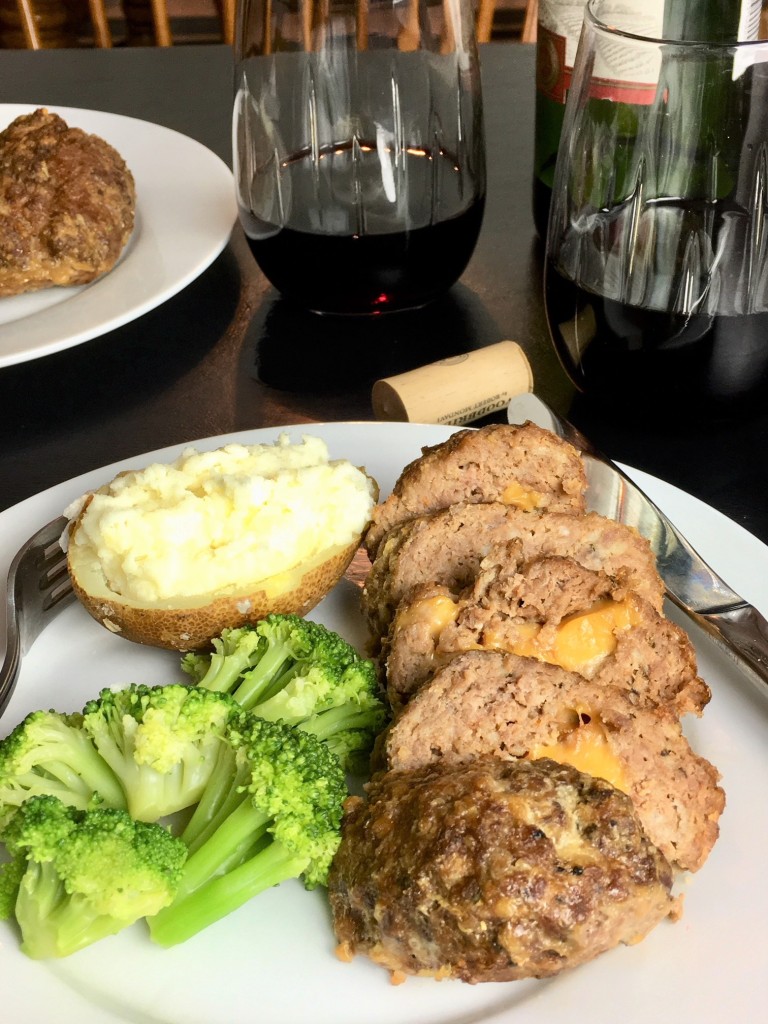 When I make a special dinner for me and my sweetie it has to be fun. I love making stuffed chicken for example. Part of the fun for him is cutting into the chicken and finding a delicious filling. Sometimes I use bread stuffing or mashed potatoes. Other times I get more creative with cheeses, broccoli, spinach, sun-dried tomatoes, olives and more.
Half the fun for me is coming up with new combinations. The other half of course, is eating it!
Today I'm joining a group of friends to share the love. Love of food. Love of blogging. Love of friendship.
What could be more appropriate for Valentine's Day?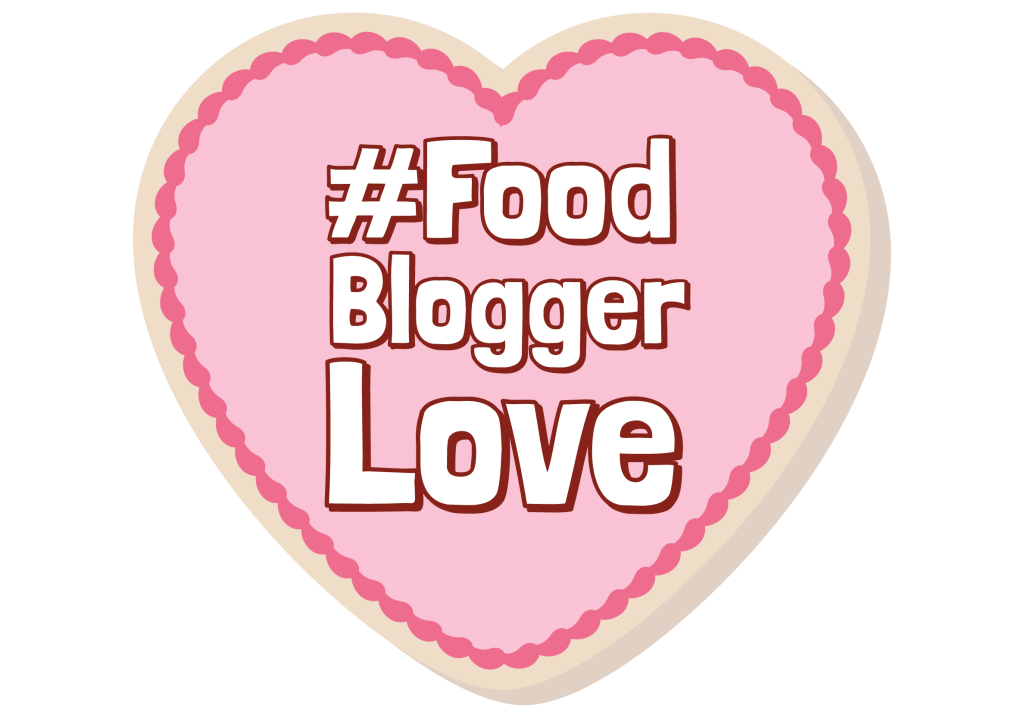 Thank you, Alison from The Pintertest Kitchenfor hosting this fun event!
One of the requirements for today's post is something with a Valentine's Day feel about it.
My guy might not be a hopeless romantic, but he cares about me just the same.
He often shows his affection by surprising me with peanut butter cups (my favorite candy) or a case of beer I like. Must be a guy thing!
So I surprise him back with a dish he loves with a surprise filling.
Today it's Mini Cheese Stuffed Meatloaves. I served these with his favorite twice baked potatoes. Now that's love!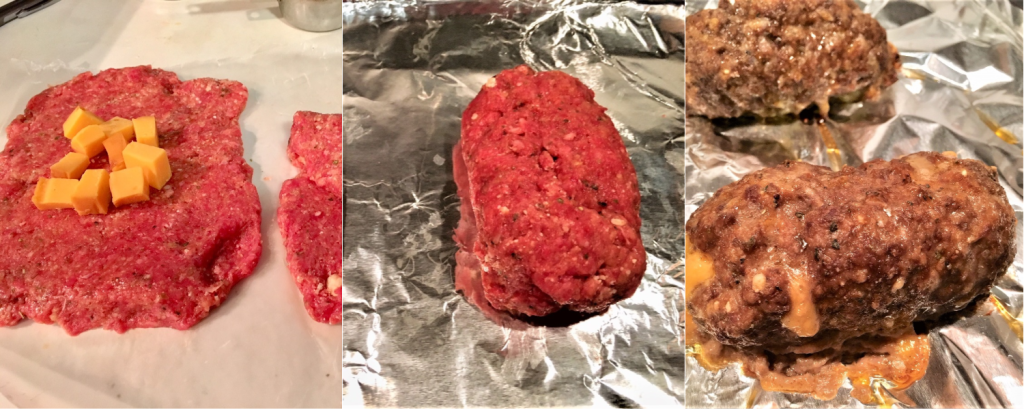 I use Certified Angus Beef® brand 85/15 ground beef in my meatloaf. I used smoked cheddar for the filling. Any natural cheese not processed cheese works best. I just like a smoky flavor!

Mini Cheese Stuffed Meatloaves
Ingredients
1/2 pound ground beef (I use 85/15 Certified Angus Beef Brand)
1 egg
1/4 cup bread crumbs
1/2 teaspoon Italian seasoning
1/4 teaspoon garlic salt
1/4 cup smoked cheddar or Gruyere cheese cubes
1 tablespoon tomato sauce
1 tablespoon grated Parmesan cheese
Instructions
Mix together beef, bread crumbs, egg, seasonings, tomato sauce and parmesan cheese.
Divide ground beef mixture in half. Roll each piece between 2 sheets of plastic wrap to form a rectangle about 1/4-inch thick.
Place half the cheese in the center of each rectangle. Fold one side towards center then the other side. Pinch ends shut and shape.
Bake at 350 on a foil lined sheet for about 20 minutes until brown and thoroughly cooked.
Serve with your favorite sides.
http://www.cindysrecipesandwritings.com/mini-cheese-stuffed-meatloaves-foodbloggerlove/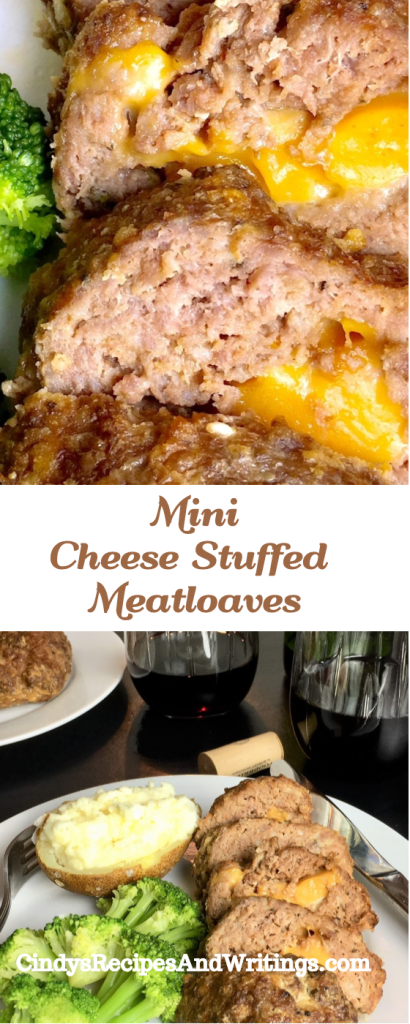 Food for Thought…What meal does your significant other wish you would make more often? I would love to hear your answer in a comment below!
Help spread the love and discover some new recipes in the links below!