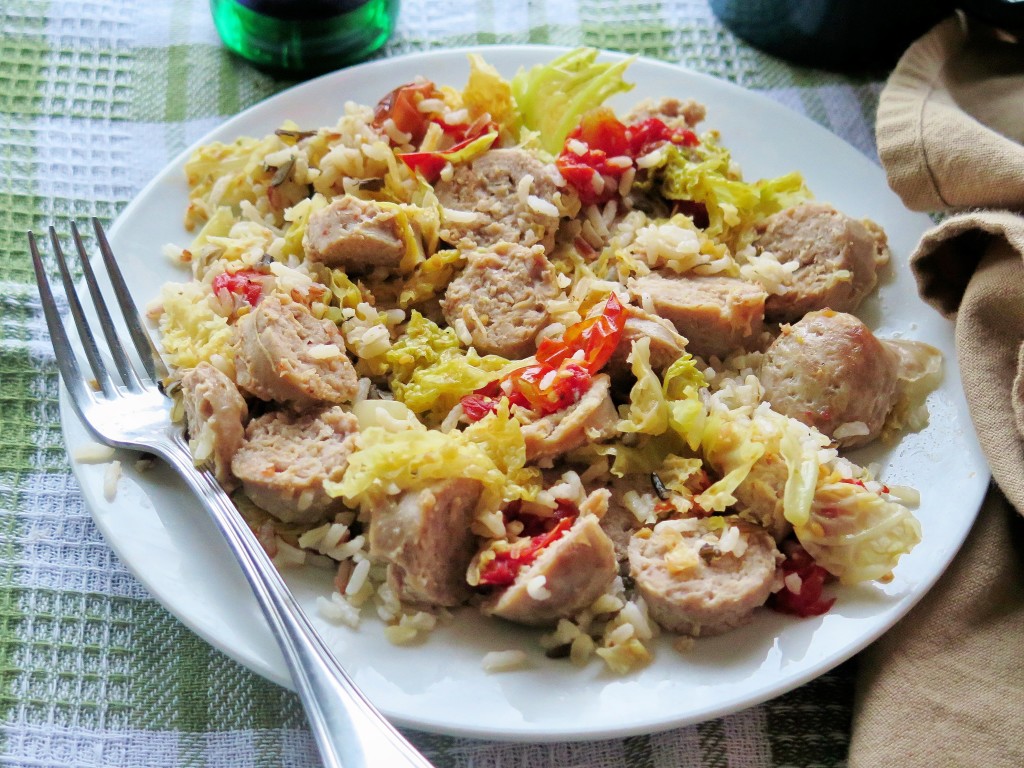 Welcome to another addition of Recipe ReDux! Our August Recipe ReDux takes us Back to the Dinner Table.
After the hustle and bustle of the holiday/vacation season, August is the time many families get 'back to routine.' Show us your favorite recipe to help families get 'back to the dinner table.' It might be a favorite family recipe from your childhood that you've ReDuxed; or maybe it's your family's current favorite. Let's all gather back at the table!
Turkey Sausage and Braised Cabbage lightens up a favorite family skillet dinner. Baking turkey sausage cuts the grease associated with traditional pork sausage.
Braised Napa and Savory cabbage replaces the popular butter and oil rich version. I jazzed it up with oven roasted cherry tomatoes and onions. Simmer with chicken stock for a flavor boost!
Spoon over mixed rice for a complete back to the table family meal.

Turkey Sausage and Braised Cabbage

Ingredients

1 pound turkey sausage (sweet, hot or country)
6 cups shredded cabbage (napa, savory or green)
3 cups cherry tomatoes, halved
1/2 cup onions, diced
2 Tablespoons olive oil
1 teaspoon dried oregano
2 cups chicken stock
3 cups cooked rice
salt and pepper to taste

Instructions

Place tomatoes and onions on a sheet tray. Drizzle with oil. Season with salt, pepper and oregano. Roast at 350 degrees for about 15 minutes, turning occasionally until skins begin to char and shrivel.
Bake sausage uncovered in a shallow pan with a little water in the bottom. Bake until internal temperature reaches 165 degrees (about 30 minutes)
While sausage cooks, braise cabbage. Add cabbage and chicken stock to a large skillet. Bring to a boil, cover and reduce heat to simmer.
When sausage is cooked, slice into bite-sized pieces. Add sausage, tomatoes and onions to skillet. Simmer about 10 minutes until thoroughly heated.
Add rice and serve.

http://www.cindysrecipesandwritings.com/sausage-and-braised-cabbage-reciperedux/
Enjoy these great Back to the Dinner Table recipes from Recipe ReDux!