Garden Tortellini Toss mixes it up with veggie noodles and matchsticks  in a light, vegetable packed sauce.
Welcome to the July Recipe ReDux Challenge!
Get Your Fruits and Veggies in Shape!
"With produce galore, now's a great time to enjoy lots of fruits and vegetables. Show us how you're serving the bounty of gardens and orchards in shapes like ribbons, noodles, cut-outs, or other creative cuts."

A few years ago Zoodles took over summer recipes. I think the popularity stemmed from childhood lunches.
Did you ever try to get your kids to eat their lunch by cutting grilled cheese like a star shape? Mini triangles were my daughter's favorite way to eat a sandwich. She would start at a point and nibble to the middle, turn the bread and nibble some more.
I was a chicken and stars soup fan. Somehow those little stars just tasted better than long noodles to me.
I was taught that size matters  😉 when it comes to cooking vegetables.
Similar density veggies like potatoes and carrots should be the same size. Mirepoix made with carrots, onions and celery were always diced to about the same size.
S0 how do you successfully mix up the shapes and still get even cooking?
You can accomplish even cooking in two ways:
Use more than one cooking method by blanching some and sauté others.
Stagger cooking times.
When pasta is involved, I tend to add the zoodles or ribbon cut veggies directly to the cooking pasta. Everything else gets a light sauté.
You can cook the zoodles first then the tortellini in the same water for extra flavor, too.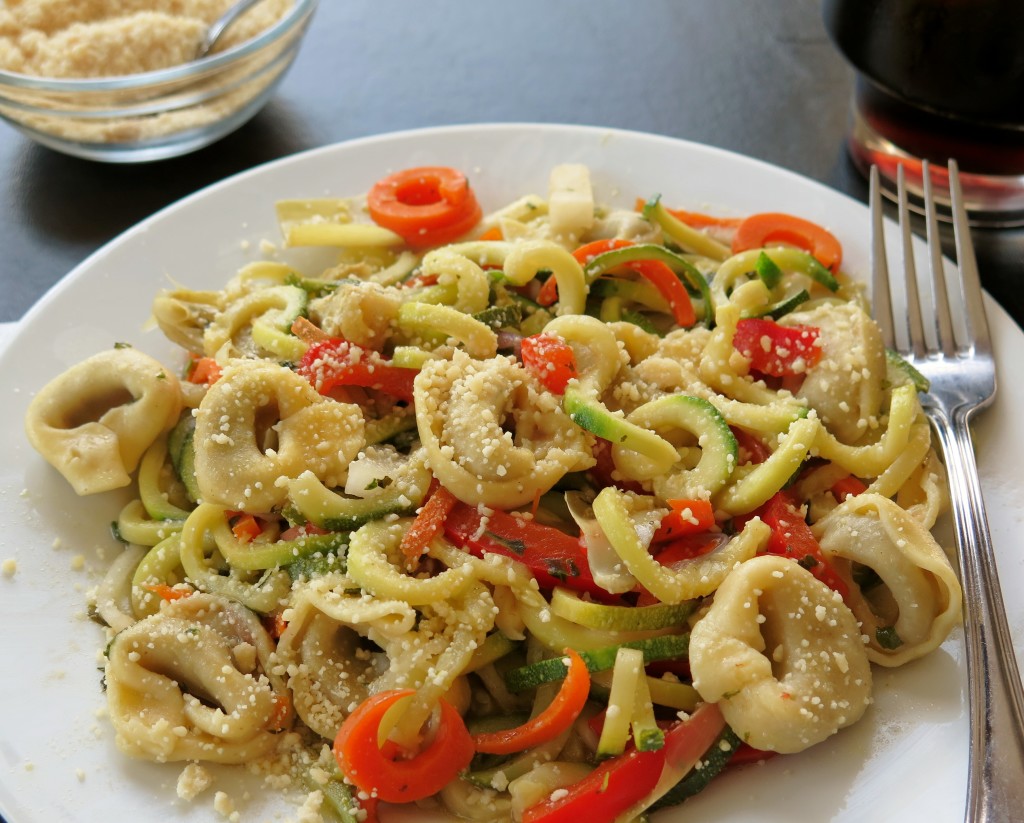 Garden Tortellini Toss #TheRecipeReDux
Ingredients
12 ounces frozen cheese or meat tortellini
2 medium zucchini
1 medium carrot
1 medium turnip
1/2 cup red bell pepper slices
1/2 cup red onion slices
1 tablespoon fresh basil, chiffonade
3 cups vegetable broth
2 cloves garlic, minced
2 teaspoons cornstarch
1 tablespoon olive oil
grated parmesan optional
Instructions
Cut pepper and onion into matchsticks. Sauté in oil with garlic in large skillet. Add vegetable broth and cornstarch. Bring to boil whisking constantly. Reduce heat and simmer until thickened.
Cut zucchini, turnip and carrots into veggie noodles. Bring 3 quarts of water to a boil. Blanche veggie noodles until crisp tender about 5 minutes. Remove vegetables and add to skillet.
Boil pasta according to label directions. Drain then add to skillet.
Toss and serve.
http://www.cindysrecipesandwritings.com/garden-tortellini-toss-thereciperedux/
Food for thought…How do you make eating vegetables more exciting? I'd love to hear your ideas in a comment below!
More about the Recipe ReDux.


As the first and only recipe challenge founded by registered dietitians, The Recipe ReDux is focused on taking delicious dishes, keeping them delicious, but making them better for you. Dietitians Regan Jones (ofReganMillerJones, Inc.), Serena Ball and Deanna Segrave-Daly (both of Teaspoon Communications) founded the group on the belief that healthier eating should always taste delicious. As the Latin term "redux" means to revisit or reinvent, we are reinventing the idea of healthy eating with a taste-first approach. We aim to inspire the food lover in every healthy eater and inspire the healthy eater in every food lover.
Enjoy all these delicious fruit and veggie recipe ideas from #TheRecipeReDux !