Paprika Chicken Salad tastes a bit smoky, a bit sweet and oh so good!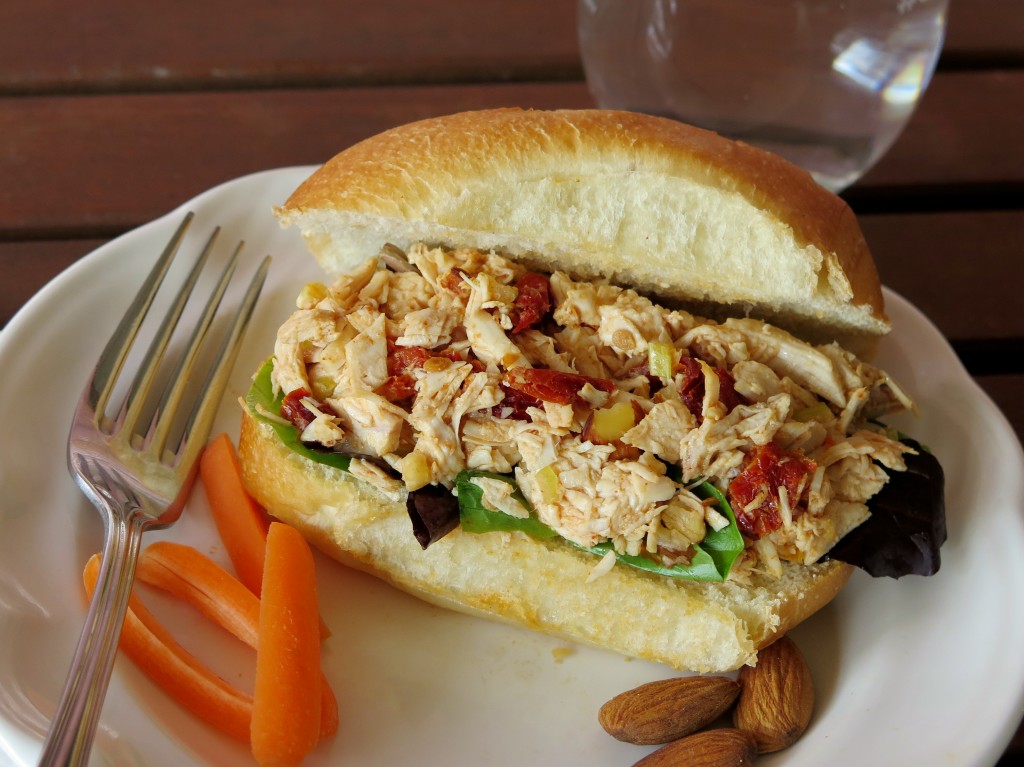 Every month The Recipe ReDux challenges its members to create healthier versions of recipes based on that month's theme.
This month, The Recipe ReDux challenged us to …
Start Smoking in the New Year!
The New Year is heating up with smoke and spiciness. From boldly flavored smoked salts to actual smoking techniques, subtly smoked food is on-trend. The same can be said for spice as we savor heat from harissa, sriracha and smoked paprika. Show us the healthy dish you're heating up with smoke and/or spiciness.
I'm not one for spicy food. Smoky flavor however, I enjoy.
There are several ways to introduce smoke flavor into foods. I smoked ribs on the flat top grill one place I worked by simmering water under the meat with liquid smoke. I've used pressure cooker type smokers and wood chips. Outdoor smokers work great. You get better results in the summer here in PA though than in January!
I felt the best way to keep from risking frostbite was to impart the flavor of smoke by adding already smoky foods. A bit of smoked paprika and smoked almonds give this Paprika Chicken Salad zing! Sun-dried tomatoes add a tinge of sweetness and depth.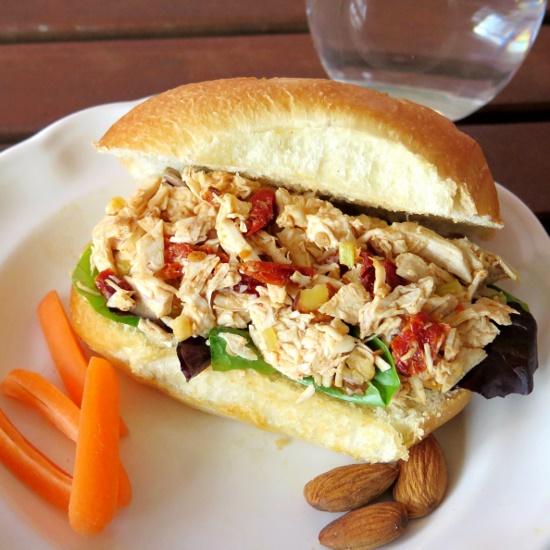 Paprika Chicken Salad #RecipeReDux
Ingredients
2 cups cooked chicken, chopped
¼ cup sun-dried tomatoes, chopped (reconstituted in ½ cup water)
¼ cup chopped celery
2 tablespoons smoked almond pieces
1 tablespoons olive oil
1 teaspoon red wine vinegar
⅛ teaspoon smoked paprika
½ teaspoon honey
salt to taste
Instructions
Soak tomatoes in water for 30 minutes. Drain and reserve liquid.
Mix chicken, tomatoes, celery, and almonds together.
In a separate bowl, whisk together vinegar, oil, paprika, honey and salt.
Add dressing to chicken mixture. Add a bit of the reserved water to moisten as necessary.
About Recipe ReDux:
As the first and only recipe challenge founded by registered dietitians, The Recipe ReDux is focused on taking delicious dishes, keeping them delicious, but making them better for you. Dietitians Regan Jones (of ReganMillerJones, Inc.), Serena Ball and Deanna Segrave-Daly (both of Teaspoon Communications) founded the group on the belief that healthier eating should always taste delicious. As the Latin term "redux" means to revisit or reinvent, we are reinventing the idea of healthy eating with a taste-first approach. We aim to inspire the food lover in every healthy eater and inspire the healthy eater in every food lover.

Would you like to be a part of The Recipe ReDux? Apply here.
Enjoy these smoky and spicy offerings to set fire to your new year from the Recipe ReDux!