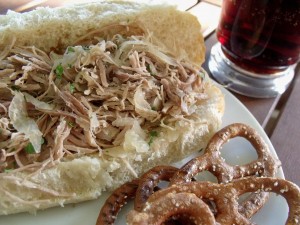 This week our Sunday Supper group is taking it low and slow. Laid back, Jack. Take it slow, Flo.
Slow and low as in slow cooked meals. Thanks Susan for hosting this event! You can thank her in person at Girl in the Little Red Kitchen .
I admit I'm not much of a slow cooker fan but I do think mine makes a tasty roast. With that in mind, I chose to do something with the pork roast staring at me every time I opened the freezer.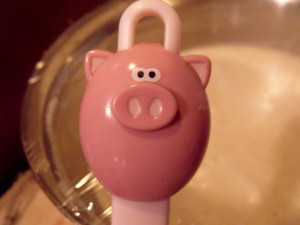 Not literally staring at me, you know what I mean. 😉
So this isn't much of a recipe but if you like pulled pork, pork and sauerkraut or even hot dogs with sauerkraut this is a good choice for a picnic instead of pork bbq style or sloppy joes.
Sauerkraut acts as a natural meat tenderizer and has enough salt that all you need add is some fresh ground pepper. The sauerkraut's flavor seeps into the meat.
Place 2 lbs of fresh sauerkraut (not canned, bagged will work fine) in the bottom of your slowcooker. Add one boneless pork roast about 4 lbs. Set the cooker on high and time for 6 hours but check at five. Turn the roast over about halfway through the cooking time. Meat should flake apart. Garnish with parsley and serve with hearty rolls like steak rolls. Serve with an array of mustards on the side. Optional but it will be appreciated.
What's the hurry? Here's more great Slow & Low recipes and ideas from our Sunday Supper Contributors. Enjoy!
Low & Slow Breads & Starters:
Low & Slow Mains:
Low & Slow Sides:
Low & Slow Desserts:
Wine Pairing Recommendations for Low & Slow Food from ENOFYLZ Wine Blog
Don't forget to join the #SundaySupper chat on Twitter Sunday to discuss cooking low and slow! We'll tweet throughout the day and share our delicious recipes. Our weekly chat starts at 7:00 pm EST. Follow the #SundaySupper hashtag, and remember to include it in your tweets to join in the chat. Check out our #SundaySupper Pinterest board for more delicious recipes and food photos.
Are you coming to the Food and Wine Conference held July 19-21 in Orlando, Florida? Register Here .