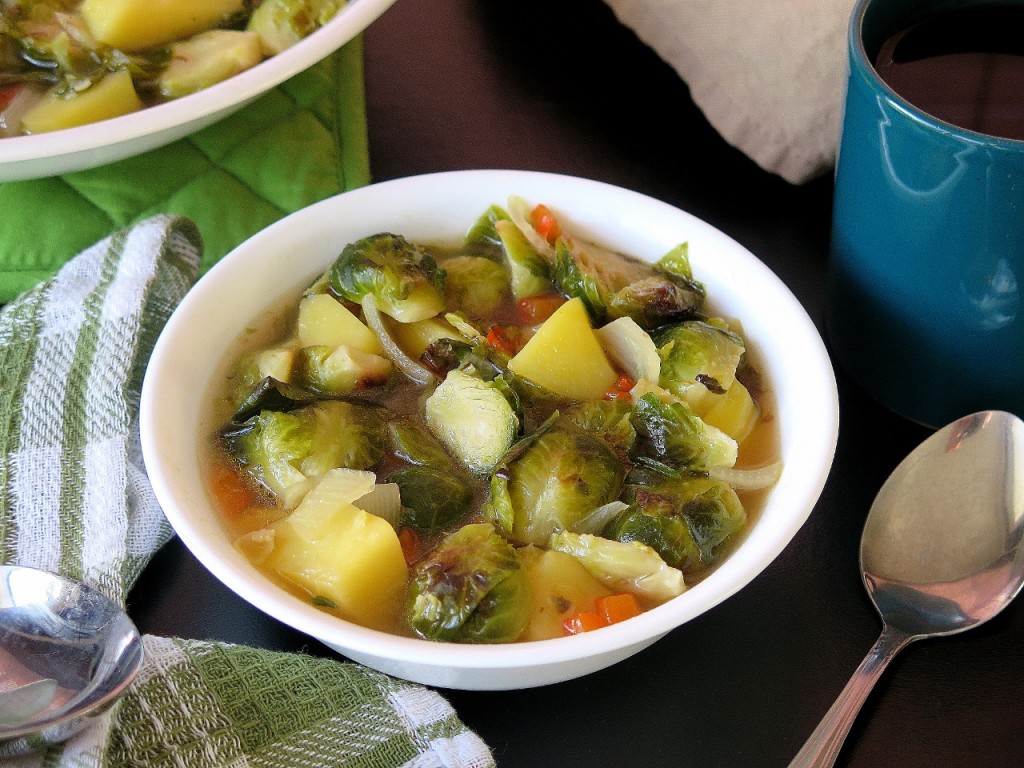 Roasted Brussels Sprouts Soup dishes up a British tradition as a warm, inviting soup.
Now you may or may not be a fan of the lowly Brussels Sprouts at Christmas, but I might have some tasty tidbits to change your mind.
Brussels Sprouts appear on British Christmas tables like corn does here in the states. These tiny members of the cabbage family are eaten more by Britons than anyone else in Europe.
Asda grocery stores will sell around 140 million sprouts in the two weeks before Christmas.
Brussels Sprouts contain high levels of vitamins A and C, folic acid and dietary fiber, and can help protect against colon and stomach cancer.
A 3 ounce serving of sprouts contains four times more vitamin C than an orange, and a cup of cooked Brussels sprouts contains only about 60 calories.
Roasting sprouts brings out the natural sweetness of this vegetable.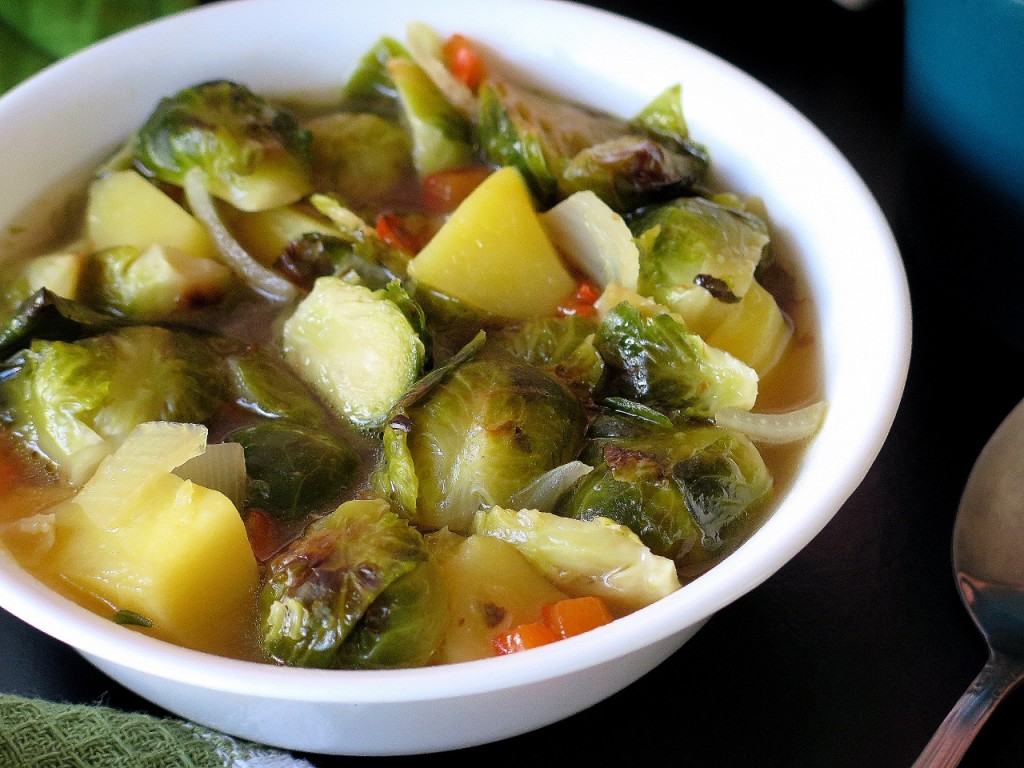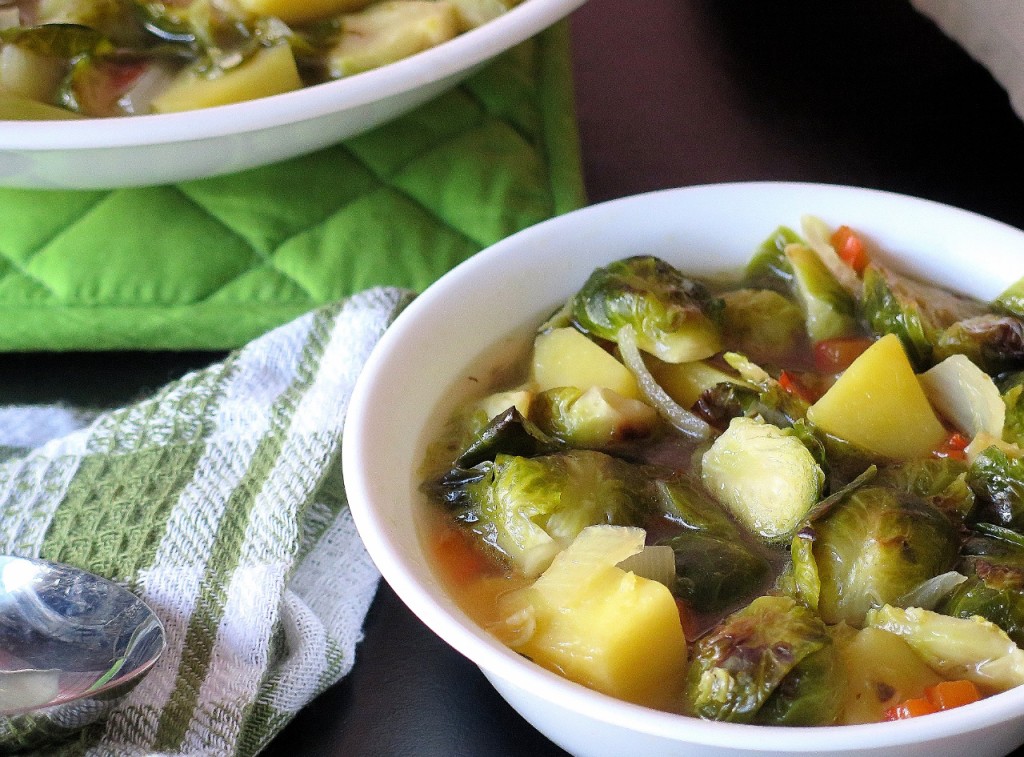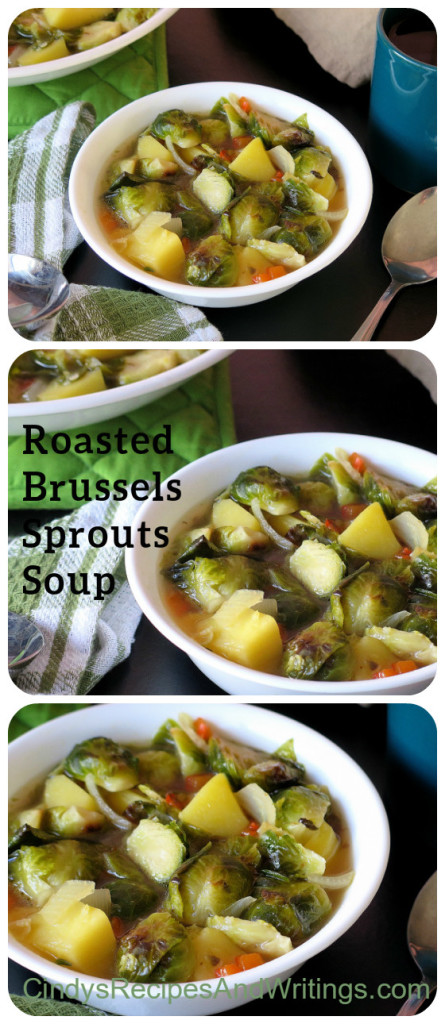 I admit it took a while for me to develop a taste for these tiny little heads. My first exposure was to a plate of bitter, mushy overcooked leafy balls.
It was years before I tried them again. It wasn't until I had them roasted with butter and bacon that I became a convert.
I started experimenting with combo and sauces that I found in cookbooks and on the net.
Soup wasn't a choice from out there in cyberland. Cabbage in soups and stews is a hit in my house. So why not a soup with Brussels Sprouts as the star? Why not, indeed!
Food for Thought…Are Brussels Sprouts on your naughty or nice flavor list? Is there a vegetable you absolutely need to have on your Christmas table? I'd love to hear your thoughts in a comment below!
Roasted Brussels Sprouts Soup for Christmas #BritishStyle
Ingredients
2 cups fresh Brussels Sprouts, cut in half
1 tablespoon olive oil
1 large potato peeled and cut into 1 to 1 1/2-inch pieces
1 medium onion, sliced
1/4 cup diced red bell pepper
4 cups vegetable broth
1 bay leaf
salt and pepper to taste
Instructions
Place broth, potatoes, onions, peppers and bay leaf in a 2-quart or larger saucepan. Bring to a boil, reduce heat and simmer until tender.
While potatoes cook, roast sprouts. Pour olive oil and sprouts into a resealable bag. Toss to coat. Layer in a single layer on a baking sheet. Season with salt and pepper. Roast at 350, turning occasionally to keep from burning. Roast until golden brown.
Add Brussels Sprouts to the potato base. Adjust seasoning to taste. Stir and serve.
http://www.cindysrecipesandwritings.com/roasted-brussels-sprouts-soup-for-christmas/