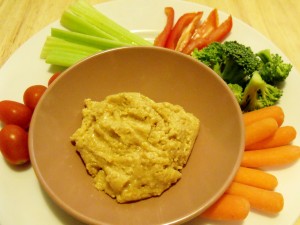 I've been cooking with kids for a long time. I made multiple meals with my daughter over the years. I taught her old school techniques, like how dough should "feel" and tapping bread to "hear" if its done. I cook with my grandkids; traditional cookie bakes and things like homemade ice cream as well as lasagna and other fun foods to make.
In my Master Gardener classes, I stressed teaching kids where their food comes from and how important good food is to our bodies.
Put it all together, and I think I know what kids want.
SNACKS!!

Here's 3 healthier versions of some favorite snacks. The Whole Wheat Cereal Cookies can be made with Total, Wheaties or bran flakes. The nutritional value listed here is when using Wheaties.
1/2 cup butter, unsalted
1/2 cup sugar
1 each egg, beaten
1/2 cup milk
1/2 cup flour
1/4 teaspoon baking soda
1/4 teaspoon salt
1 1/2 cup cereal (Total or Wheaties)
2 teaspoon cinnamon
1/2 cup white chocolate chips
1/2 cup walnut pieces
1. Cream butter and sugar together. Mix in egg. Stir in milk.
2. Sift together flour, baking soda, cinnamon and salt. Add to creamed mixture. Fold in cereal. Stir in chocolate chips and walnuts.
3. Chill dough for 30 minutes.
4. Drop by teaspoonful onto ungreased cookie sheet and bake at 375 degrees for about 10 minutes. Cool and enjoy!
Servings: 24
Oven Temperature: 375°F
Cooking Times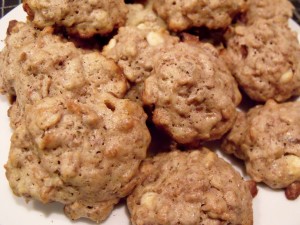 Preparation Time: 15 minutes
Cooking Time: 10 minutes
Inactive Time: 30 minutes
Total Time: 55 minutes
Nutrition Facts
Nutrition (per serving): 110 calories, 61 calories from fat, 7.2g total fat, 18.3mg cholesterol, 57.7mg sodium, 49.3mg potassium, 11.4g carbohydrates, <1g fiber, 4.8g sugar, 1.5g protein, 176IU vitamin a, <1mg vitamin c.
You can adjust the amounts of honey and oil to get the taste and consistancy you like best!
Honey Peanut Butter
So easy, you'll wonder why you ever bought peanut butter! Homemade peanut butter should be stored in the refrigerator and be kept up to one week.
1 cup peanuts, unsalted, dry roasted
1 Tbsp peanut oil or vegetable oil
1 Tbsp honey
1. Grind peanuts in a food processor until small chunks appear.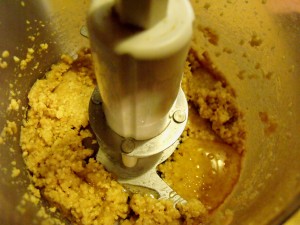 2. Add oil a little at a time to form a paste. You may not need all the oil.
3. Add honey, grind until smooth.
4. Serve with an assortment of veggies.
Servings: 4
Yield: 1 cup
Cooking Times
Preparation Time: 10 minutes
Total Time: 10 minutes
Nutrition Facts
Nutrition (per serving): 259 calories, 181 calories from fat, 21.5g total fat, 0mg cholesterol, 2.4mg sodium, 242.9mg potassium, 12.2g carbohydrates, 2.9g fiber, 5.8g sugar, 8.7g protein, 0IU vitamin a, <1mg vitamin c.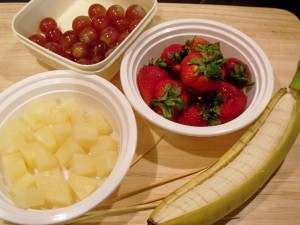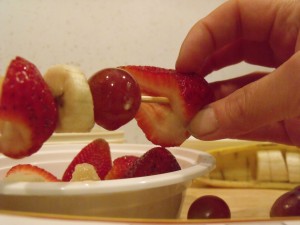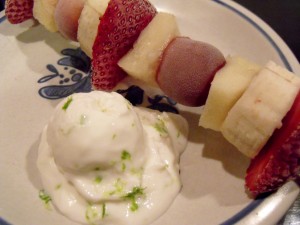 Frozen Fruit Kabobs
Fruit Kabobs can be made with any fruit that freezes well. These fruit bites on a stick are super easy always a quick cool-you-off treat! Choose a variety of fruits you like and cut into similar sizes. Soak your skewers a few minutes in water to gently soften the wood and avoid splinters. Thread the skewers and lay in a single layer on a parchment paper lined cookie sheet.
Freeze for several hours until firm.
When ready to serve, thaw for a minute or two to loosen from stick.
I serve it with frozen vanilla yogurt, drizzled with honey and sprinkled with lime zest.
The kitchen is a wonderful place for our children to learn not only how to cook, but to develop the confidence that comes from making something for others.   In essence, when cooking together as a family, we teach our children to give of themselves and their talents.
The #SundaySupper Group was as excited as I was to have the Kids in the Kitchen this week.  They quickly met with their loved ones and inspired each other to come up with these fabulous recipes that we will share with you this week starting at 3 pm EST.
Start your day:
Healthy Snackers:
Main Squeeze:
Sweat Treats:
Brenda is hosting this special event  and we would love for you to join us.  We will be sharing great family recipes all afternoon and want you to share yours with us! Our #SundaySupper live chat will start at 3 pm EST.  Follow us on twitter by using hashtag #Sundaysupper or using Tweetchat.
We love to feature your recipes on our #sundaysupper pinterest board and share them with all our followers.