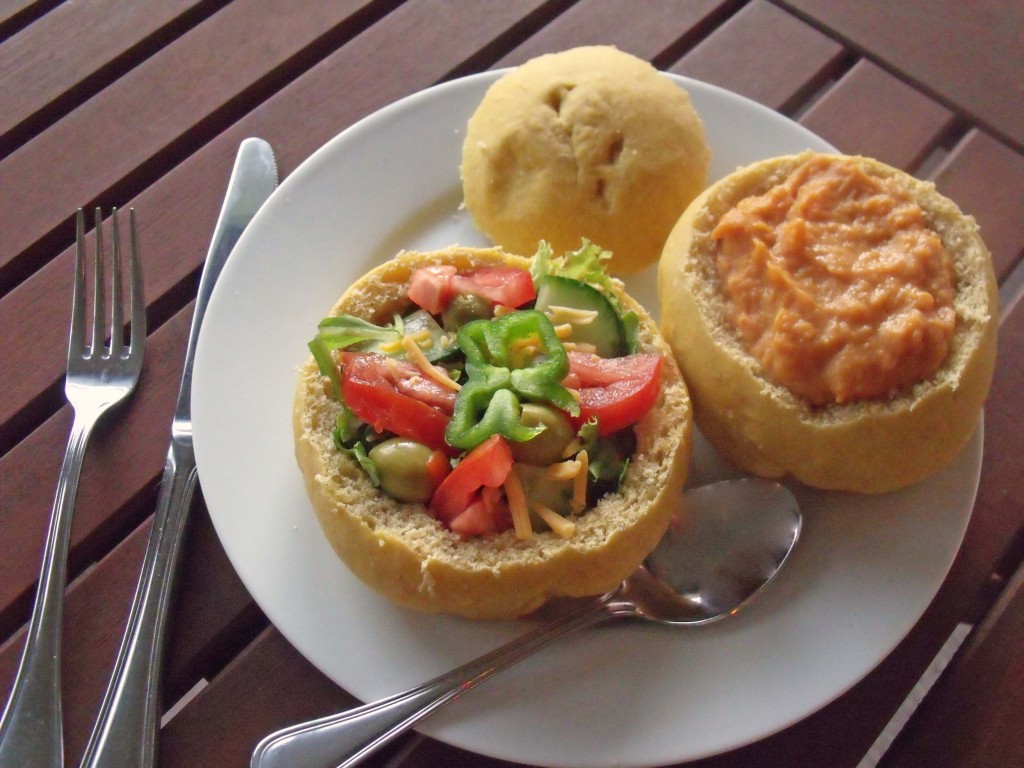 "I received free samples of California sweetpotatoes mentioned in this post. By posting this recipe I am entering a recipe contest sponsored by the California Sweetpotato Council and am eligible to win prizes associated with the contest. I was not compensated for my time."
I've always been crazy about the taste of sweetpotatoes, so when The California Sweetpotato Council offered Recipe ReDux members the chance to spread the word about this delicious, nutrition-packed super food I could hardly wait to join in the challenge!
"One Word, Endless Possibilities" Recipe ReDux Challenge
Sponsored by: California Sweetpotato Council

Sweetpotatoes are not in fact a "sweet potato"- they are a different vegetable entirely. Sweetpotatoes will now be known as one word to emphasize that they are quite different from the white potato, yams and other sweet potatoes on the market.
Aren't these California sweetpotatoes absolutely gorgeous?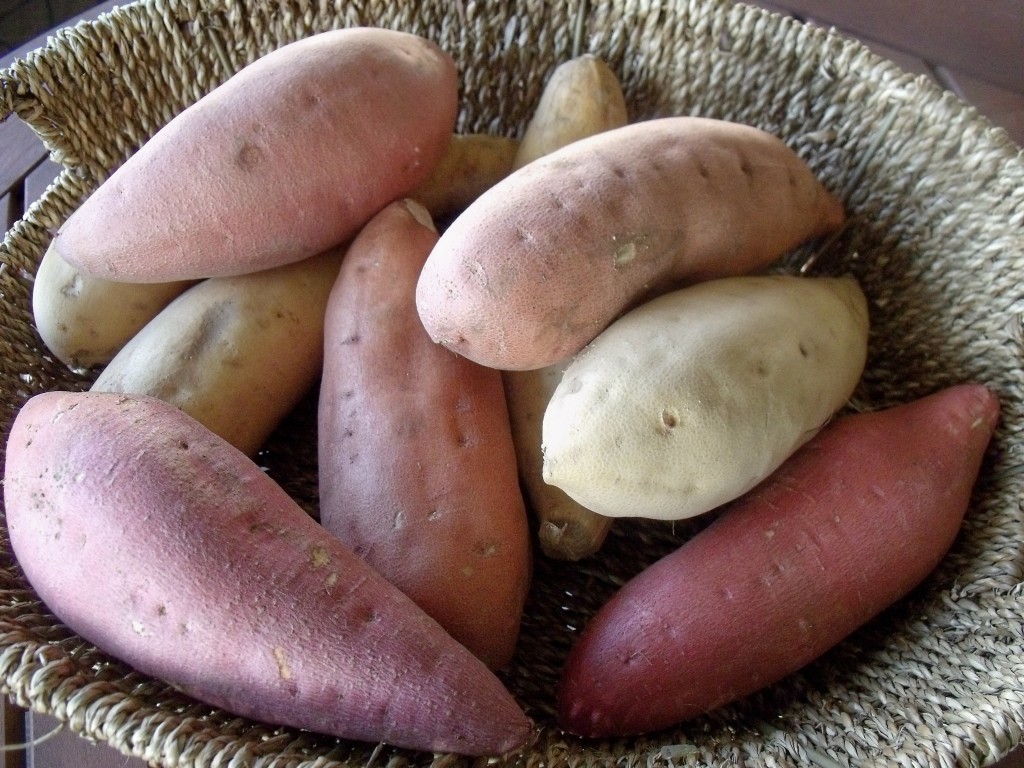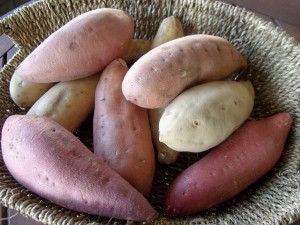 Here are some California Sweetpotato facts:
California sweetpotatoes are grown in soft sand and are hand sorted during harvest to minimize scarring and scratching.
California sweetpotatoes are a "nutrition bang for the calorie buck" with 4 grams of fiber, 2 grams of protein, a good source of vitamin C. These gems contain more than a day's worth of vitamin A. All for 105 calories per serving (1 medium size, cooked).
More good news is that California sweetpotatoes are available year-round.
The scientific name of sweetpotato is Ipomoea batatas and it's a member of the morning glory family. Part of the confusion comes from the fact that there are varieties of sweetpotatoes called yams. A true yam on the other hand belongs to the Yam plant family.
Sweetpotatoes with orange interiors have a higher beta-carotene content than true yams.
For my entry in this sweetpotato challenge, I decided to create a duo of smooth California sweetpotato soup served in fresh made California sweetpotato bread bowls. Hearty enough for dinner of course, but I baked some extra bread bowls to serve filled with a toss salad for a delicious lunch!
Sweetpotato Bread Bowls
serves 8
Ingredients
1 medium-sized California Sweetpotato, peeled and cut into 1-inch pieces (enough to yield 1 cup when mashed)
2 1/2 teaspoons dry active yeast
1/4 cup warm water between 100 to 110 degrees)
2 Tablespoons plus 1 teaspoon sugar
2 cups bread flour
4 cups all-purpose flour plus 1/2 cup for dusting board
1/4 cup vegetable oil
1 Tablespoon salt
1 teaspoon cinnamon
1 1/2 cups reserved sweetpotato water
Directions
In a medium-sized saucepan, add enough water to cover sweetpotatoes and cook gently over medium-heat until tender, about 15 minutes. Remove from heat and drain, reserving the cooking water. Mash drained sweetpotatoes by hand or with a ricer.
While sweetpotatoes cook, stir together 1/4 cup warm water, yeast and 1 teaspoon sugar to a small bowl and set aside in a warm place until frothy and doubled in size (about 10 minutes).
In a large bowl, mix together flours, 2 Tablespoons sugar, salt and cinnamon.
Add oil, yeast mixture and mashed sweetpotatoes.
Add enough of the reserved water, about 1 1/2 cups to make a soft dough.
Knead dough on a floured surface for about 7 minutes until it becomes smooth and elastic.
Place dough in a well greased bowl large enough to allow it to double in size. Cover, set in a warm place for about an hour until it doubles.
Punch dough down to let excess gas escape. Divide dough into 8 equal portions and shape into rounds.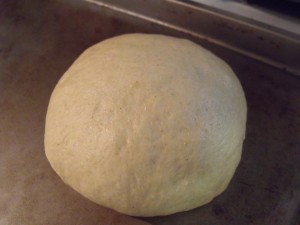 Arrange rounds on greased baking sheets, cover and allow to rise until doubled in size, about 30 minutes.
Bake at 375 degrees for about 40 minutes. Internal temperature of bread should be 200 degrees and sound hollow when you tap the bottom.
Allow to cool completely before cutting.
These rounds freeze well.
While your sweetpotato bread bakes, you can make the soup!
Sweetpotato Soup
serves 4
Ingredients
2 to 3 medium-sized California sweetpotatoes, peeled and cut into 1-inch pieces (enough to make 3 cups mashed)
3 cups chicken broth plus enough water to cover the sweetpotatoes
1/2 teaspoon dried thyme
1/2 teaspoon salt
1 Tablespoon molasses
1/4 cup half and half
Directions
Cook sweetpotatoes in enough broth and water to cover over medium-heat until soft (about 15 minutes).
Drain, reserving liquid (1/2 to 2 cups).
Add thyme, salt, molasses, stir.
Add half and half and enough reserved liquid to puree to desired consistency.
Serve in scooped out bread bowls along with a tossed salad if desired.
Check out all the creative ideas using California Sweetpotatoes from Recipe ReDux Members!