I received a free bag of Viki's Banana Walnut Granola to review. Recipe and product information courtesy of Viki's Granola. I received no further compensation. Opinions on the product are my own."
I'm a granola fan from way back before it was "cool". Bananas are also one of my favorite fruits. So when a representative from Viki's Granola showed me their latest mix, well, I went bananas! I definitely wanted to try it!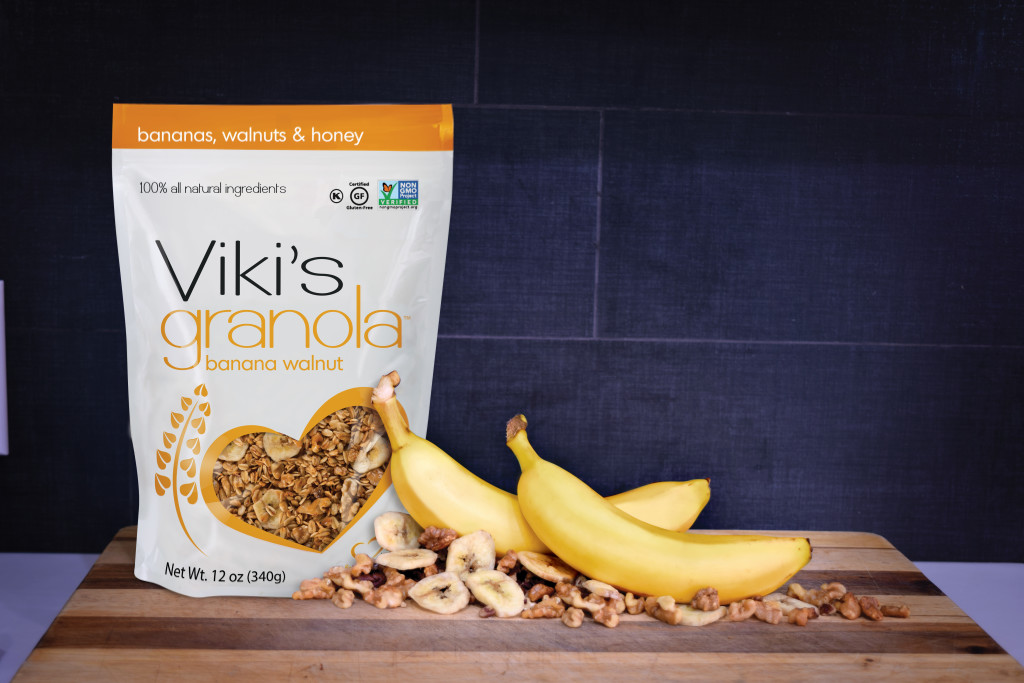 This granola has a subtle sweetness I found goes as well with plain yogurt as chocolate ice cream. I could liven up cereal too with a sprinkle. That chocolate ice cream with chocolate chunks was my favorite for a combo. Here's a cool recipe from Viki's Granola for banana lovers everywhere.
Viki's Granola Banana Granola Pops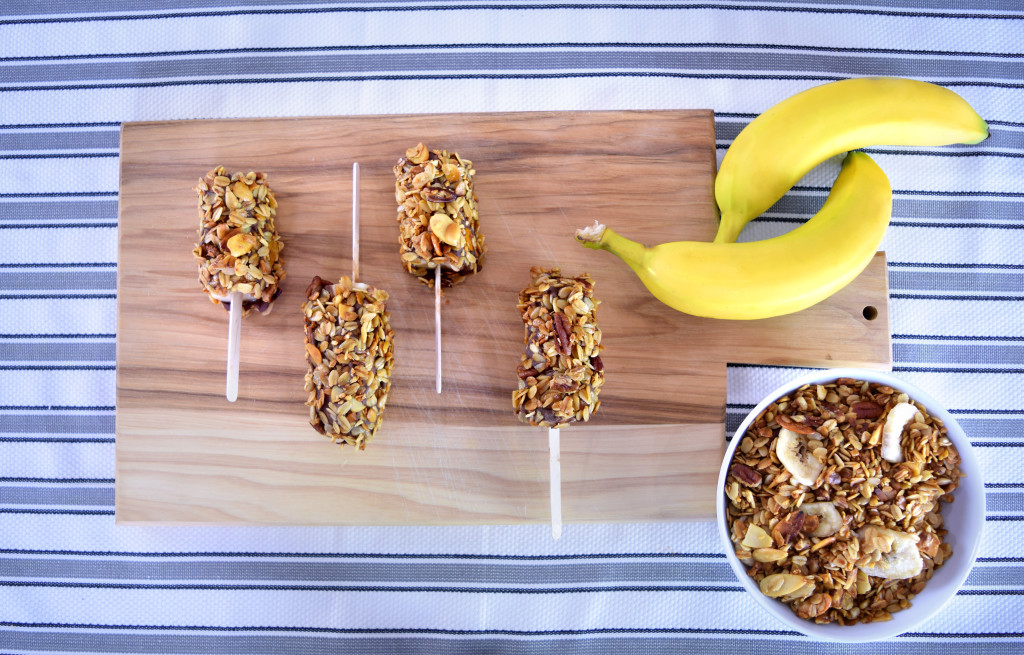 Ingredients:
4 Bananas
3 tablespoons Viki's Banana Walnut Granola
6 ounces dark chocolate chips or shards
8 Popsicle sticks
Directions:
Peel, cut bananas in half crosswise and insert Popsicle sticks.  Place on a parchment-lined tray, cover with plastic wrap and freeze for about 3 hours. Place Viki's Banana Walnut Granola into a shallow dish. Melt chocolate in a double boiler over slightly simmering water, over low heat, constantly stirring. Pour the chocolate into a tall glass. Dip each banana into the chocolate and roll in the granola straightaway. Place on a parchment-lined tray. Serve immediately or wrap individually in parchment paper or plastic wrap in the freezer.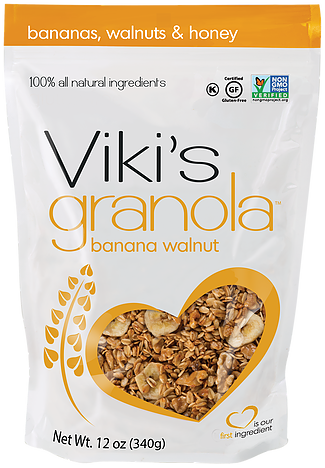 Viki's Granola is made with 100% all natural ingredients, gluten-free and baked with love. Unlike other granolas with hard clusters, Viki's has a fresh, soft, chewy texture and no artificial aftertaste. Available in five delicious flavors, Viki's Granola is great to enjoy on its own or with yogurt for a nutritious snack, and are even available in snack packs, perfect for on-the-go!
Find out more about all the great granola flavors fromViki's Granola
.
Banana Walnut is one of the newest additions to Viki's line of delicious signature soft-baked granola.
Viki has captured the essence of warm, freshly baked banana bread and packed it into her newest flavor of granola! Viki added banana chip bunches and walnuts to her signature mix of gluten-free oats, organic honey and coconut to create a delicious granola that you are sure to go nuts over.
($5.49/12 oz. bag $11.99 / (10) 1.5oz bags) www.VikisGranola.com.
Food for Thought…What creative ideas do you have for using granola? I'd love to hear them in a comment below!