This is week three, featuring tomato salads of #tomatolove campain to help raise awareness about tomato farmers and fair work conditions. Come share in the tomato love at the Tomato Love Recipe Exchange, hosted by Gimme Some Oven & Bake Your Day, sponsored this week by BigKitchen Store. Also visit Recipe for Change to learn more about how to support tomato farmers.
On hot days like today, I try to get out early and search for treasures in my garden! Its fun and rewarding to lift a green leaf and find a bunch of green beans hanging out there, just waiting to be picked!
Add a few tomatoes some peppers (purple ana green today), basil and a quick dressing and voila! I made a salad for a quick lunch from picks in my garden! All that was left was to sprinkle it with some cheese crumbles (I happened to have some feta), grab a fork and enjoy!
4 each tomato, cherry
1/4 cup green beans, blanched and refreshed in cold water
1 Tbsp bell pepper, chopped
1/2 teaspoon basil, fresh, finely chopped
2 tsp olive oil
1/2 tsp balsamic vinegar
Salt and black pepper to taste
1 teaspoon feta cheese, crumbled
1. Blanch beans in water for about 3 minutes until crisp tender. Immerse in ice bath and towel dry before adding to salad mix.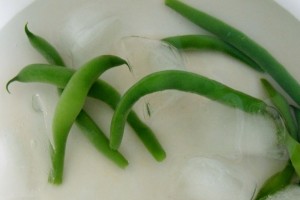 2. While beans are cooking, toss vegetables and basil together.
3. Add beans. in a separate bowl, whisk oil, vinegar, salt and pepper. Pour over veggies and mix to coat.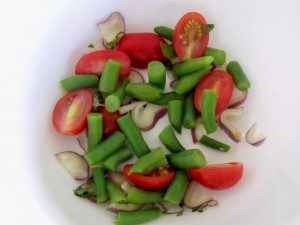 4. Transfer salad to plate. Sprinkle with feta and enjoy!
Servings: 1
Nutrition Facts
Nutrition (per serving): 116 calories, 88 calories from fat, 10g total fat, 2.8mg cholesterol, 43.8mg sodium, 234.9mg potassium, 6.2g carbohydrates, 1.7g fiber, 1.8g sugar, 1.6g protein, 941IU vitamin a, 28.3mg vitamin c.
This post was also featured at Baked in the South Linky Party