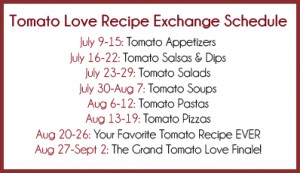 Last week I learned about this great promotion at www.gimmesomeoven.com/tomato-love-recipe-exchange and www.bakeyourday.net/tomato-love-recipe-exchange to raise awareness of the IJM (International Justice Mission), about off-season tomato farming in the US and to bring attention to their Recipe for Change campaign as they move through the weeks of their Tomato Love Recipe Exchange!
Each week has a different category and you can link your tomato recipes AND get a chance to win great prizes! This week Cuisinart is sponsoring the giveaway with a Cuisinart 12 cup Food Processor ! How great is that? Please take a minute and visit Bake Your Day and Gimme Some Oven to learn more and share a recipe or two (actually up to 3) each week! Show some Tomato Love at twitter too! #Tomatolove
If a tomato and a mango did the "dance of love" tango, this is what you'd get! 😉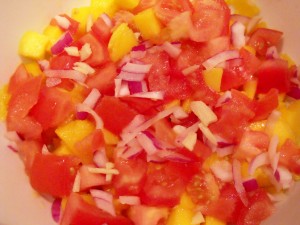 Tomato Mango Tango Salsa
Ingredients:
2 cups mango (peeled and diced)
1 cup  tomato, diced (seeded if desired)
2      Tablespoons red onion diced
1      Tablespoons chopped mint
1      teaspoons fresh gingerroot (peeled and grated)
1      Tablespoon honey
juice      of 1/2 to 1 lime (to taste)
Combine all ingredients and allow mixture to stand at room temperature about an hour to blend flavors. Chill. Serve as a side for cooked fish, chicken or use as a salsa with tortilla chips or pita slices!