Turkey Cutlets with Sausage Stuffing make a perfect Sunday Supper. Individual servings are great for a sit down dinner.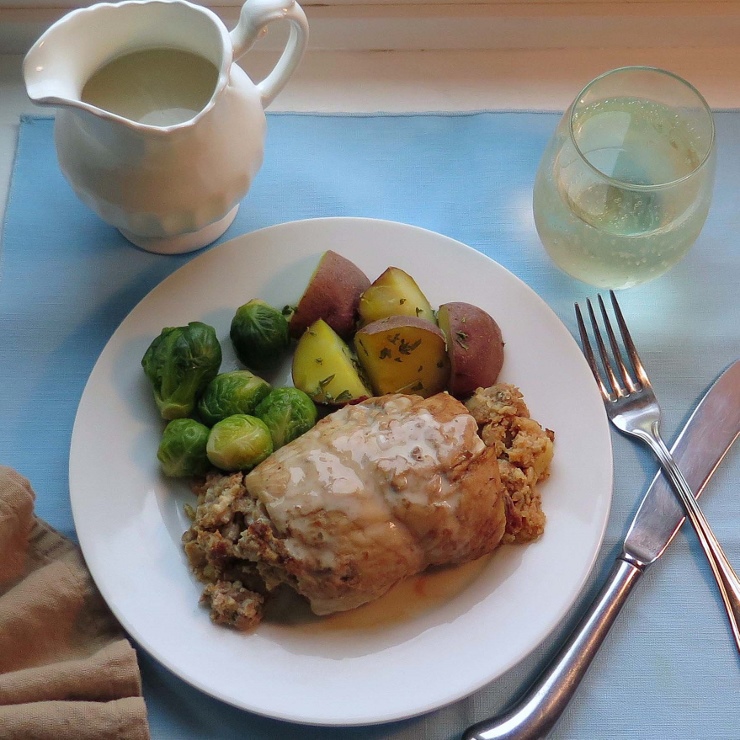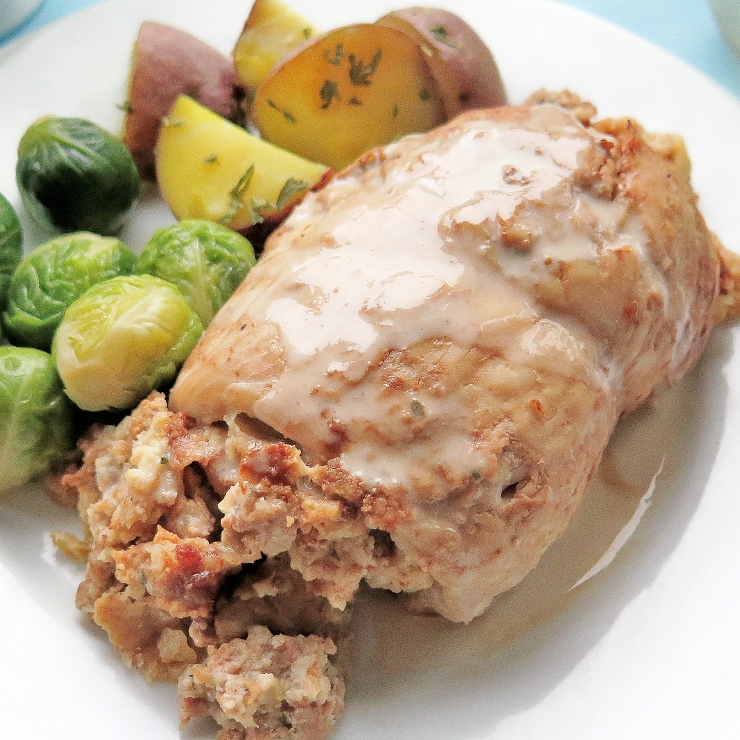 I say that because I have been lucky enough to be part of the Sunday Supper family since June 2012! I watched this group grow under the leadership of Isabel Laessig.
When Isabel's oldest left for college, Isabel asked her what she was going to miss most. Her daughter answered that she would miss spending time in the kitchen and around their family table.
That statement spawned her blog, FamilyFoodie.com  where the emphasis is on good food made to be shared and enjoyed around the family table.
Sunday Supper takes this idea one step further. Her mission became to spread the word to families how important and rewarding it is to sit down together for a meal.
The goal:  Sunday Supper starts off as one day a week and soon becomes a way of life.
Family to me includes all the people who share your life journey. Relatives as well as friends both old and new.
I most recently had the pleasure of spending time and enjoying Sunday Supper with my Sunday Supper Family at our first live event!
We now honor that idea by celebrating National Sunday Supper Month throughout the month of January. Also look for a special Sunday Supper January 10, 2016 for National Sunday Supper Day!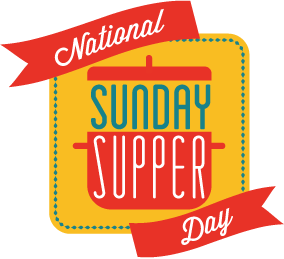 "And that's our mission, to get as many folks as possible around the family table. The biggest gift we can give to our family is to hug, laugh, share our stories and enjoy great meals together."
Use this link to pledge and sign to commit to sharing Sunday Supper at least once a month this year. Click on the graphic!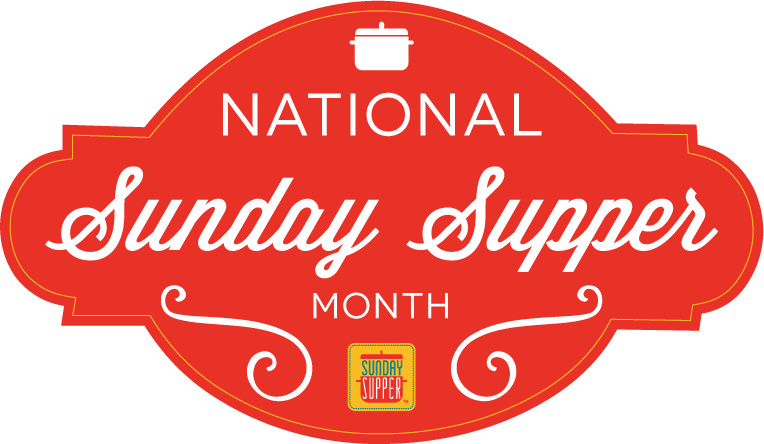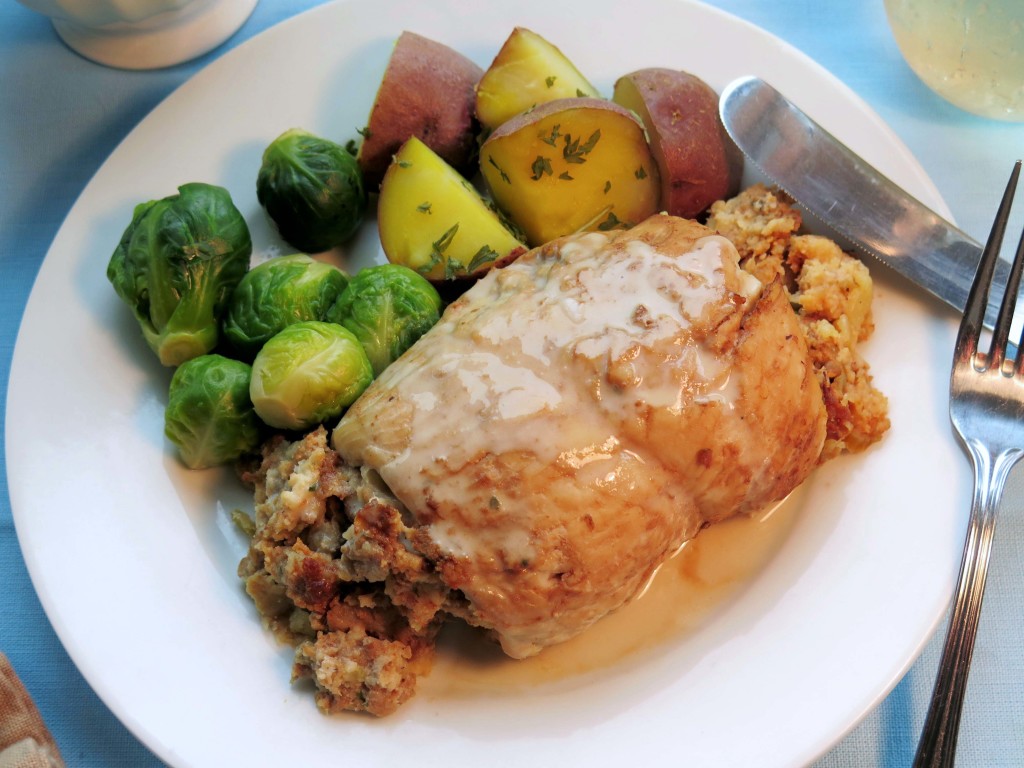 Since my sit down meals always led to gravy wars, I make several kinds and they get to pick! Milk gravy, brown gravy, turkey gravy and sausage gravy all sound good to me!
Turkey Cutlets with Sausage Stuffing

Ingredients

4 turkey breast cutlets (1/4-inch thickness)
chicken or poultry seasoning
11/2 lb. Loose Italian Sausage ( turkey, pork or hot)
1/2 cup celery, diced
1/4 cup onion, diced
1 Tablespoon oil
4 cups soft bread cubes
1/4 cup butter
1/4 cup chicken broth
1/4 cup dry white wine
1/4 cup half and half
1/4 teaspoon nutmeg
1 tablespoon dried parsley or celery flakes
salt and pepper to taste
butter for browning

Instructions

saute sausage until thoroughly cooked, drain
in a separate pan, saute celery and onion in butter.
add sausage, vegetables and butter to bread cubes.
whisk together broth, wine, half and half and nutmeg. add to bread cube mixture.
lightly coat a glass casserole dish with oil.
season both sides or cutlets and place in dish.
divide stuffing between cutlets. fold meat over stuffing and tuck ends under.
cover and bake for about 25 minutes until turkey registers 165 degrees. uncover baste with butter and brown for about 5 minutes.
serve alone or with your favorite gravy.

Notes

Adjust for stuffing dryness by adding additional broth as needed.

http://www.cindysrecipesandwritings.com/turkey-cutlets-with-sausage-stuffing-sundaysupper/
Enjoy these delicious recipe ideas from Sunday Supper!
Appetizers and Soups
Main courses
Side dishes
Desserts
Help us celebrate National Sunday Supper Month by entering the Idaho® Potato Let's Poutine recipe contest, sponsored by the Idaho Potato Commission, with prizes of $500, $200 and $100, plus a ticket for each winner to Food and Wine Conference 2016. All the rules and conditions for entry can be found on our Sunday Supper Movement website.
Join the #SundaySupper conversation on Twitter on Sunday! We tweet throughout the day and share recipes from all over the world. Our weekly chat starts at 7:00 pm ET. Follow the #SundaySupper hashtag and remember to include it in your tweets to join in the chat.
To get more great Sunday Supper Recipes, visit our website or check out our Pinterest board.
Would you like to join the Sunday Supper Movement? It's easy. You can sign up by clicking here: Sunday Supper Movement.